We're thrilled to be back at the Northwest Flower & Garden Festival for our fifth year! Getting ready for our 2019 booth had us looking back at all of the outdoor and gardening-related projects we've completed since the beginning of Dunn DIY, and wow—there are a lot of them. Today we're rounding up some of our all-time favorites, which you can see (or chat with us about) in our booth. We'll be at booth #707—come by and see us February 20-24 at the Washington State Convention Center.
In our temperate Seattle weather (the past few weeks of ice and snow are a bit of an exception!), strawberries are a great plant to start in the winter as a bare-root plant that will come alive in spring. You can also wait to plant until late spring when the weather has warmed up to accommodate growing which might be a good move this year, even though Punxsutawney Phil says we'll see spring sooner than later. Either way, this strawberry planter is a great way to start a small crop of berries without taking up too much room—perfect for city-dwellers with limited space.
There are some simple strategies to give your old deck new life. This step-by-step guide to deck refinishing is the perfect companion for a weekend DIY project, especially when those warm, sunny weekends start coming back around. Strip, clean, brighten, and stain your way to outdoor entertaining dreams!
There's a reason we never posted the original attempt at a DIY picnic table: things went horribly, horribly wrong (you can read about it in Confessions of a DIYer Part II). It was way too ambitious—so ambitious that it never should have even been an option, but hey. Three years later, I'd learned a lot more, so we revisited the project. It's amazing what a few years of hands-on experience can teach you! I'm so happy to be able to provide a trustworthy tutorial so you don't have to make the same mistakes I did. This project is very achievable, and is well worth it—especially when dining al fresco is an option.
There's nothing quite as satisfying as growing your own garden and enjoying the literal fruits of your labor. This simple planter bed provides excellent drainage and is simply made with two-by-six cedar decking boards. The project may look impressively complex, but it's anything but.
Kick back and relax in an Adirondack chair made with your own two hands. Purchasing one will set you back at least $150—or you can make one with the lumber and look you want for a fraction of the price. It's also a great project to take on as a reason to get familiar with a jigsaw. We found the process extremely satisfying, and the measurements are surprisingly lenient—which means no cutting and re-cutting to get that perfect fit.
Nothing says summertime like a backyard game. Cornhole is a classic, and we're pretty proud of our DIY set, which is made from AZEK decking so it can sit outside all season long—even in the rain—and look as good at the end of the summer as it did at the start.
Now's the time to get decks in tip-top shape and looking their best, and one of our favorite ways to easily modernize a deck is to install aluminum balusters. In this blog, we walk you through the entire process with products from Deckorators.
Not everyone likes working with treated lumber, and that's OK. Juniper is a go-to gardening wood thanks to its naturally rot- and bug-resistant nature and its durability in the elements. This raised bed uses rough-cut six-by-six timbers for a rustic look.
Not every DIY project needs a $60 Dunn delivery, but 1,000 pounds of sand called for a little extra help. This sandbox is a pretty alternative to the classic plastic one, and it'll keep the kiddos entertained all day long.
We're all about making the most of backyard space, and thanks to our rainy corner of the country, it's hard to make that area under the patio work: until now! A patio dry space is possible with TimberTech's DrySpace—and it's totally worth it.
Bring the birdies to your backyard with a birdhouse! This one is super simple—all of the lumber comes from a single board of cedar fencing, which works well for a bounty of reasons: it's thin, lightweight, easy to work with, and hangs quickly. Plus it's made for the outdoors, which means there's no finish required. Oh, did we mention this project will only set you back $5?
Up the curb appeal of your home while adding privacy with a DIY horizontal fence. This one is relatively inexpensive and will only take a few hours to build.
A vertical fence is about as classic as it gets. This one puts on a bit of a twist with alternating board widths and heights, adding a little visual distinctiveness that makes a big-time difference.
You can build a straightforward fence to get the job done (been there, done that), or you can build a framed-panel fence to get the job done—with flair. Pick from a variety of panels that suit your style and watch as it transforms your outdoor living space.
Building a fence? Learn how to properly set a fence post with this handy tutorial. There are three options for setting—mixing concrete out of the hole, mixing concrete in the hole, or using post back-fill foam—so you can choose the one that suits you best.
If you've ever wanted to dunk someone in a dunk tank, here's your chance—no carnival required. This project is absolutely worth the effort for a summer afternoon activity that'll cool you down in no time.
Picture this: you, in a hammock, swinging slowly while sipping on a cool beverage and reading a page-turner on the warmest, nicest day of the year. This can be you with just a few simple steps.
Peanut butter and jelly. Caramel and chocolate. A hammock and a hammock stand. Some things are just meant to go together. As the season begins to change and the warmer months return, this sturdy hammock stand lets you relax in style as you soak in the sun and take in the beauty of your outdoor environment.
This isn't just any ol' beverage caddy—it's an all-terrain beverage cart that can roll across the lawn as easily as it can glide across a nice even surface. We tried something new with this project: a super fun charred look using a blow torch and construction-grade lumber. Cheers!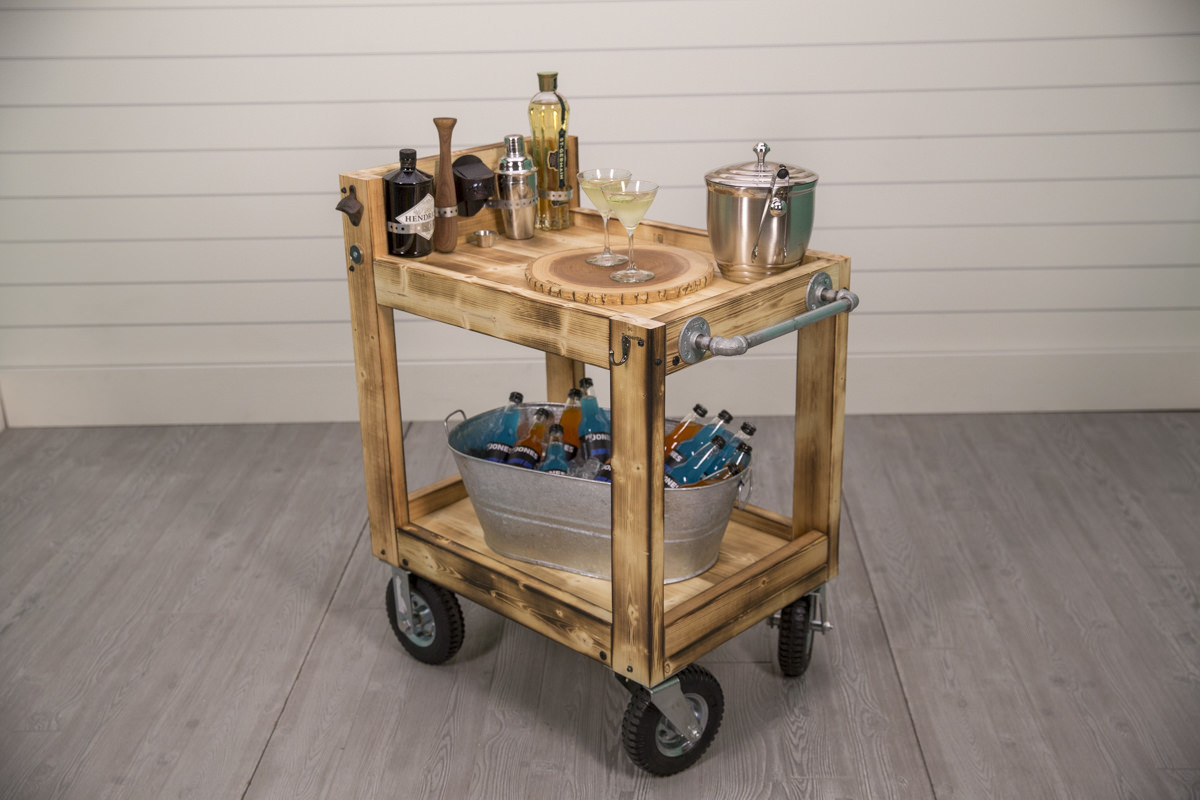 Want to flex your green thumb but have limited space to do so? This potting bench is ideal for people working with small spaces. Store extra planters, soil, and a watering can down below, and stash your tools on the wire back.
Kids and adults alike will love this slip-and-slide. Made from PVC pipes and pool noodles, it's surprisingly easy and affordable to put together. Just hook up a hose, turn it on, and slip-and-slide your heart out!
This privacy screen pulls double duty—it not only provides, well, privacy, but it's also a planter. That means you can put a temporary wall up on your balcony and have everything you need for a summer cocktail right at your fingertips.
Not everyone has the luxury of a yard, but that doesn't mean we can't all be gardeners. This vertical planter makes use of vertical space so you can grow your garden up instead of out. Apartment dwellers: it's even small enough to fit on a balcony!
For those of you who want to make a happy home for bees and have your garden pollinated, we have a (mostly) sting-free alternative to the honeybee: mason bees. They're incredibly easy to care for—and house. This beehive is simple to make but makes a world of difference.
A family-friendly DIY project is a great way to pass a summer day. This flower box uses only one cedar fence board and is perfect for partnering up on with the kid in your life. Bonus points if you let them pick out what goes inside!
Bats are pretty picky for being four-inch-tall, insect-eating, nocturnal creatures, and as such, a lot is required for a properly equipped bat house. But did you know that bats are both pollinators and pro mosquitoes eaters? Not to mention they're native to this area, which means providing housing for them is a win-win for you and the bats! In this post, we've done the research for you on all the exact requirements needed for a bat house—and we provide you with some great resources on how to be successful bat landlords!
Speaking of pollinators, our friend Aimée Damman of Swansons Nursery drops by Dunn DIY to offer tips on how to attract bees, butterflies, hummingbirds, and other pollinators to your garden. There's even a handy diagram of some of the best plants for attracting pollinators in the Pacific Northwest!
I'm not sure there's anything better than needing an ingredient for a recipe while you're cooking and being able to walk outside and pluck it fresh from the vine or the stalk. It might seem kind of intimidating, but growing fresh vegetables in your garden isn't really that hard at all. In fact, if you play your cards right, you can have fresh veggies growing year-round. Because of the fairly mild winters (OK, except for this year) and pretty short summers we get here in the Northwest, a lot of the vegetables that would die in other climate's extreme heat or extreme cold can thrive here.
When building a raised bed, DIYers generally turn to cedar, juniper, or pressure-treated wood. Ultimately, the material you use is a personal choice, but this blog post is here to give you a bit more information that will help you make an informed decision.
We hope these projects inspire you to start creating as you get ready for spring, and to make it yours—regardless of the project. See you at the Northwest Flower & Garden Festival!