For the sixth year, we're heading back to the Northwest Flower and Garden Festival (NWFGF), which runs Feb. 26 through Mar. 1. We're so excited to bring you more fun projects at the Dunn DIY booth to help you move forward in your DIY journey. Today, we're rounding up all of our 2020 NWFGF projects in one easy guide. You'll be able to see them on display at booth 707, where you can also ask us questions and find inspiration for your next project—whether it's one of these, a different project from Dunn DIY, or even your own design. We can't wait to see you there!
How to Build a DIY Garden Storage Shed
This small-space garden storage shed will help you keep your garden tools organized. We built in a half-shelf to add storage space that leaves room for long-handled tools, and the shed doubles as a workstation with the fold-away table we attached to the door. Use our design, or make the shed yours by adding extra shelves, a pegboard, or a custom handle. Made with cedar fence boards and a corrugated metal roof, we think this shed adds flair and function to any backyard.
How to Make a DIY Planter Box on Wheels
This was a tough project for me—no matter what I tried, my math never worked out. I was expecting to run into setbacks attaching the wheels to the planter, but that turned out to be the easy part: I used staples to secure the axle (a method I got from my grandpa, who used it to build go-carts when my dad was a kid). Building the walls—the part I thought would be easy—was where I ran into trouble, and I had to redesign this planter multiple times, including at 11 p.m. the night before the shoot. But, the good news is, I figured it out, and (as usual) you get to learn from my mistakes. I love this planter because I learned so much—and because if the sun doesn't come to your garden, your garden can now go to the sun.
How to Build a Stainless Steel Garden Trellis
We made this stainless steel, wire trellis using Feeney's 3-in-1 kit. The kit comes with everything you need, and you can choose from three patterns—diamond, fan, or grid—or design your own! This is a simple beginner project for anyone who wants to spend a few hours diving into DIY. The trellis can go inside or outside, so it's a great opportunity to be creative on your DIY journey. Plus, we shrunk the dimensions of our trellis by half, so we had extra material to play with for future projects (see what we made below!).
How to Make a Wine Rack Trellis
The diamond pattern from the Feeney kit reminded us of a wine rack, so we used the extra rods and connectors to make this trellis attachment. We love how this project turned out—especially because it's made out of repurposed materials. Add it to an outdoor trellis for a fun way to display your backyard bottles, or mount it indoors to bring a garden feel to your inside space.
How to Make a Decorative Utility Screen
A privacy screen is a great way to hide away clunky household utilities like gas meters and trash cans. We created ours using a Cabo privacy screen from Modinex and a frame of cedar lumber. We mounted it to the wall behind our gas meter, but this project is customizable to your needs—it's suitable for indoor or outdoor use, and there are multiple ways to mount it.
How to Make a Wooden Lantern
My favorite part about hosting a summer dinner party is crafting the perfect ambiance, and lanterns are a cozy addition to any outdoor gathering. But I found one big problem in my lantern search: They're expensive! So I decided to make my own. These DIY, glassless lanterns can be customized to any size, and you can stain them to match your existing deck furniture. When summer's over, your lanterns can migrate inside to your dining table for the winter months.
How to Make a DIY Citronella Candle
Another way to add ambiance and functionality to your backyard is with a citronella candle. Most citronella candles I've seen, though, come in a metal bucket. That's not my style, so I created this DIY candle and candleholder to fit my aesthetic. If you already have a citronella candle, you can melt it down and pour it into the holder with a new wick, or you can follow our recipe to create your own.
How to Make a DIY Throw Blanket
I love the idea of taking a familiar item and personalizing it with custom colors, textures, and fun additions like pom-poms. This DIY throw is a cozy project for anyone who wants to work with their hands—but not necessarily power tools. Grab your favorite fabric, and get to sewing!
How to Make a Mason Bee Beehive
For those of you who want to make a happy home for bees and have your garden pollinated, we have a (mostly) sting-free alternative to the honeybee: mason bees. They're incredibly easy to care for and house, and they have a 95 percent pollination rate. The inside of the hive is made of paper straws—just replace them each season, and your hive is ready for a new crop of bees.
Plants that Attract Pollinators in the Pacific Northwest
If you want to attract pollinators without housing them, adding the right plants to your garden is crucial. For this post, we teamed up with Aimée Damman of Swansons Nursery to chat about how to attract bees, butterflies, hummingbirds, and other pollinators. There's even a handy diagram you can print for reference.
How to Build a Strawberry Planter
In our temperate Seattle weather, strawberries are a great plant to start in the winter as a bare-root plant that'll come alive in spring. This strawberry planter will allow you to start a small crop of berries without taking up too much room—perfect for city-dwellers with limited space.
How to Build a Bat House
Bats can get a pretty bad rap, but they're actually a natural pesticide—they fly around at night and eat all the bugs, making them a great addition to any garden. When I was doing research for this project, I learned bats are pretty picky for being four-inch-tall, insect-eating, nocturnal creatures, so a lot is required for a properly equipped bat house. Bat houses have to have landing pads and be large enough for the bats to climb into and roost—they're cuddlers! The good news is, we did the research for you, so all you have to worry about is being a welcoming bat landlord.
How to Build an Adirondack Chair
An Adirondack chair is a classic way to enjoy your backyard deck, and what better way to get one than by making it with your own two hands! A DIY chair will be a fraction of the price, and you can customize it to fit your style. This is also a great project to help you get familiar with a jig saw. We found the process extremely satisfying, and the measurements are surprisingly lenient—which means no cutting and recutting to get that perfect fit.
Growing Vegetables in the Pacific Northwest
There's nothing better than being able to walk outside and pluck a recipe ingredient fresh from the vine or stalk. It might seem intimidating, but growing fresh vegetables in your garden is easier than you think—and you can grow them year-round. Because of the PNW's mild winters and short summers, a lot of the vegetables that would die in other climates' extreme heat or extreme cold can thrive here. In this post, we teamed up with Aimée Damman of Swansons Nursery to bring you her best gardening tips and a fresh veggie planting diagram.
How to Build an Inexpensive Cedar Birdhouse
Bring the birdies to your backyard with a birdhouse! This project is super simple—all the lumber comes from a single board of cedar fencing. Cedar is thin, lightweight, easy to work with, and naturally bug and rot resistant. It's made for the outdoors, which means there's no finish required. Oh, and did we mention this project will only set you back $5?
How to Make a Planter Bed
Planter beds might look complex, but they're an easy weekend project that can improve the look of your yard. This simple planter bed provides excellent drainage and is made simply with two-by-six cedar decking boards. Pull this planter together in six easy steps so you can grow your own garden and enjoy the literal fruits of your labor.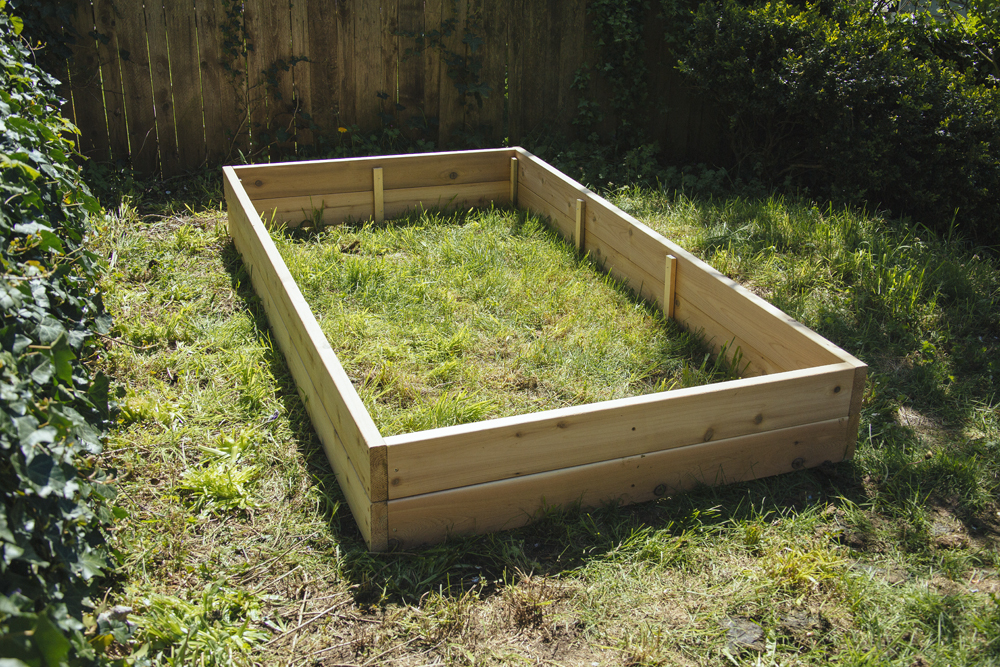 Cedar, Juniper, or Pressure-Treated Wood: What to Use When Building a Raised Bed
When building a raised bed, DIYers generally turn to cedar, juniper, or pressure-treated wood. Ultimately, the material you use is a personal choice, but this blog post—complete with infographic—will give you the knowledge to help you make an informed decision.
Flower Box: DIY For Kids
A family-friendly DIY project is a great way to pass a spring or summer day. For this project, you only need one cedar fence board and a few finishing nails, so it's a simple DIY perfect for partnering on with the kid in your life. You can leave the flower box unfinished, stain it, or DIY your own painted design. When you're done, head to the nursery (or your own garden!) and let your kiddo pick out what goes inside.
And that's it! We're so excited to show you all of these DIYs at NWFGF. Remember to stop by booth 707 to chat with us about these projects and your overall DIY journey—we can't wait to hear about what you're building and to answer any questions you may have. For more projects in the meantime, be sure to check out last year's roundup.