A note from Kirsten: We're excited to welcome our friend and today's guest author, Kristan Raines, of The Broken Bread, to help Dunn DIY prepare for Thanksgiving with this recipe for cardamom baked french toast. In addition to maintaining her beautiful blog, Kristan has written two books, On Toast and Dessert. Kristan has a love of seasonal cooking, a keen eye for beauty, and a passion for cultivating community around meals, so this partnership was the perfect fit.

As we move into late-November, it's the time of year when bags are packed, road trips are planned, flights are taken, and we take time to reunite with family. With all these upcoming gatherings in mind, we wanted to develop a tasty recipe for a big family breakfast—that won't take all morning to prepare. The aroma of citrus and cardamom wafting through the air and blending with freshly brewing coffee will be sure to rouse even the most bleary-eyed family member. 
Take it away, Kristan!
When I was talking to Dunn DIY about when this recipe would be published, I considered that when people are hosting, they want to get the most bang for their buck. If you have 15 people coming over, baked french toast is perfect because you can make it the night before, throw it in the oven in the morning, and hang out with people while it bakes, without being stressed out. It's so simple. This is also a pretty inclusive recipe: Nothing will get messed up adding a little of this or that, so kids can easily help out.
I love cooking with the seasons, letting the weather and time of year influence the recipe. In-keeping with the cold of this season, I wanted to make something that featured cardamom. Cardamom is one of those warmer spices like nutmeg and cinnamon that's aromatic and warm-smelling. Because I was thinking about something that could feed a bunch of people, I started pulling in other flavors to make it more dynamic. 
This french toast is made with a custard base. It's actually a lot like how you prepare ice cream; you're not tempering it, but you're using milk and eggs, which creates a custard-y goodness when it all bakes together. Soaking it overnight allows the bread to absorb all of that liquid, and because it's cooked using a slow-bake, it really becomes a cross between a bread pudding and traditional french toast like you'd make on the stovetop by essentially frying the egg. It's soft and creamy on the inside, but still crisp on the outside.
Step 1: Cut the Baguette
This recipe works best with day-old bread, because you want it a little tougher so it absorbs the liquid without getting too soggy. Sometimes I get a loaf and forget to use it, so it becomes french toast! It's a great way to make use of food that might otherwise go to waste. 
Because the baguette is stale and going to be soaked, it doesn't have to be the most fantastic quality of bread. Choose the flavor profile you want, but don't feel like you have to get the finest crafted baguette. You can get creative with different types of loaves. Sourdough would work well, or try a whole-wheat baguette. This is a fun way to play with flavors aside from the spices and toppings. A whole baguette will give you 12 pieces, which is roughly enough for six people. If you want to serve only a couple people, cut it in half and serve that. If you have a big (or hungry!) crowd, it's really easy to double up. 
Using a serrated bread knife, cut the baguette into one-inch slices. 

Step 2: Prepare the Orange
Begin by zesting your orange. Then, slice the orange in half and juice the whole thing. 
Baking is such a sensory experience; the sound of the bread crust as you slice it, the feel of the food as you measure and pour. The smell of citrus when you're zesting it is really therapeutic, and then once you bust out the cardamom, it's so invigorating; it makes you feel awake and perked up. 

Here's one thing that's really important to know about zesting: Whatever you do, don't grate too far and get any of the white pith! I've found out the hard way that it tastes horrible.
Step 3: Mix the Wet Ingredients
In a separate bowl, add the milk, eggs, yolks, cardamom, vanilla extract, sea salt, sugar, orange zest, and juice; whisk until combined. This is a fun job to give to a little one who wants to help. 
Step 4: Soak Overnight
Place the sliced baguette (or as many slices that will fit) into a 9x13 inch baking dish and pour the milk mixture evenly over the top. As you're pouring the liquid over, make sure you're pouring it over each piece so every nook and cranny gets soaked. Turn the pieces over to sure they're as saturated as can be.
Cover the dish and store it in the fridge overnight, or up to 12 hours. Any longer than that and it'll absorb too much of the liquid, but as long as they're in there less than 12 hours they'll absorb what they need to. Don't worry about any extra liquid in the morning, because we'll be taking them out to bake them. The bread absorbing the liquid is what will give you the soft center, and because we're baking them they'll crisp up nicely. It gives a great balance between the two textures.
Step 5: Prepare to Bake  
In the morning, pre-heat the oven to 350°F. Remove the french toast from the refrigerator and allow it to sit at room temperature while the oven heats up.
Step 6: Bake
Place each slice of french toast onto a baking sheet that has been lightly greased with butter.
Put the baking sheet into the oven and bake for 30-35 minutes, or until the tops are golden brown. Don't worry if they're a little overcooked! This recipe is pretty forgiving. They're still going to taste great, because you'll be slathering them with syrup and whipped cream anyway. Just make sure they're browned and crisp on the outside so they're not soggy.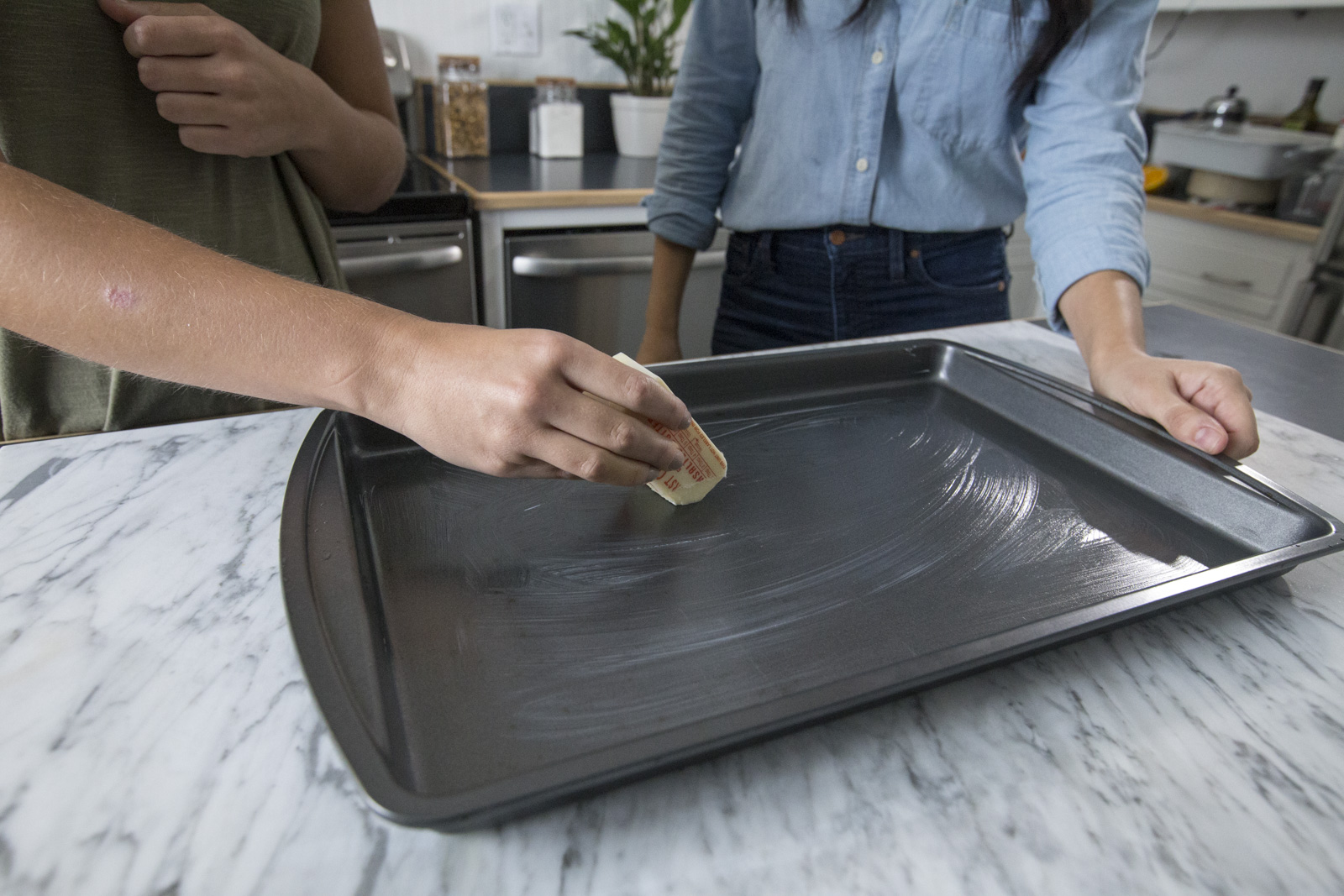 Step 7: Whip the Cream
While the french toast is baking, combine fresh heavy whipping cream with a teaspoon or two of sugar. If you really want to impress your guests, you could add vanilla extract or even rose! I sometimes throw spices like cinnamon in, and if you want even more cardamom you can add a pinch to the cream before you whip it. 
Whip the cream until medium stiff peaks form. The time it takes to whip can change depending on a lot factors, like the bowl size and whether you use a handheld or electric whisk. We're using a handheld whisk because I like the control it gives you over the cream as you're whipping it, but you can use an electric mixer. 
It's really easy to over-whip cream with an electric mixer, so keep a close eye on it. If you do over-whip it and the cream starts to "break," add a little more cream and then re-whip it slowly. 
Step 8: Serve and Enjoy! 
We topped our french toast with toasted almonds, bananas, and maple syrup. If bananas aren't your thing or you don't have any, use whatever fruit you have on hand. The cardamom is mild enough that really any fruit would taste delicious on it, within reason (I mean, tomatoes are technically a fruit, so don't go too crazy).
Happy Thanksgiving!