This coconut cake recipe came into my family's life about five years ago from the Barefoot Contessa. Since that first introduction this cake has had a presence at countless birthdays, parties, and family gatherings. On most—if not all—of these occasions, the task of baking has fallen to me. (Not that I mind! I've been baking my own birthday cakes since I was 10. I've just always enjoyed the creation process almost as much as I love the consuming process.)
"You can never have too much butter."

That was my biggest takeaway line from the movie Julie and Julia, in which a New York City woman attempts to cook all 524 recipes in Julia Childs' landmark cookbook, "Mastering the Art of French Cooking." I have to say I agree, and so (I believe) does Ina Garten. She must, because there is a serious amount of butter in her recipes!
So, here's the thing: Because the above statement is true, you can make her recipes as-is and they will taste heavenly because of all the butter. Or, you can use a rule that my mom and I have adopted: You can halve the butter in any Ina Garten recipe and still get a good final product. Of course, that is a matter of opinion.
Here, I have provided the recipe as I make it. Throughout the instructions, I will clarify when I have made changes and how the original recipe read.
Step 1
To begin, set your oven to 325° F. At home I use a convection oven; this provides even heat, which means all my cupcakes will brown at the same speed and to the same degree. Careful, though: If you're jumping into convection baking it works a little differently than what you might be used to. If you can dig it up, I'd recommend taking a look at your oven's manual. To use my convection oven, I need to drop the recommended temperature by 25 degrees and shorten the cook time by around 10 percent.
Step 2
Bring the butter* to room temperature and cream with sugar in an electric mixer. Mix the ingredients on medium speed for several minutes until they're very light and fluffy. Add the eggs into the butter mixture one at a time, scraping down the bowl with a spatula after each addition. Next, add almond and vanilla extracts and stir them in.
*The recipe calls for ¾ of a pound of butter (or 3 sticks), but I haven't noticed any negative impact when I reduce the amount to a half-pound. When using less butter there is more of a risk of the cake being dry, and it is very important to make sure that you take it out of the oven as soon as the toothpick comes out clean.
Step 3
In a separate, medium-sized bowl, sift together the flour, baking powder, baking soda, and salt. Measure out a cup of buttermilk. Now, beginning and ending with the dry ingredients, add the milk and flour mixture into the wet ingredients in three parts. (So that's flour-milk-flour.) Scrape down the sides as you go. Mix until just combined.
Using the lowest speed on the mixer, fold in half of the package of coconut. This is not an exact measurement; feel free to eyeball it. Save the rest of the bag, because you'll need it later.
Step 4
Place liners in a muffin tin. Scoop the batter into the cups. You can fill them three-quarters of the way full for about 20 cupcakes, or you can fill all the way to the top for 12 oversized cupcakes. It's your choice!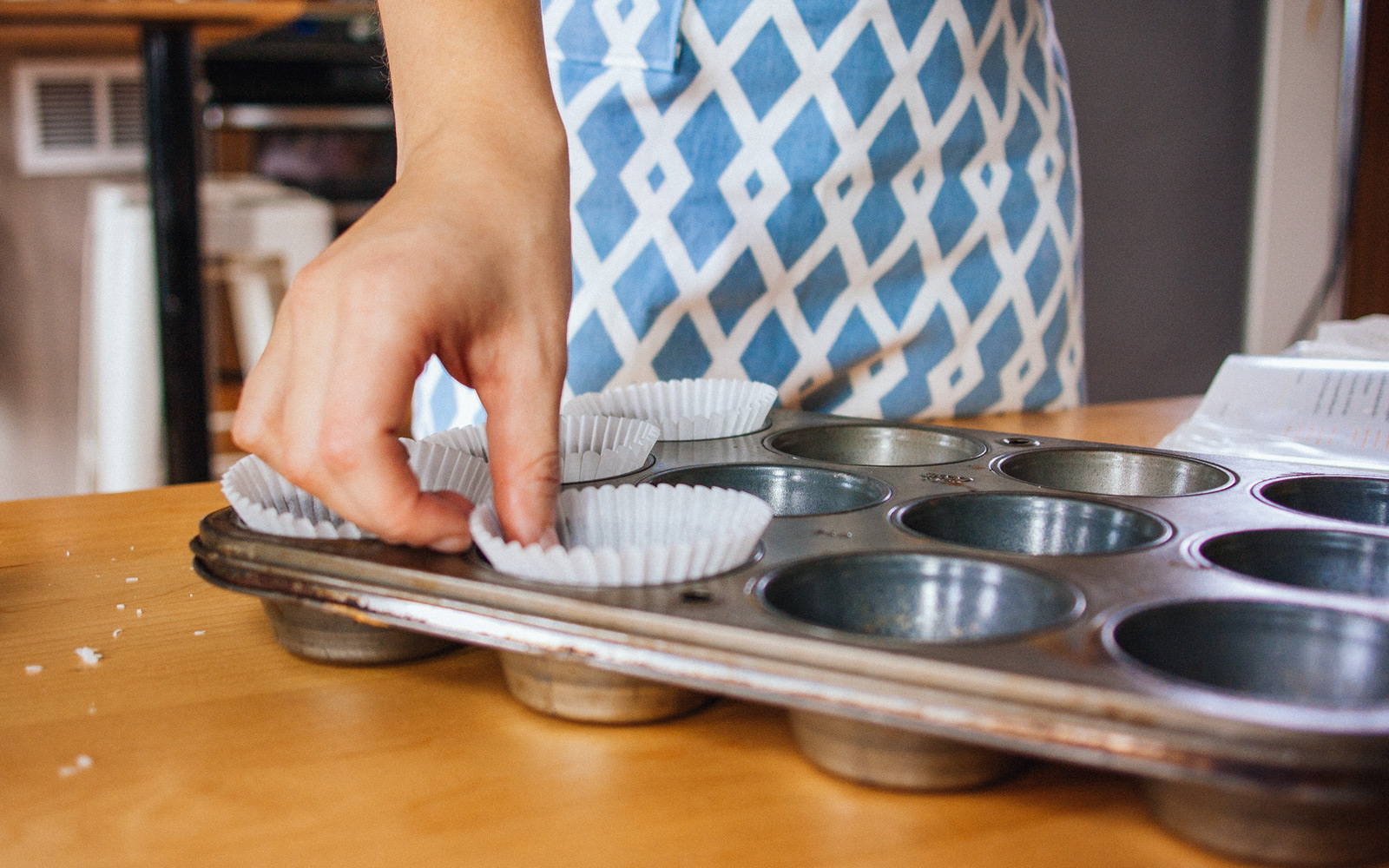 Step 5
Bake the cupcakes for 25-35 minutes or until a toothpick comes out clean. I think this is the most important time to be a perfectionist in your baking. Don't get lazy; keep checking until you're sure that you've caught the moment they've congealed. There's nothing worse than putting all the effort into baking only to end up with dry cake.
Leave the cupcakes to cool in the pan for 15 minutes and then move them to a rack to cool completely. If you filled the muffin tins to the top the cupcakes will have spilled over their rims and joined together. Use a sharp knife to cut the tops apart and carefully detach them from the muffin tin.
Next comes the frosting!
(This frosting is to-die-for.)
Back in your electric mixer, cream together cream cheese, butter**, and extracts. Slowly add in the powdered sugar. (If you want to avoid lumps in the icing you can sift the sugar as well.)
**I used a half-cup of butter. The recipe calls for a whole cup and a half. I swear, I can't taste the missing butter, and that was even with using reduced-fat cream cheese.
I have made this frosting many times and every time—whether it's for cupcakes or a two-layer cake—I have never been able to use more than half the icing. So unless you want a Tupperware of cream cheese frosting in your fridge (which you very well might!) I would recommend you halve the recipe.
Once the cupcakes are cool you can begin frosting them. A while back I invested in an offset spatula, which makes frosting so much more enjoyable, especially when you're frosting a large surface. Using the remainder of the package of shredded coconut, sprinkle the top of each cupcake. Voila! Aren't they beautiful?