Every spring, DIY inevitably turns to gardening. And while I can design and build a variety of flower boxes and planters, the actual growing of things eludes me somewhat. Several years ago at the Northwest Flower and Garden Show, someone came up to me in the booth and asked me how I had kept a certain type of fern alive. It was a finicky plant and they hadn't had much success with it. My answer to them was, "I bought it the day before the show started and it will be dead by the end." I think that pretty much sums up my relationship with plants.
That being said, I do love having plants around. And while it's been hard to keep indoor plants in an apartment without much natural light, I do have a bedroom balcony that's westward-facing and gets a good deal of afternoon sun.
Talking with Aimée from Swansons Nursery about growing an edible garden in planter boxes was thoroughly inspiring (stay tuned for our how-to-garden guest post from her in two weeks). It's been a decade or two since I tried to grow something edible, but this just might be the year I pick it up again. Growing plants in containers is a great way to get your feet wet with gardening, especially if you're living in an apartment space without a yard. A balcony or a small patio space is all you need (provided they get enough sunlight).
The design for these planters is fairly simple and doesn't take too much skill. For my building process, I decided to use a nail gun because this was the most efficient and cost-effective option for me. A nail gun can be an intimidating tool, and when they were attached to compressors it was definitely a bit more of a learning curve. Now you can buy a battery-powered nail gun that's as simple and straight-forward to use as a drill. Like a lot of things in the DIY world, as long as you respect it for what it is, you'll do just fine. That being said, if you're not ready to take that plunge skill-wise you can absolutely do this project with a hammer and nails (it'll just take you more time), or with a drill and screws (it'll just cost you a bit more). Get creative with the tools and skills you currently possess and don't let it trip you up.
For this project I've designed two different sized planters, both 18" tall and on wheels. One is an 18" x 18" square, and one is a larger 18" x 24" rectangle. The quantities I've included for each item in the materials list above reflect what you'll need to build both planters. Here's what you'll need if you're making them individually:
For the 18" x 18" square planter you'll need:
One 1 x 4 - 6' tight knot cedar board
One 1 x 2 - 8' cedar board
One 1 x 2 - 4' cedar board
Two 1 x 6 - 8' pieces of cedar channel siding
One 1 x 6 - 10' piece of cedar channel siding
For the 18" x 24" rectangular planter you'll need:
One 1 x 4 - 8' tight knot cedar board
One 1 x 2 - 8' cedar board
One 1 x 2 - 6' cedar board
Four 1 x 6 - 8' pieces of cedar channel siding
Step 1: Cut wood for planter skeleton
Make cuts with a hand saw and miter box (or with a power saw, if you prefer). Measure out each length one at a time and clamp your board onto your work surface before cutting.
For the 18" x 18" square planter cut a one-by-two to four 15 ½" lengths for the uprights, two 16 ½" lengths and two 15" lengths for the skeleton base. Cut a one-by-four into four 16 ¼" lengths for the bottom slats.
For the 18" x 24" rectangular planter: Cut a one-by-two to four 15 ½" lengths for the uprights, two 16 ½" lengths and two 21" lengths for the skeleton base. Cut a one-by-four into five 16 ¼" lengths for the bottom slats, and cut one one-by-two slat to 16 ¼".
Step 2: Assemble skeleton base
Start with the one-by-two base pieces and connect using a nail gun. Make sure the 16 ½" lengths are sandwiching the other side (15" or 21", depending on which size planter you're building). Use more than one nail at each corner so that the boards won't twist once secured together. You can also add wood glue to prevent this.
Lay the one-by-four and one-by-two slats on top of the one-by-two base. Space evenly and nail in place. This doesn't have to be precise, so feel free to eyeball. Be sure to add glue to these pieces if you're securing them with nails, because the wheels will get attached to these slats, and with only the nails to hold them in place, the wheels will push the slats right out of place. Also, make sure that the one-by-four pieces don't hang over the one-by-two frame. If they do, cut them shorter.
Step 3: Cut channel siding
Now that you've built the base of your planter, it's time to cut the channel siding. I waited to cut the channel siding until this point so that I could use the base as a reference and get the most accurate cuts possible. This will make the finished product look cleaner.
Cut each piece to the width of the base, plus the thickness of the channel siding which is just under ¾". This length should be somewhere right around 17 ¼" for the square planter and the end of the rectangular planter, and 23 ⅛" for the long sides of the rectangular planter.
These boards are too wide to fit into a miter box, so use a speed square to get a straight cut with a handsaw or a circular saw.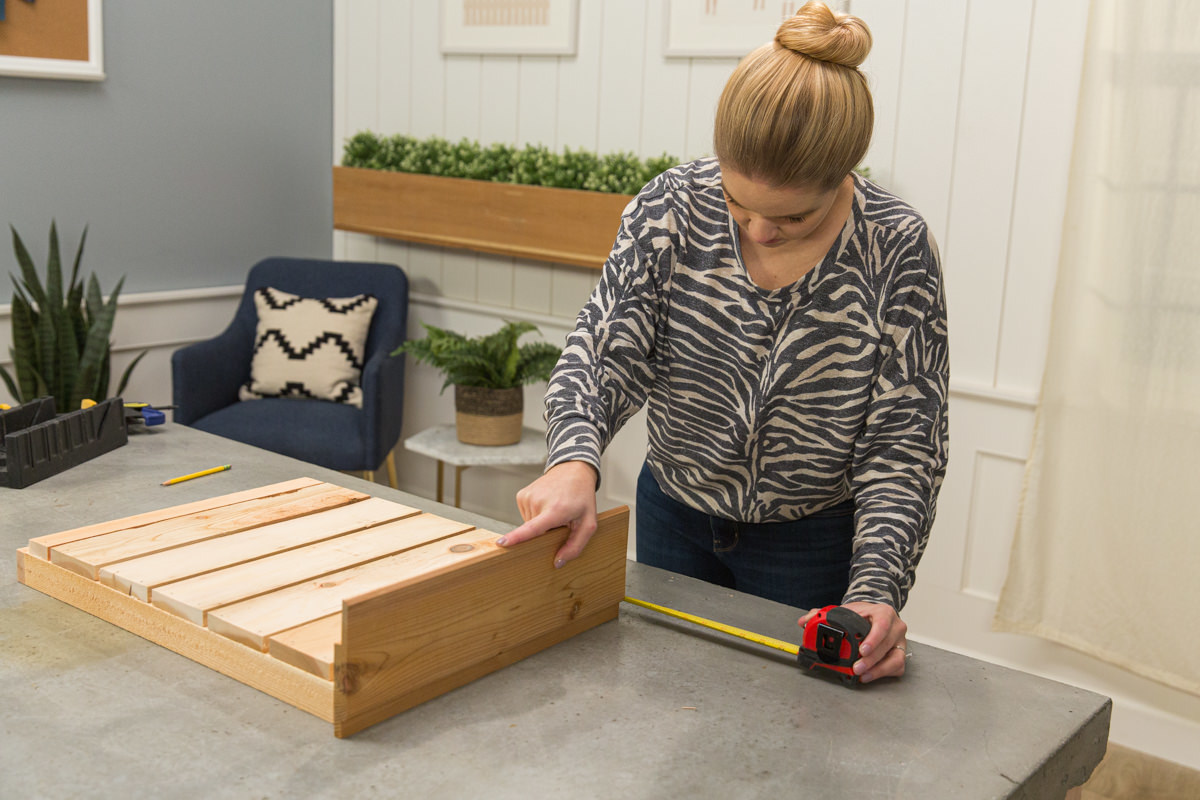 Step 4: Add the first layer of channel siding
The next step is to wrap the base in the first layer of channel siding and add the one-by-two uprights. The channel siding will overhang the bottom of the one-by-two frame by ½". This will give us room to add wheels later that will be hardly noticeable (I always love creating design features like this).
Use some ½" plywood (or plastic spacers like I did) to lift the one-by-two base off of your work surface. Line up the channel siding so that the left side is flush with the side of the base and the right edge overhangs about ¾". Add glue and nail in place. Nail in place along the bottom edge of the siding as well. Repeat with each side until the base layer of siding is done.
This is the point in my first build when I started to panic a little bit. The cedar channel siding can warp a little and start to cup. This means that once it's attached to the base it curves out away from the planter and makes attaching subsequent layers of siding neatly look nearly impossible. If this happens to you, fear not! It is fixable as you continue adding layers, and we'll get to it, just not right now.
Next, position the 15 ½" one-by-two upright pieces in the inside corners of the planter. Make sure the end is firmly seated on the one-by-two base (not on the one-by-fours), and that the uprights are snug with the siding. Clamp in place to get a tight fit and secure with glue and nails. This step may take a little finagling to get right.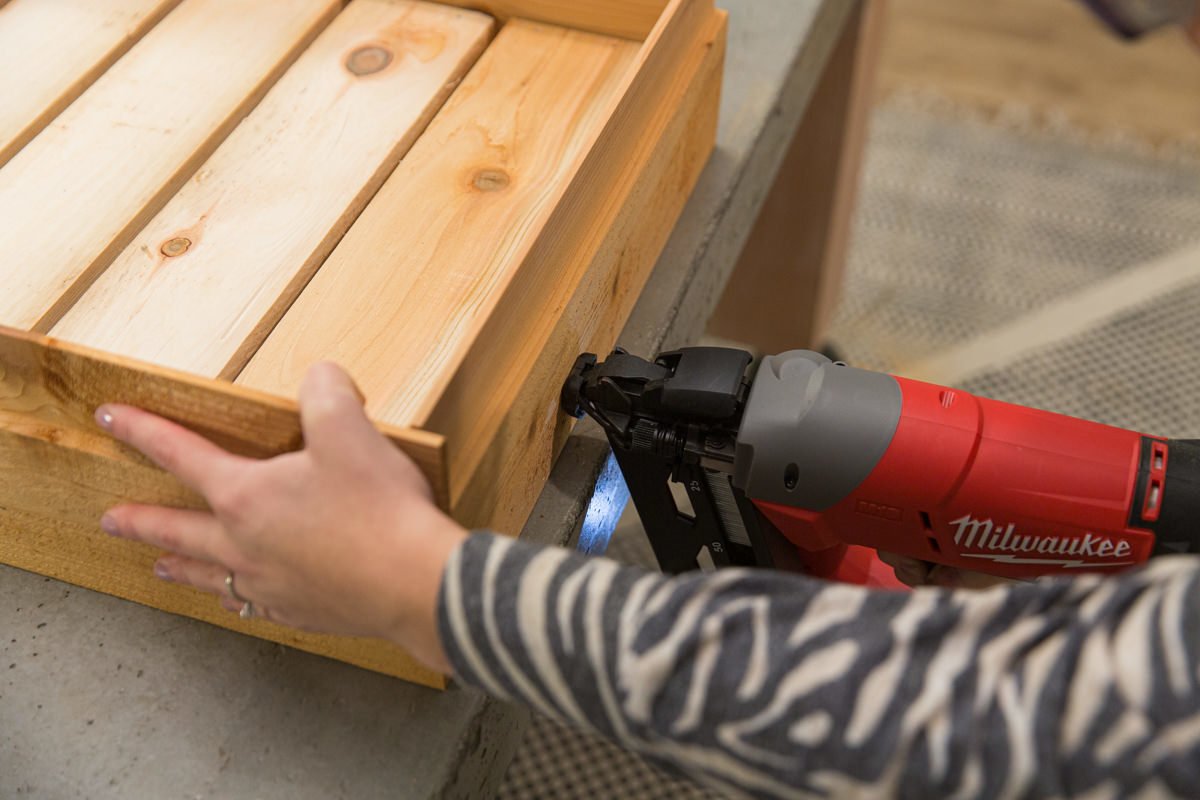 Step 5: Add the rest of the channel siding
Move onto the next layer of channel siding. Line up the left side of the siding with the left side of the piece below it. Add glue to the uprights and the top edge of the bottom layer before placing the piece. Use extra boards to make sure that the piece is lined up on both sides and use clamps to manipulate the one-by-two uprights into the right place, and the bottom boards if they're curving away from the uprights. Once it's positioned how you want it, secure it in place with the nail gun.
To help with the "unwarping" of the bottom layer, be sure to secure nails into the very bottom of the piece you've just added where it overlaps with the layer below it. At one point I thought that also adding nails into this overlapping section in the middle of the planter would be helpful—but don't follow my lead here, because in the middle of the planter there's only ¾" of material to go through and the 1 ¼" nails will just poke through on the inside, turning gardening in containers into a very dangerous sport.
Repeat this step, working your way around the planter and up until you get to the fourth level. Make sure to only put nails through the thick part of the siding into the one-by-two uprights or you'll end up with nails sticking out inside your planter.
Step 6: Attach the wheels
Once the planter is built, it's time to add wheels. Flip your planter upside down and position wheels in each corner. Swivel the wheel around and make sure you have about a ¼" clearance against both inside walls of the planter. This will ensure that your wheels can move freely even if the wood expands. Once positioned, pre-drill shallow holes with a ⅛" drill bit and secure with #10 x ¾" screws. These screws are short, but their beefiness will help create a secure hold for the wheels.
Now that your wheels are added, make sure not to put too much weight on them until the glue on the one-by-four slats has fully dried.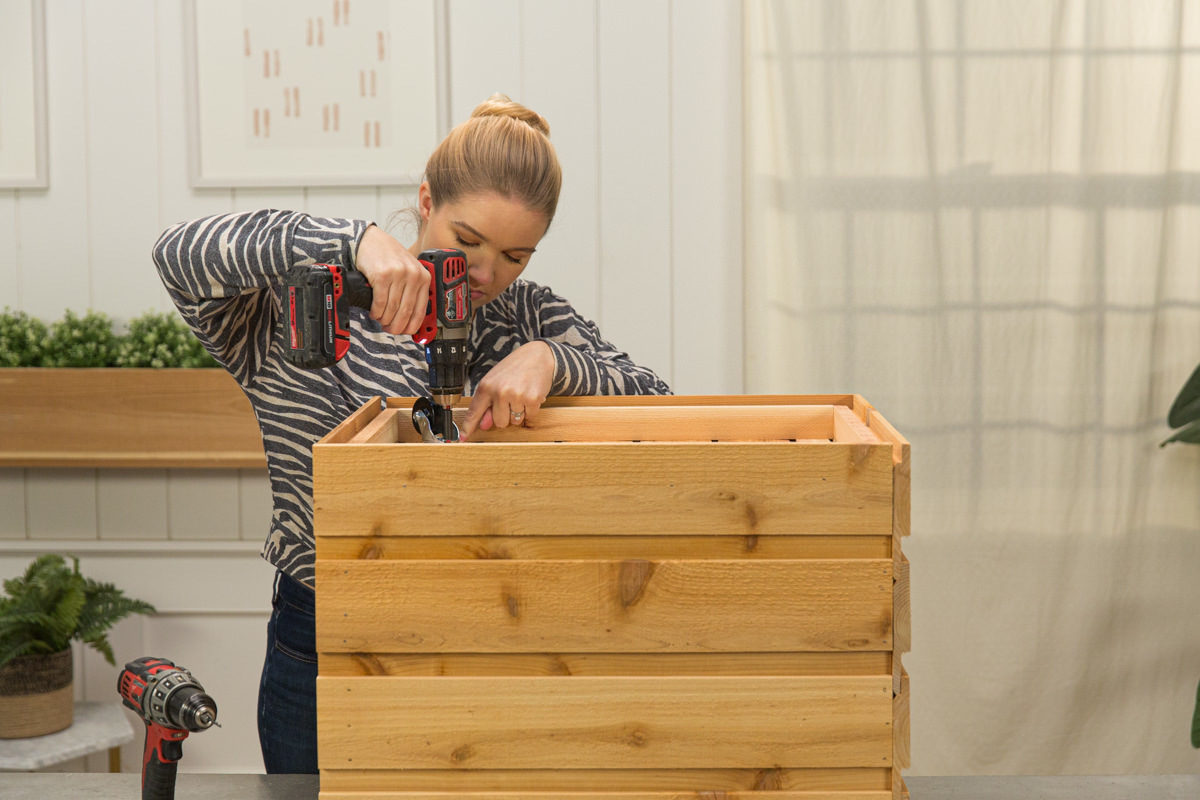 Step 7: Add decorative brackets (optional)
If you like the look of your planter as-is, then you're done! I personally decided to add some embellishments. I love these little black corner brackets because they're an inexpensive way to upgrade your project. After using them in my DIY Planter Box on Wheels I learned a couple of things about them. First, pre-drilling is a must because of the thickness of the matching screws, and second that these brackets work much better with straight cuts than with miter cuts. Because of the curve on the inside of the brackets, they had a tendency to pull the two mitered boards away from each other, creating a not-so-sightly gap. This year I took a step further in making these brackets easy to use and decided not to make them part of the structure of the planter at all. Because everything is secured before we start adding them, it's really easy to get them to do exactly what you want.
Add two of these brackets in each of the four corners—just remember to line up the shorter side of the bracket with the narrow side of the one-by-two and the longer side with the face of the one-by-two. Pre-drill to avoid splitting.
Stay tuned for our upcoming post on how to create a garden in your new planter boxes! In the meantime, check out our guide to growing vegetables in the Pacific Northwest, how to make a cocktail herb garden, and how to build a DIY garden storage shed.