Step 1
Cut a handful of 4" to 6" sprigs of greens. We cut boxwood, but you can also use rosemary or any other evergreen with small leaves.
For a wreath frame we used a 6" embroidery hoop. I like this option because it's a very narrow frame, so it's easy to hide with greens; the hoop has two separate pieces, so two wreaths can be made from one hoop; I happened to have one lying around my house, and my embroidering is infrequent enough to not miss the hoop for a month or so. Alternatively, you can purchase a wreath frame (sometimes called a floral ring) in pretty much any craft store.
Step 2
Begin by cutting several pieces of wire, each about 10 inches long. Pick a couple sprigs and positioning them together on the frame. If working with something like boxwood, make sure the darker green leaf tops are facing up. Begin to secure with wire near the base of the sprigs. Wrap tightly to keep the greens in place and not too close to the end so they don't slip out. Trim or wire down any uncooperative pieces that are sticking out unpleasantly.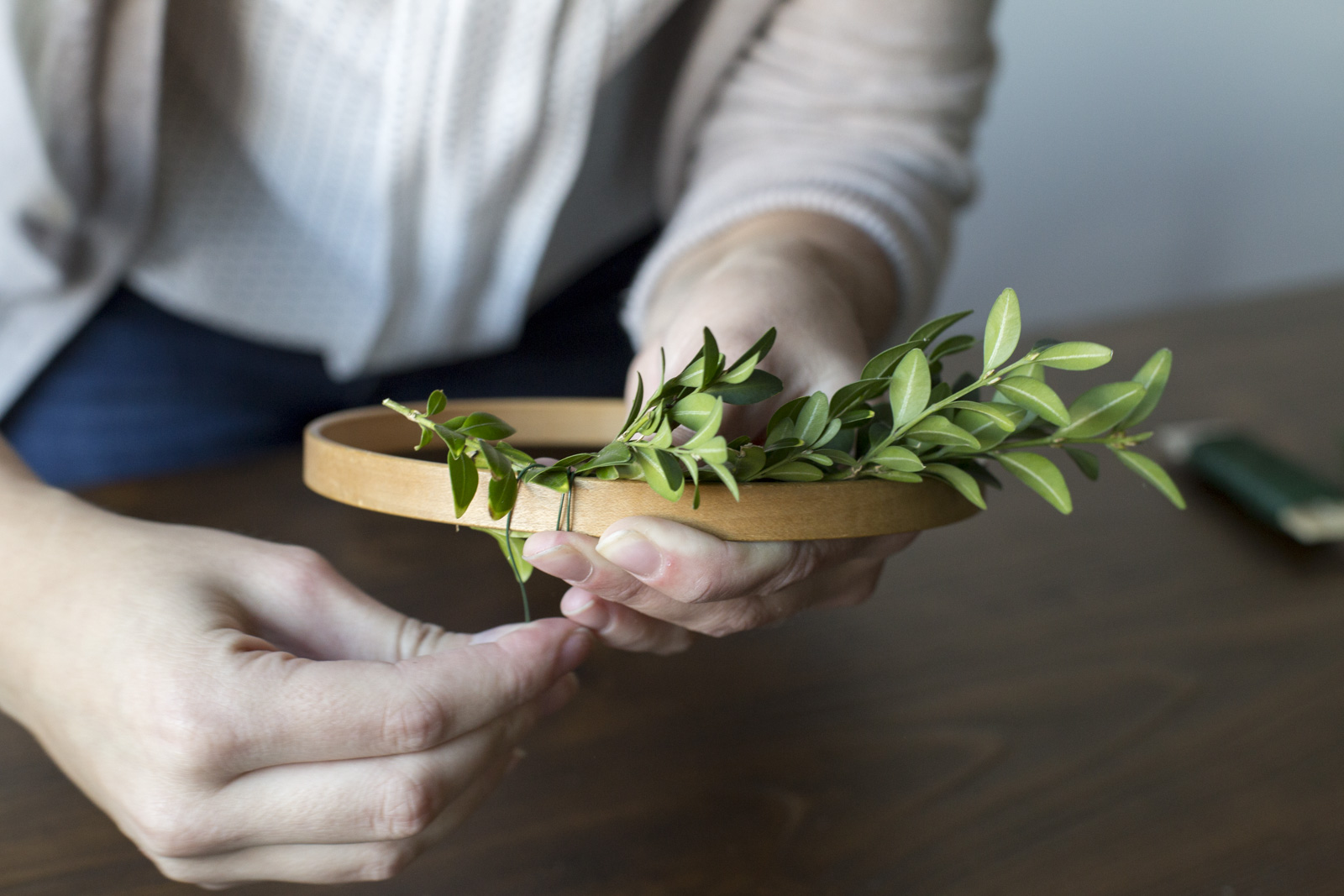 Step 3
Take your next bunch of sprigs and position them on the wreath so they overlap with the last bunch and cover up the wire. If the greens are pointing to the left, you'll be added new sprigs in a clockwise direction. Continue adding sprigs until the entire hoop is covered.
Step 4
Add a ribbon around the top, and it's ready to hang up in your home.
Step 5
Tips for care: to keep live wreaths fresh for as long as possible, hang them outside or store them outside at night. (The dry, heated air inside can be a little rough on them.) A light spritz with water every few days will also help keep them looking green and healthy. When the wreath has dried out, a coat of spray paint can give it new life. You may not be able to get that lush natural green back, but you can try something new and fun, like white or gold!