Now that working from home is a lot more commonplace, there's a need—and an opportunity—to organize your workspace and customize it exactly to your liking. But, given that our offices have expanded into our homes, it can be hard to keep things organized and make sure everything has a place. My work-from-home desk is an antique, and while I love it, it's only about three feet wide, and sometimes I need extra space.
We designed today's project to give you an innovative way to gain extra workspace while utilizing vertical space to expand your desk area even further. There is so much room for customization with this project—copy our design piece-for-piece, or customize it to your needs and make it your own.
This project is two pieces joined together: a desk and an adjoining sideboard organizer. In the first part of this project, we'll show you how to build a work-from-home desk. If you already have empty wall space next to your desk space, you can either skip part two of this project entirely or turn it into a partition of sorts for a little privacy. If you don't have wall space, we'll show you how to create one.
For this project, we used three different products from our friends at Semi Exact. Semi Exact makes custom metal brackets for bed frames, legs for tables and benches, and unique shelf brackets. Pick your size and color and they ship it to your doorstep in a matter of days. We used their tubular steel legs, hairpin shelf brackets, and incredibly sturdy floating shelf brackets. Let's get to it!
Part 1: DIY Desk
Step 1: Attach desktop to legs
For the desk surface, we used a two-by-four piece of prefinished birch plywood cut down to 19" by 36".
The H-frame legs from Semi Exact are available in custom sizes, so you can pick whatever size works best for you. We used a pair of legs 16" deep and 29" tall with a clear finish on the tube steel. A flange welded onto the top of the legs makes it easy to attach the desktop with screws. The legs also come with adjustable feet so your desk won't rock on an uneven surface.
The easiest way to attach the legs is to place the desktop surface upside-down, then place the legs upside-down on the underside of the desktop, equidistant apart, before screwing them into place. We set the legs one inch in from the sides of the desktop and flush with the back of the desktop, creating a 3" overhang at the front. To attach the desktop to the legs, use 1" screws, drilling through the table legs first, then through the underside of the desktop. This upside-down method of drilling keeps the screw heads from showing on the desktop surface—but be sure to use screws short enough that they don't poke through the top of the desk.
Step 2: Attach trim to desktop edge
Trimming the edge of the plywood isn't mandatory, but it gives the desk a more finished appearance. We used a ¼" x ¾" style of wood trim called screen mould which has rounded edges. We cut the trim to two 19" pieces and one 36 ½" piece and tacked them to the edge of the plywood using ¾" brads. To avoid the chance of splitting the trim, we pre-drilled the nail holes (about five inches apart) with a 1/16" drill bit.
Step 3: Place the lower shelf
The H-frame metal legs provide the perfect support bar for a lower shelf, so we used a 34" piece of one-by-twelve lumber underneath for added storage space. While we used poplar rubbed with tung oil, you could use plywood or a board of another species. To keep the shelf from sliding side-to-side, we screwed a couple of wood scraps to the bottom of the shelf just inside the left and right leg braces. To avoid splitting the scrap wood, predrill your screw holes and use a short screw that won't pierce the top of the shelf.
Already with minimal effort, we have nearly five square feet of desk area and a shelf below!
Part 2: DIY Sideboard Organizer
If you're placing your desk against an existing wall in your home, you can feel free to skip to step four (all of the brackets and accessories we use in that step can attach to an existing wall). If you don't have an adjacent wall, follow along to learn how to build one so you can showcase those brackets and get some added organizational space. While our DIY wall is only finished on one side, you could easily make it double-sided by attaching a second piece of plywood to the other side of the frame.
Step 1: Assemble the frame
First things first: the frame. We used two-by-two lumber to build a simple grid framework, mimicking how a real wall is constructed with vertical framing 16" apart (on center). We cut the two outside pieces to 75" and the vertical piece in the center to 46" in length. Then, a 33 ½" piece runs horizontally across the very top of everything, and four pieces 14 ⅜" in length span between the uprights. There's a method to the madness in these dimensions—the width of the frame lines up with the back legs of the desk we made earlier, so the 75" pieces line up right behind the desk's legs. The horizontal cross braces were placed at the bottom of the 46" piece and then about half-way between there and the top 33 ½" piece. Attach with 2 ½" screws. In the middle of the grid, you'll need to toe-nail the screws instead of just driving them straight in.
Step 2: Attach wall to frame
For our wall surface, we used a half-sheet (a 4' x 4' square) of thin, prefinished birch plywood (the same wood as our desktop). Line up the bottom of the square sheet with the bottom cross-brace and center the sheet horizontally. The plywood will extend beyond the framework by 7 ½" on each side and just about ½" on top.
Now, screw or nail the plywood to the frame behind. We used 1 ¼" screws, spacing them out about every 16". If you have a finish nailer, now is a great time to use it instead of screws.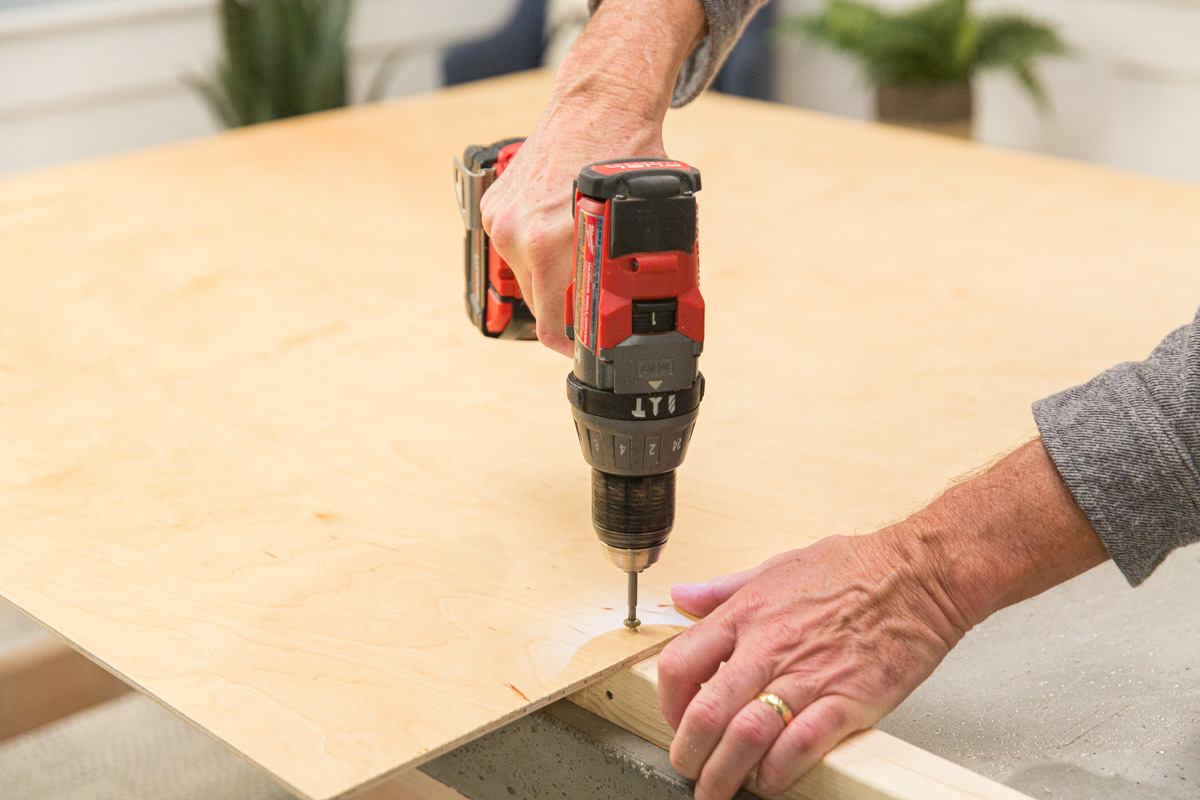 Step 3: Attach wall to desk
Next, join the desk to the wall using four 2 ½" U-bolts (these make for simple attachment and easy removal). The U-bolts join the 75" two-by-twos to the legs of the desk. One at the top of each metal leg, and a lower one just above the metal crossbar on both sides.
Step 4: Personalize your workspace
Now it's time to make it yours! Use any of our accessory ideas below, or come up with your own ideas that fit your workspace needs.
Floating Shelf
We used a set of Semi Exact sturdy brackets to add a floating shelf to our wall space (a "floating shelf" has no visible brackets holding it up). We ordered the 14" size, which wasn't the best idea in hindsight since wall-framing studs are generally spaced at 16" intervals. Being able to anchor into studs is preferable whenever possible, especially if you're planning on placing any heavy items on your shelf. Luckily, we were able to anchor into the cross braces we installed in step one. If you're installing these shelves on a regular wall where you can't find a stud to anchor into, use wall anchors.
A piece of two-by-eight cut to two feet in length became the shelf to use with our floating bracket. Following Semi Exact's instructions, we marked the hole placement for the rods and then drilled 5/8" diameter holes six inches deep into the back edge of the shelf board. It's important to drill these holes straight—we suggest practicing on a piece of scrap wood before drilling into the shelf board. The holes need to be very straight and as perfect as possible to allow the shelf to slip over the rods on the wall.
Then, screw the rods onto the mounting plate and, using a level, screw it to the wall. Assuming the holes in the shelf are straight enough, slide the shelf all the way onto the rods. Our holes were pretty straight but required some light tapping to get the shelf to secure properly. To avoid marring the front shelf edge, hold a piece of scrap wood against the edge of the shelf and tap it with a hammer (don't use the hammer against the shelf itself).
Hairpin shelf brackets
We chose Semi Exact's six-inch brackets in a bright yellow color. The brackets come in 24 sizes, and you can choose from 13 colors.
Secure one bracket first using a level to make sure it's straight up and down. Then, use a level to make sure the second bracket is the same height as the first bracket before screwing it into place. We spaced ours 16" apart to match the spacing of the framing behind the wall so that we could drill into the support "studs" behind our makeshift wall. We then used a 22" piece of one-by-six for the shelf, slipping it between the loops of the brackets (we found that the bracket loops make great bookends, too).
File folders
We nested three file folder organizers low on the wall within easy reach of a desk chair. They screw easily into place or attach with double-sided tape.
Hooks
Self-adhesive hooks are an easy way to hang cords, headsets, keys, and the like.
Phone holder
A great innovation from 3M—a clear plastic holder for a smartphone. It keeps the phone from being buried in paperwork, has a slot for a charging cord, and sticks to almost any surface with non-permanent adhesive strips.
Paper organizer
The desk's bottom shelf serves as an excellent spot for a file organizer.
We hope these projects and organization ideas help you expand your workspace and bring you more joy in your work-from-home setup. For more ideas to help you get organized, check out our DIY desktop organizer, DIY closet office, and how to recover an office chair.