As I've been thinking about projects for the fall—and all of the kids who will be doing school at home—I've found myself thinking a lot about my own childhood. I don't have kids and have never taught kids myself, but I have been on the other side of this situation. I was homeschooled K-12, so I'm very familiar with being educated at home.
Looking back over my years of at-home education, especially my younger years, there are two particular things that come to mind. First, my mom was a wonderful teacher who did an excellent job putting together a curriculum and teaching me, but I think the best thing she ever taught me was one of the simplest: a love of learning. There is a saying that originally came from Plutarch and has been adapted over the years: "Education is not the filling of a bucket, but the lighting of a fire." There was nothing I liked better than learning something exciting in school and sharing it with my mom, only to have her be more excited than I was. Her curiosity and wonder with life was contagious. My mom lit a fire in all of her children and to this day we still all love learning and seek it out. I think if there's anything you can do for your kids (whether they're at home or in school), it's to teach them wonder and a joy of learning by example.
The second thing that comes to my mind when I think of my earlier years of schooling is writing. I wrote so many summaries of history and science lessons over the years, and even more accounts of various activities and trips. Until I was about seven or eight, I would dictate and my mom would write it down (so that the effort of writing wouldn't get in the way of sharing my thoughts), and then I would write things down myself. So many family vacations and school trips were recorded day by day—and were frequently paired with postcards and photos from my own disposable camera. This kind of record keeping is really an amazing tool, and I credit my vivid memories of these events to all of the writing I did. When I was seven we took what my mom called a "field trip" to Europe. My mom wanted it to be educational, and our trip was packed with museums, historic buildings, and tours. And I think it was because of the daily journaling we were required to do that I still have a clear memory of not only what we did but the details of it—the Rosetta Stone and the Assyrian statues in the British Museum, the fountains in the gardens of Versailles, the ceiling of the duomo in Florence—not to mention the funny little things that made a big impression on me at that age: eating my first crumpet, the age of the Queen mother, drinking Fanta, and watching Pokemon in Italian.
I actually copied the design for this journal from a timeline of American history that I made when I was ten. That book, covered in wallpaper from my bedroom, was filled with tiny coloring pages of various major events from US history, and a few blank pages so I could add in my own historic events—like my birth and the founding of Dunn Lumber.
I designed this journal as a way to keep a record of your kid's experience living through such a unique time in history. And because journaling every day can be daunting, I decided to make this journal a once-a-week thing. That way, you can start or end your week thinking back over what stood out as the best, worst, and most different moments. I think capturing any moment in your child's life in their own thoughts and words can be a sweet gift later—and it's a great way to get a glimpse into your child's head as they're processing all of the changes happening in the world. I made this journal 40 pages long so you can keep this up through the whole school year, but if that feels intimidating, pick a briefer amount of time. Remember, something is always better than nothing!
Step 1: Cut wood
To cut the plywood, you can use a number of different techniques. You can tackle this with a hand saw or circular saw, but I think the easiest way to do this is with a utility knife and a combination square. Use the square to measure out two rectangles 5 ⅝" x 7 ¾". Clamp down the plywood and use the square as a guide for your knife. Score the plywood along the pencil lines. Start out gently, making sure the knife doesn't swerve off the path. Once you have gone over it once or twice, apply more pressure to create a deeper groove. When you're the majority of the way through the wood, unclamp it and bend it back and forth until it breaks. If it's not bending, keep scoring it. If you're not doing this on top of a cement table like me and you're worried about ruining your furniture, you can do this on top of a cutting board.
Depending on the plywood you're using, you may run into some threads inside the board. These are difficult to break without damaging the wood, so cut these with the knife or a pair of scissors.
Step 2: Drill holes for spine
Tape off the left side of both boards—this will help keep the wood from splintering when you drill. On one board, draw a line on the tape ⅜" from the edge. Then measure along that line and mark at ¾" 2 5/16", 3 ⅞", 5 7/16", and 7". Clamp both boards together on top of a scrap piece and drill through all of the marks with a ¼" drill bit. Once the holes are drilled, remove the tape.
Step 3: Sand
Grab a sanding sponge or a piece of sandpaper and sand the holes you just drilled, the edges of the board, and the corners.
Step 4: Decorate
Now it's time to pick one board for the cover of your journal and decorate it. I used a woodburning kit to label the journal. To do this, mark the center of the front cover, then draw horizontal lines for text so your title will be straight. Mine says "My Journal," so I placed an "M" and "Y" on either side of the middle line, then divided the letters in "Journal" and placed the "R" right in the middle below "My."
For some more creative ideas to decorate your journal with glue and stain, check out the techniques we used in this post!
Step 5: Measure and mark paper
In light pencil on a single sheet of paper, draw two boxes, both 5 ½" x 7 ½". Each box will be a page in your journal (notice that they're slightly smaller than the the wood covers). Draw a line down the left side of each box ⅝" from the edge, also in light pencil. If you're going to be photocopying these pages, I recommend making the lines extremely light so that the copier won't pick them up.
Once you have the outline, you can start filling in the pages with journal prompts. I like to do this in pencil first, then go over it in pen so I'm sure to not make any mistakes.
I came up with three prompts to put on each page of this journal, along with space for a date. I decided I wanted this to be a weekly journal, so my prompts include, "Best part of this week," "Worst part of this week," and "One thing that was different." I picked these prompts because they're a simple way to capture a snapshot of your child's perspective on life in the middle of a pandemic.
Once you've picked out your prompts and filled out your pages in pen, it's time to make copies. I made 20 copies so I would have a total of 40 pages—enough for every week of the school year (including breaks).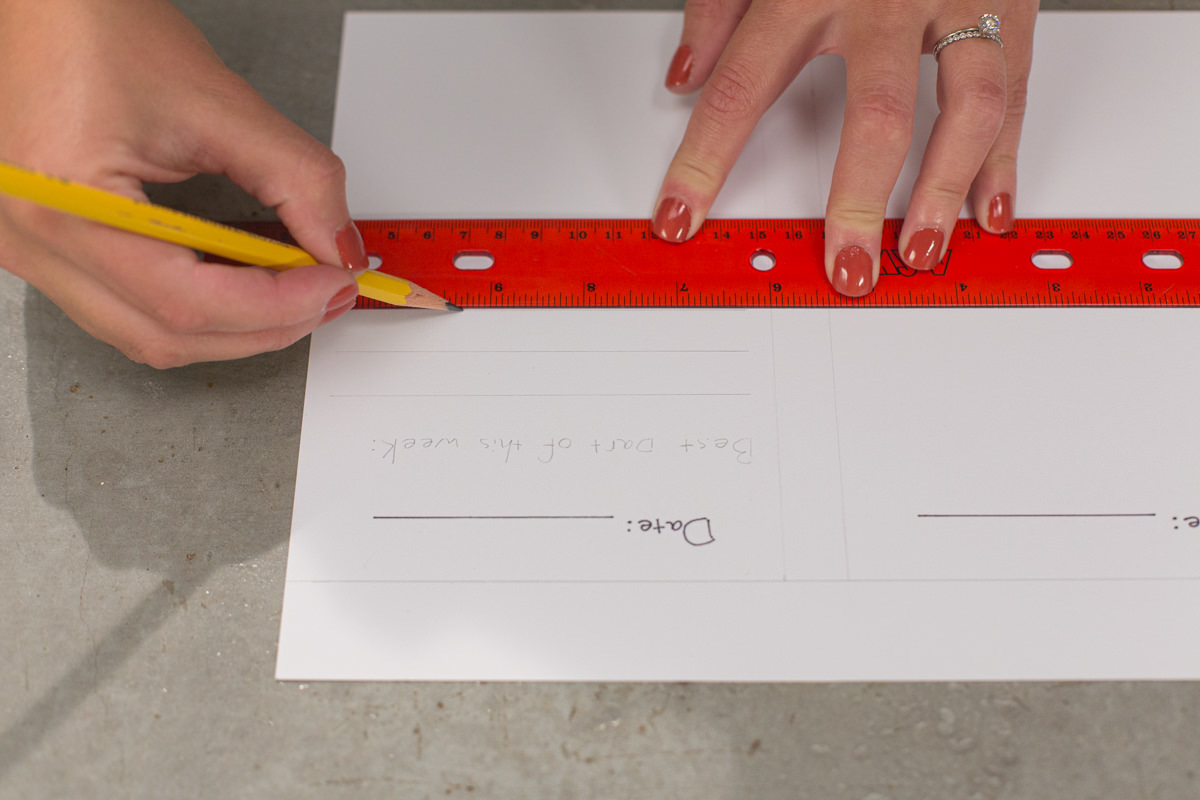 Step 6: Cut paper
When your pages are copied, it's time to cut and hole punch. You can cut out each page by hand or use a paper cutter. I found that my copier was accurate with the height of the pages, but the width was a little off, so I just measured out the middle of the page again and cut at this mark. This way all of the pages will be the same size, even if the words on each page aren't in the exact same spot.

To hole punch, measure ⅜" from the left side and mark along this line at ⅝" 2 3/16", 3 ¾", 5 5/16", and 6 ⅞" so the pages line up with the cover. You can punch holes out of one page, then use this page as a guide to punch the remaining holes. This is one of those steps that felt extremely tedious as an adult, but I know that I would have loved doing it as a kid. So make sure you get your kid's participation in this!
Step 7: Assemble
The last step is assembly. Thread pieces of twine through the front cover, through all of your pages, and out through the back cover. Tie bows or knots along the spine, leaving enough room for your book to freely open. I recommend tying all of your strings, then opening and closing the book to test and see if they're tied at a good tightness before snipping the ends and making everything look neat.

And that's it! If you're looking for other DIY projects now that school is in session, check out our DIY Pencil Holder, DIY Magnets (perfect for spelling practice!), and DIY Kids' A-Frame Tent—because doing homework is always more fun inside a tent!