Today, my daughter Emma joined me—all the way from Tennessee!—to help build this special project with me. Well before she was born, Emma's great-grandfather had a slick little travel cocktail kit. Resembling a tiny suitcase, it was perfect for making gin-and-tonics at our favorite Oregon coast motel whenever we'd travel there for a getaway.

Inspired by his handy kit, we're fashioning our own cocktail travel case from materials found at the lumber yard. This travel cocktail kit is as beautiful as it is functional and will help protect all the tools and ingredients you need for a portable bar to make cocktails wherever you go. (We're stocking ours to whip up a batch of Negronis—keep reading until the end for the recipe!)
Step 1: Cut plywood
Note: You have a couple options when it comes to cutting your pieces for this project: cut everything before you begin building, or cut the pieces as you go.
As you'll see in the project steps to follow, we opted to cut everything up front when we built this cocktail kit. In hindsight, we actually wished we would have gone with the cut-as-you-go method.
Cutting the plywood as you go will allow you to make more precise cuts, adjust as necessary, and possibly ensure the most accuracy. It also allows you to stain after everything is assembled instead of before, which means you don't have to worry about marring the pieces as you build, since you can sand them down before finishing at the end.
For this project, we're using ½" plywood that's smooth on one side. You can also use regular lumber boards, but they're usually ¾" thick, which would make the kit a bit bulkier.
Refer to the cutting diagram (below) to cut panels "A," "B," and "C" from the plywood. All the pieces you need can be cut from the same quarter sheet of plywood (aka, a 2' by 4' piece).
Your lumber yard might be able to cut these pieces for you, or you can cut them yourself with a power saw. Clamping a straight piece of wood alongside the saw will help ensure straight cuts.
Determine the "good side" of your plywood and label it so you'll know to have that side facing out when assembling all the parts.
Step 2: Stain or paint plywood (optional)
If you intend to stain (or paint) your travel cocktail kit, you can either do it now or after assembly. If you're choosing to cut your pieces as you go, skip this step and stain or paint after the cocktail kit is assembled.
When we built this cocktail kit in our studio, we opted to stain at this point (as you'll see in the photos below). We used General Finishes' Gel Stain in Carbon Gray.
Note: As mentioned in Step 1, we determined it's better to cut the pieces as you go in this project, then finish the kit when it's fully assembled.
That's why you see our top and bottom pre-cut and pre-stained in some of the photos, but why we encourage you to cut pieces "A," "B," and "C" first, then later cut the top and bottom pieces to size in Step 4.
Step 3: Attach sides to back panel
Now it's time to assemble the kit! Panel A will be the back panel of each side of the case.
Grab one of the A panels and, using a Kreg jig set for ½" material, drill three (3) pocket holes on one long side (the 13" side). Drill one hole near each end and one near the middle.
Next, take two of the B panels. Hold one against one side of panel A and attach it with 1" pocket hole screws. Do the same with the second B panel on the opposite side of panel A. Be careful not to overdrive the screws, or they'll poke through the outside of your case.
You should now have a "U" shape.
Step 4: Attach dividers to back panel
Now it's time to attach the two "C" panels to panel "A." The "C" panels act as dividers and are shorter than the "B" panels, which will allow for the top and bottom panels to fit into place later in the project.
Emma and I chose to attach these divider panels with hinges rather than pocket holes for two reasons: Hinged panels can swing out of the way and make the storage more versatile, and also makes it easier to drive in pocket hole screws in Step 4.
Place the "C" panels 4" in from either side of the outside walls of the case, and attach them with 1" hinges. Use two hinges per panel. If you're using loose-pin hinges, decide which end is "up" and install them that way so that when the kit is carried upright, the pins don't fall out.
Step 5: Cut and attach top and bottom panels
It's time to cut and attach the top and bottom pieces.
In theory, you should be able to cut your top and bottom pieces to 3 ½" x 12" in Step 1, but we suggest waiting until now to take an accurate measurement before cutting.
In the end you want a top an bottom panel that is the same length as panel A and fits between both B panels. Once you have the top and bottom cut, drill two pocket holes on both short sides of each panel and three pocket holes along one of the long sides of each panel. Then, screw the panels into place with 1" pocket hole screws to complete your box-like shape. The short sides attach to the "B" panels, and the long sides will attach to the "A" panel.
Step 6: Repeat steps to build opposite side
You've now completed one half of the kit! Repeat Steps 3 through 5 to construct the other side.
You can change the layout of your divider panels ("C" panels) if you want to, or leave them the same.
Step 7: Stain or paint your case (optional)
If you opted to wait to stain your case (see Step 1), now's the time! You can coat either just the outside or the inside as well. Let dry completely, then move on to the next step.
Step 8: Join two halves
With your two halves completed, it's time to join them together. Line up the two halves as if the case were closed. (If needed, you can use a clamp or two to keep things from shifting.)
Attach two (2) hinges to the "B" panels, with half of the hinge on one panel and the other half on the other panel. (We used 2" hinges.) Like in Step 4, if you use loose-pin hinges, make sure the head of the pin is facing up so it doesn't fall out later.
Note: The screws that came with our 2" hinges were long enough that they could poke through the inside of the case and leave a sharp point, so we used ½"-long wood screws instead. If you don't mind the tips of the screws pointing through, you can use the screws that come with the hinges, and then cover the point of the screw on the inside of the case with a piece of tape or a dollop of hot glue.
Step 9: Attach latches
Next, to keep the case securely closed, attach two draw catches. One would probably do the trick, but having two reduces the chances of the case accidentally opening. (Plus, they came two in a package!)
Note: As with the hinges in Step 6, we substituted ½" screws for the ones that came with the latches.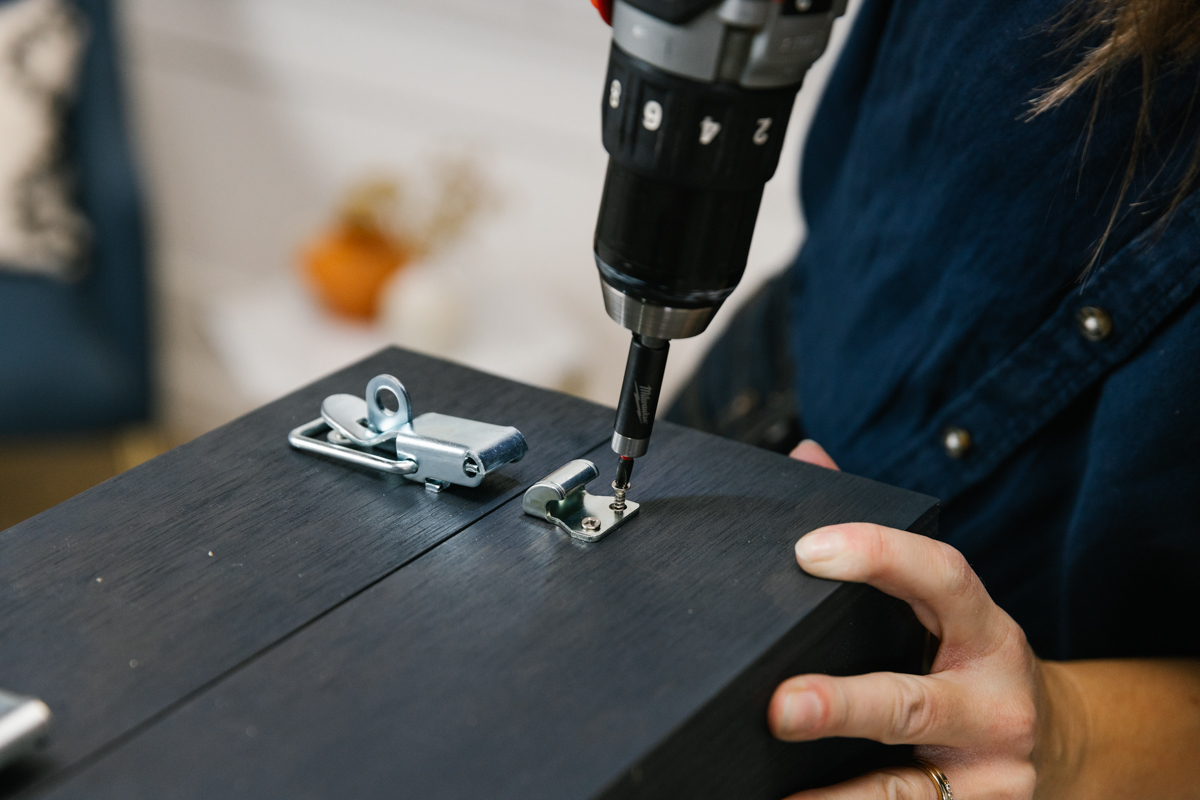 Step 10: Attach carry handle
Screw a carry handle to one top panel, positioning it near the center joint of the two top pieces. Once again, to avoid screw tips from poking through the plywood, you may need to use shorter screws than the ones that come with the handle.
Step 11: Accessorize
Have fun outfitting the interior of your cocktail kit! Use some of our ideas, come up with your own (tag us @dunndiy if you do!), or just leave it plain and simple.
Here are a few of our suggestions:
Use shelf liner to pad some compartments. We did this to protect the compartment where our glass tumblers are going to live.
Use push pins and ¾"-wide bundling straps on the "liquor side" of the case to hold the bottles in place.
Similar to above, use pre-cut bundling straps to hold a shot glass, cocktail spoon, multi-tool, or bar towel in place.
Classic Negroni recipe
Ingredients
Gin
Sweet vermouth
Campari
Orange peel
Of course, you can stock your kit to make any refreshment you like, but we're partial to Negronis—a somewhat bitter gin cocktail that dates back to at least the early 1900s.
The classic recipe calls for equal parts of gin, a bitter aperitif (like Campari), and sweet vermouth. (Substitute bourbon for the gin, and you have another great drink from the 1920s, the Boulevardier.)
Adjust your proportions to taste. Some like it shaken, some like it stirred with ice but still served up, while others like it over ice. It's up to you—just don't forget to garnish your cocktail with an orange peel!
Campari mixed with soda water or citrus juice makes for a refreshing, low-alcohol alternative. If gin isn't your thing, give our cucumber martini or Scrappy's Bitters cocktail a try. Or, scratch the alcohol altogether, and use one of the many non-alcoholic botanicals out there mixed with juice, tonic, or soda.
Cheers!
This DIY Travel Cocktail Kit is as beautiful as it is functional and will help protect all the goods you need to make stand-out cocktails or mocktails wherever you go. If you're looking for more ideas for transporting treats, check out our six-pack carrier and wooden pie box