Wow—what a wild year! 2020 has certainly been full of ups and downs—but over here in the world of Dunn DIY, we're lucky to say that the challenges afforded us opportunities aplenty to get creative, stay inspired, and DIY some projects we're especially proud of.
We started the year off with a bang, having one of our best garden shows ever in February at the Northwest Flower and Garden Festival. Every year at the festival is memorable, but I really felt like we found our flow this year and showed up full-strength. I was so proud of how everything turned out—from the signage designs to the people we met to the projects we developed for the show, everything was perfect.
Overall, this year was all about finding creativity within constraints—using materials lying around the house and embracing substitutions and imperfections. Speaking for myself—one of the perks of spending so much time at home this year was that it pushed me to work out all the kinks and turn my house into a space I love. Most years I find inspiration through problem-solving in my own home, but that was even more true this year. I also had the opportunity to collaborate more with Todd and see his creativity come out in some of the coolest projects of the year: a swing set, a beverage cart—even a trebuchet!
2020 was also a great year for one of my favorite projects—our Tools 101 series. When I first started Dunn DIY almost seven years ago, I didn't know much about working with tools. I knew each tool's general use, but I was never really sure if I was using them to their full potential. We've designed Tools 101 to give DIY-ers who are new to the game (or new to a specific tool) the know-how to operate tools and get the most bang for their buck out of using them. The Tools 101 videos (the ones that have already been made and the ones to come) ensure that we're not leaving anyone behind in the DIY process, which always gets me excited!
My top projects of this year are favorites for so many reasons: they're symbols of problem-solving and space-making and memories of the creative challenges that this year threw at us. And with that, let's take a trip down memory lane.
How To Make a DIY Planter Box on Wheels
Quite possibly my favorite project of 2020, this planter was the hit of this year's garden show. We focused our theme around space-saving gardening projects, and this moving planter box perfectly fit the bill—but it wasn't without its challenges. This was a project where I learned a lot about editing my designs. Just the night before making this tutorial, I decided I needed to redesign the entire thing. I realized my first design was way too heavy and I was trying to include too many elements. So I pared it down, and the final result worked beautifully. Sometimes, simple is better!
How To Make a DIY Lounge Chair
To be honest, I was dreading this project—I knew it was going to be big and complicated, and I was wary of the result. But once I got started, it turned out to be one of those rare projects where everything started falling into place (don't you love that?). I wanted this design to be something you couldn't find online. When researching this, I discovered that every DIY lounge chair falls into one of two categories: simple and uncomfortable or a piece of artwork that requires a master craftsman. Using what I learned in making the Adirondack chair, I was able to create something beautiful, comfortable, and achievable to make at home.
How To Build a DIY Tiki Bar
Sparked by an island getaway-themed summer family get-together, I loved this project because it tested my creativity on a quick timeline with limited resources. It was summer, we were social distancing, and we needed something fun to elevate our backyard family party. I based the entire design for this project around things I had at home, so I really had to get creative with whatever I could find around my shop. During the staining process, I accidentally left a coat of stain on too long before wiping it off, but thankfully was able to refer to our tutorial on how to remove over-applied deck stain. Sure, this project was a little extra, but it transported our backyard party to a tropical oasis during a time when we all needed a vacation!
How To Make DIY Animal Blocks
This project was a favorite because it forced me out of my comfort zone. If you haven't used a jig saw before, it's tough to know what shapes and angles are possible or impossible to cut. So, instead of outsourcing the animal shapes, I decided to create them myself. Drawing is not an area of the arts I feel particularly comfortable with, but I was so pleased with what I ended up with. I loved these so much that instead of gifting them away, I'm storing them in a box in my attic for my future children!
How To Build an Outdoor Beverage Cart
This project was a joint effort between Todd and me. Todd built an all-terrain beverage cart a couple of years back, and last Halloween I turned a wooden wagon into a kid-sized dump truck. This was the marriage of those two ideas. It was the perfect excuse to spread a little neighborhood cheer, even while staying socially distanced—and because we're all yearning for social time with friends and neighbors, we really pulled out all the stops.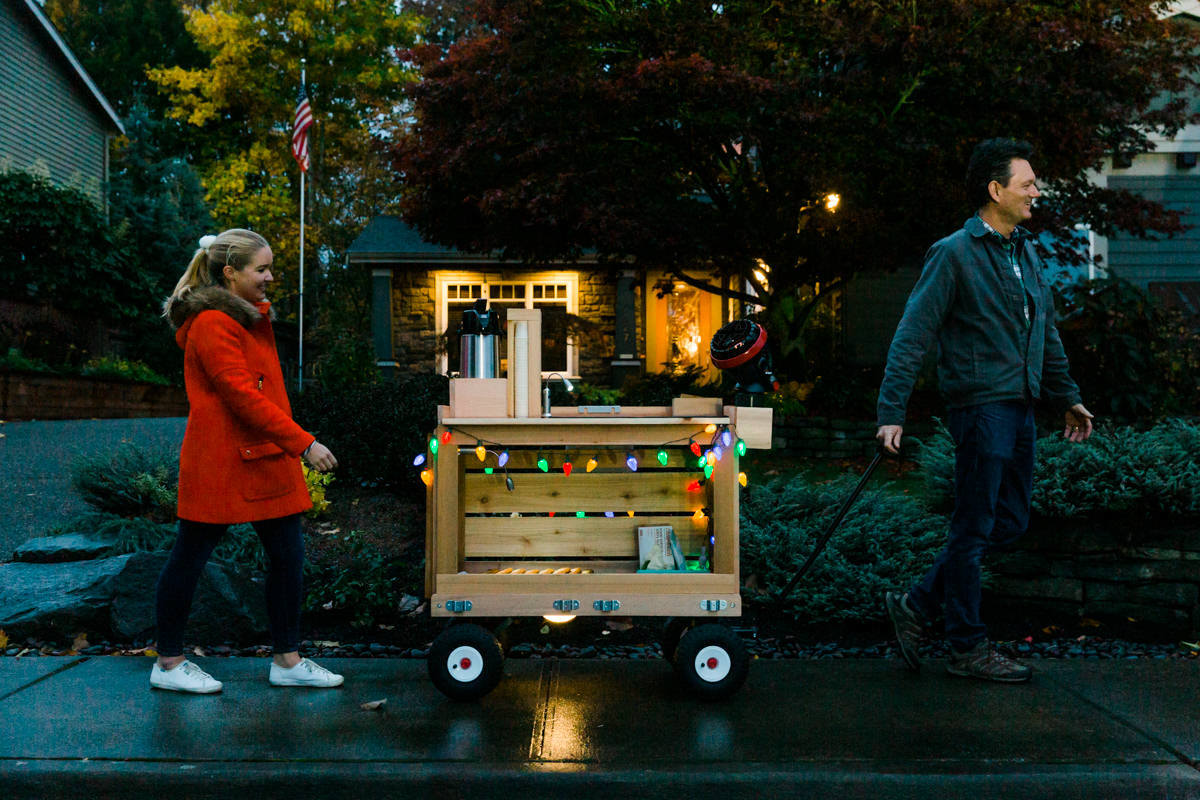 We love looking back on all that we've built this year—and we're even more excited for the projects ahead. If you're feeling nostalgic, check out our year-in-review posts from 2019, 2018, and 2017. Cheers to the new year!