Mother's Day is the one day in the whole year dedicated to showing appreciation to the women who clothed us, fed us, and took care of us through our childhood. I remember the first year when I had outgrown the making-handmade-cards-phase of childhood, and Mother's Day suddenly became a daunting holiday: somewhat stressful, and very confusing to me. It was clear to me no matter how much money I spent on a gift and no matter how much of the day I dedicated to doing things for my mom, it simply wouldn't be enough. It couldn't be enough.
I determined that Mother's Day was an assignment for me to do the impossible, and I dreaded its coming every year. Until one year, when my sister and I were pressed for inspiration, money, and time we approached the holiday in a new way. We pulled from the one resource that we always have on hand, the resource that my mom grew and cultivated in us our whole lives: our creativity. We went with simple, inexpensive, but creative.
This resulted in a day of her finding little things around the house. Tiny flower arrangements on her nightstand, on her desk, by her bathroom sink; notes tucked into books and taped to doors; breakfast oatmeal laid out and brought to her on a tray; origami containers filled with candy (a personal weakness of hers), and other small gifts. It was the most delighted I've ever seen my mom on Mother's Day, and we've been doing things differently ever since.
I realized on Mother's Day one of the best gifts I can give to my mom is to show her all of what she's given to me. Creativity, working with my hands, creating beauty. Those are all things she taught me to do and to appreciate growing up. She was the one who taught me how to sew, how to draw, how to play piano, how to bake, how to garden. She taught me how to love not just the end result but the process of learning and of creating something. My gift to her on Mother's Day (and hopefully all year round) is to thank her, but it's also to remind her of all she's given to me, and to show her how I've been cultivating the seeds she's planted. So for me, the theme of Mother's Day is beauty and creativity. Which is just what we're going to do now!
Today we brought our friend Melissa in to teach us about the beautiful art of flower arranging: Melissa began her career in floral design began in 2003. In 2010, she started her own business in Seattle and has been doing floral arranging for weddings and special events ever since. She enjoys being a part of people's special day by creating beauty that everyone will enjoy! We asked her to give us a few tips for creating a simple spring bouquet, and the end result was absolutely stunning.
You can see more of her work and book her for your event on her website: Melissa Cushman Floral Design.
Here's a list of the flower's we used in today's blog:
Ranunculus
Lisianthus
Dubium
Sterling Range
Hypericum
Waxflower
Jasmine
Nagi
Step 1: Prep the Flowers
Remove the leaves on the lower portion of your flower stems up to the point where they will be in water. (Leaves left soaking in water will allow bacteria to grow, which can significantly cut the life of your flowers.)
Step 2: Cut the Flowers
Trim the stems about an inch or two with a diagonal angle cut. Cutting your stems in this way will allow your flowers to soak up as much water as possible. Make sure to use sharp scissors, as dull blades can crush stems and block water uptake.
Step 3: Put the Flowers in Water!
In a clean container, store your flowers in cool water up to at least ⅓ of the stem. Try to do this immediately after you trim the stems to avoid air bubbles forming at the bottom of the stems, which prevents water uptake.
Step 4: Choose Flower Colors
For a spring arrangement, I like to use bright, cheery colors, like varying pinks, peaches, and yellows.
Step 5: "Green" the Vase
To start your arrangement, use greens and filler flowers to create the overall form and shape. A popular trend in flower arranging right now are arrangements that that are low and wide.
Step 6: Start Arranging Flowers
Next, place some focal flowers bunched together in different sections of your arrangement. Then, position a few by themselves. This gives your arrangement an organic feel as if your flowers were growing naturally rather than evenly placing flowers throughout the arrangement. Consider whether you want your arrangement to be one-sided, two-sided, or viewed from all sides. This will help you decide where to place the bulk of your focal flowers.
Step 7: Balance
Don't worry too much about symmetry. Think instead about creating balance. If you have a bunch of focal flowers on one side, then on the other side pull out a flower or two, or place an attention-grabbing flower. This avoids your arrangement looking too heavy on one side, or too sparse.
Place some focal flowers toward the back and some others forward. This gives your arrangement depth and helps create that natural, organic look.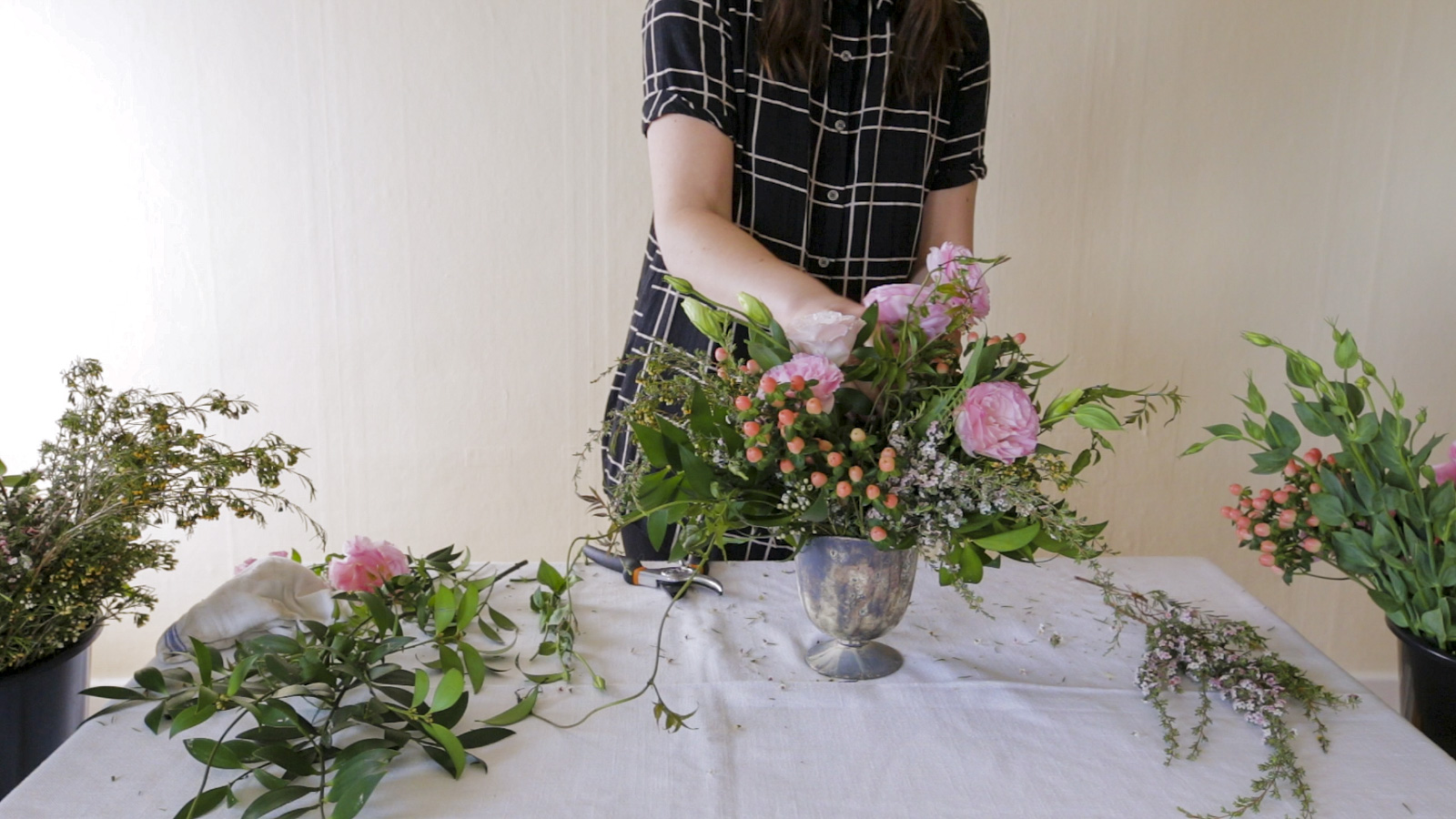 Step 8: Display the Finished Flower Arrangement
When you are done, set your arrangement in a cool spot away from direct sunlight. Also, keep your flowers away from fruit! Fruit gives off gasses that can shorten the life of your flowers. Who knew?
Step 9: Maintain (and Enjoy!) the Arrangement
Change the water every 1-2 days and add flower food to get the longest life out of your flowers. If you're planning on celebrating Mother's Day, we've got a fun idea for you! Pair a floral arrangement with the tray from last week's post, and make breakfast in bed for your Mom!