We've had a pergola on our project wishlist here at Dunn DIY for some time now, we've just never been able to find the right spot to build one—until now!
Some friends were improving their backyard and had created a wonderful leveled area laid with flagstone and with a fence on two sides. Incorporating the existing fence posts, we sunk more posts, connected them with beams and roof joists, and then topped it all with slats.
For most of the connections, we used decorative (but structural) metal brackets from Simpson Strong-Tie. We took inspiration from artist Piet Mondrian for our color palette and painted our brackets in bright primary colors and white for a dramatic contrast against the dark painted wood.
While this project might sound like a big undertaking, it's surprisingly simple with a few helping hands. Let's get into it!
Step 1: Determine placement of each post
Before you get started, determine the exact spot where each of your new pergola posts will be. We had a special scenario for our project—since ours would be next to an existing fence, we decided to use some of the fence posts as part of the colonnade for our pergola. All of these directions are the same for a free-standing pergola, you'll just mark and set all of your posts.
Use a stringline and measuring tape to find and mark the spots for your new posts. Ours were exactly opposite the existing posts of our fence. When you've marked all of your posts, double-check your squareness: If your lengths, widths, and diagonal measurements all match, you know you're square (or ….you've got a true rectangle).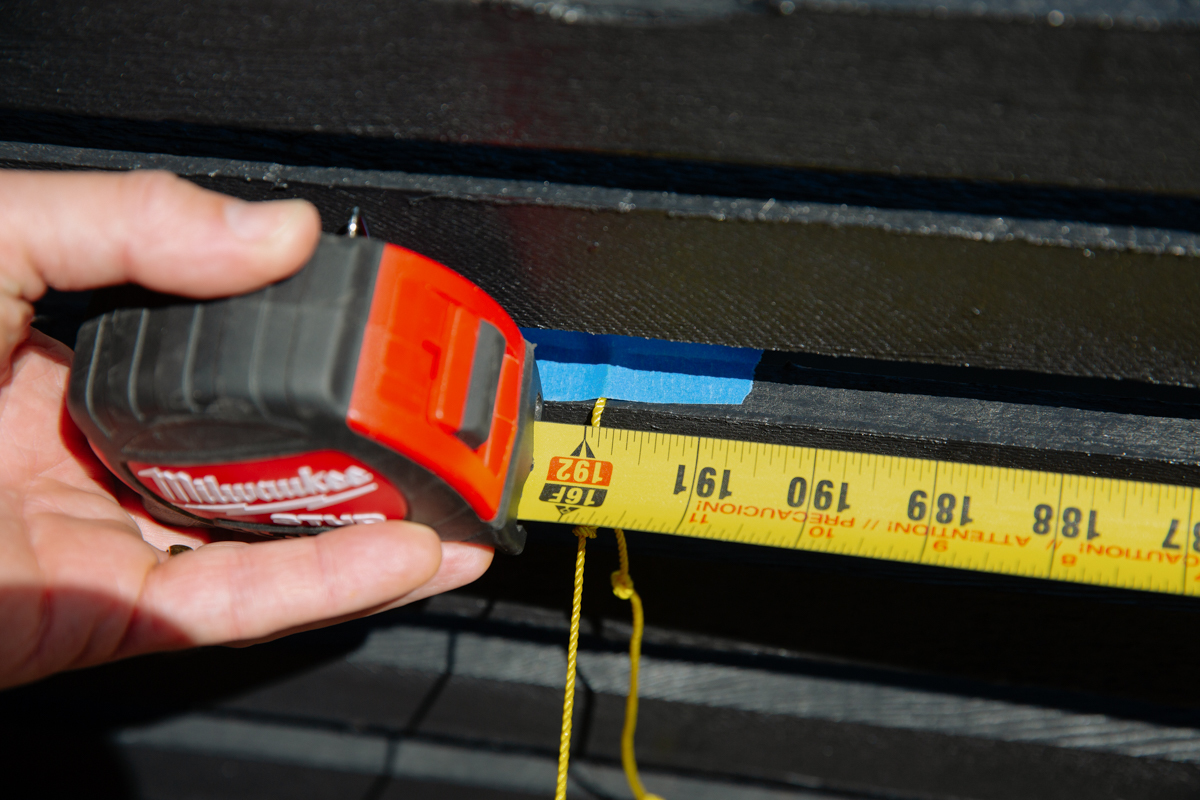 Step 2: Dig post holes
Now it's time to break ground. We used a post hole digger, but a regular shovel will work fine here. You're going to dig a hole in each of the spots you marked in step one. Make sure each of your holes is at least two feet deep. Then, toss some gravel in the bottom of each to allow drainage.
Step 3: Level posts and stake in place
Place each post in a hole, paying attention to your stringlines (which show the proper locations for the posts). Use a level to ensure the posts are straight up and down before staking them in place in the exact spot you want them to be.
Pro tip 1: A post level is a handy tool that straps to the post and measures trueness in two directions at the same time.
Pro tip 2: We didn't want the concrete mix to spill on the parts of the posts that will remain above ground because we planned to paint them. To avoid that possibility, we wrapped that area of the post with plastic, which you can remove after the concrete is set and before painting.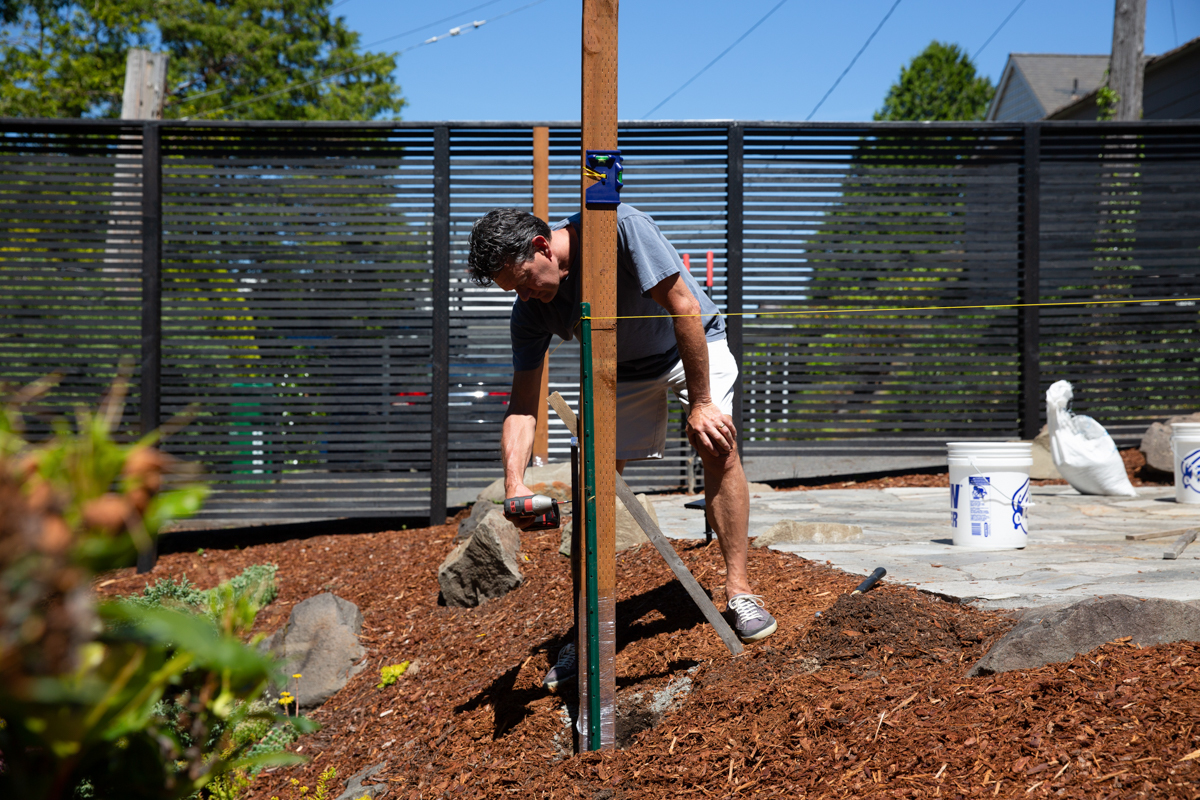 Step 4: Mix and pour concrete
There are several different methods to mix concrete, and it seems like everyone likes to do it a slightly different way.
We tried three ways: First, we used a trowel to hand-mix concrete and water in a bucket and then transfer. Second, we tried a large paddle that fits into a drill to mix concrete and water in a bucket and then transfer.
The third method was our favorite: The plastic sheet method. This method came to me from my wife's father and it remains my preferred method (assuming you have two sets of hands).
Lay out a square sheet of plastic. We used a three-millimeter-thick polyethylene plastic sheet and folded it in half for extra strength.
Empty a bag of concrete into the center of the sheet.
Add some water.
With your helper, hold up the four corners of the plastic and alternate lifting corners so as to mix the concrete mix and water together. Add water gradually until you reach a nice, thick (but pourable) consistency. Drag the plastic to your post hole and pour out the concrete into the hole off one edge of the plastic, repeating for each of your holes.
Pro tip: If you use fast-setting concrete, you can mix the concrete mix with water directly in the post hole. Fast-setting concrete costs more, but you may think it's worth it. If you decide to use fast-setting concrete, here's a quick tutorial to learn how to mix it properly.
After mixing the concrete we filled the space around the posts up to the level of the ground. Even though these posts are treated against rot, sloping the concrete away from the post at the top of the hole is always a good idea.
Step 5: Ensure everything is level
Once the concrete is in and while it's still a little wet, double-check your posts are square to your lines and straight up and down. You should still be able to make adjustments at this point before the concrete hardens. We used scrap wood to create bracing to ensure the posts would stay square and level while the concrete cured.
Step 6: Allow concrete to set
Let your concrete set and cure before you start building on the posts. Setting time will vary by ambient temperature as well as the type of concrete you used (i.e. fast-setting won't take as long), so refer to the instructions on the bag. We decided to wait overnight and come back the next day to finish up.
Step 7: Cut posts
Using stringline and a line level, and practicing the "measure twice and cut once" rule, trim the height of the posts to be level with each other at your desired height. (We used our existing fence posts for our height measurement.)
Use a speed square to mark your horizontal line on two sides of each post before cutting—this will help you make level cuts. We used a 6 1/2" circular saw blade to make cuts on opposite sides of the post, which got us a clean, straight cut.
Pro tip: Once we lined up our saw blade, we held a speed square against the lower guard to ensure a straight cut.
Step 8: Mount beams
Once you've got all your posts leveled off, it's time to mount the beams. Cut two four-by-six beams to length and place them on top of the posts. To secure them, we're using Simpson's Outdoor Accents brackets and their hex-head washers, which give the look of a heavy bolt with the ease of a screw. These galvanized brackets come in a durable, powder-coated black finish, but we had ours painted for a fun contrast against the black wood.
Step 9: Install joists
Next come the joists—which is where you can get creative. Some pergolas have joists stacked on top of the beams but today we're going for a lower, cleaner look. We're using Outdoor Accents' concealed flange joist hangers to mount our two-by-six joists between the beams. To do this, place the metal hangers, double-check their positions, and screw them to the beams. Measure and cut the two-by-sixes to length, slip them into the hangers from above, and secure them in place with side screws.
Step 10: Mount roof slats
And now for the last step—roof slats! We placed our one-by-twos flat on top of the joists, spacing them 6" apart. To ensure we had the right spacing between the slats and a consistent overhang on the ends, we cut scraps of wood to the lengths of both our gap and overhang, which allowed us to keep everything consistent. We used a nail gun to fasten the slats to the tops of the joists using 2" finish nails. If you don't have a nail gun, screws or nails will work just fine.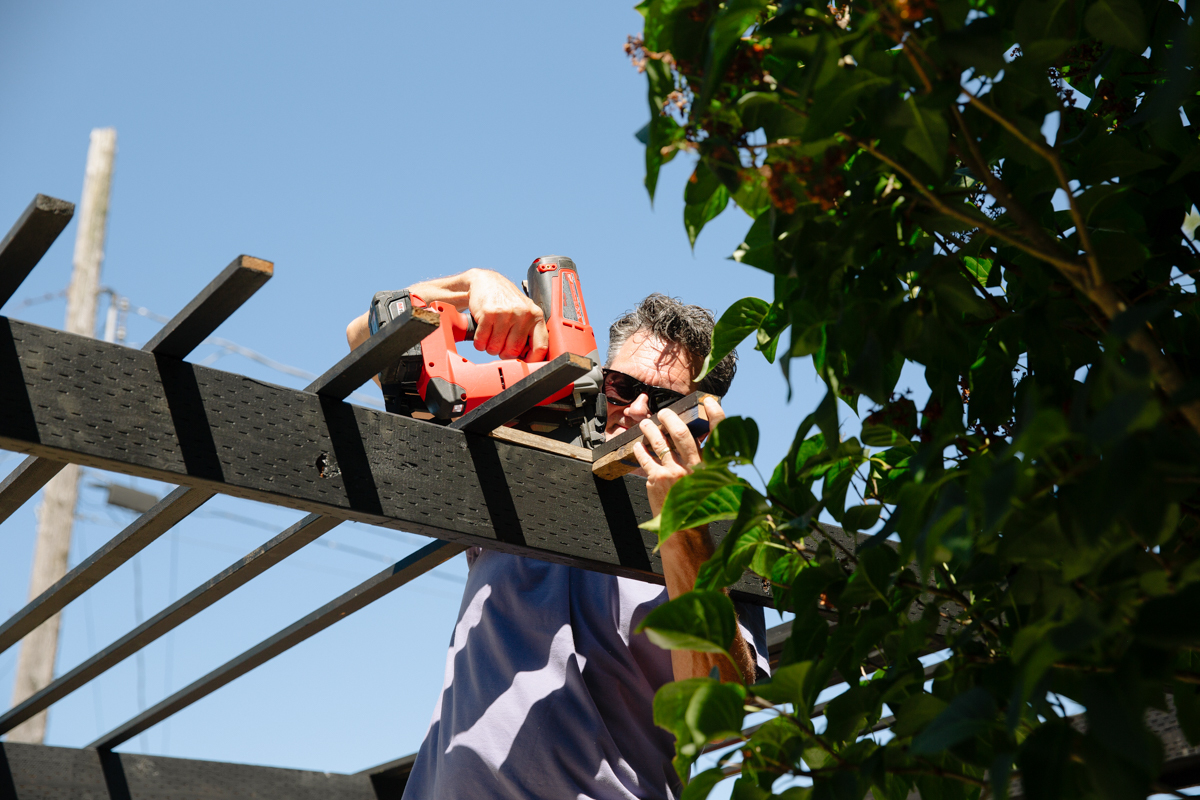 And that's all there is to it! Now you have a beautiful structure that creates a breezy outdoor gathering space to enjoy with friends and family. For more fun outdoor projects, check out our mixed wood bench and our cedar planter boxes.