I'm excited about this one—our third-year anniversary post! Over the past two years, our birthday post has happened to be outdoor-seating related (we did a bench the first year and the Adirondack chairs last year). So, I thought we would keep it in that same genre this year!

A picnic table is one of the first projects I ever did with Dunn DIY. It was ambitious, and it never should have happened. There's a reason it was never posted: Things went horribly, horribly wrong (you can read about it in Confessions of a DIYer Part II). I based it on plans I got on the internet, and everything that could go wrong did go wrong. Three years later, I know a lot more about what I'm doing, so I thought it was a very appropriate anniversary post. It was a much better experience than the first time around—not that that took much! But it's amazing what experience can teach you. I was relying more on my own ability and less on a random person on the internet, which is always a good place to be in.
One of the big points of Dunn DIY is for us to be a source people can trust because there are so many sources on the internet that are untrustworthy (like the one we used for the last table). That meant I came up with the design in the building process myself. But to be honest, that's only part of why we're building it—and it's not even the part I'm most excited about. We're building two picnic tables and donating them to Eastside Academy's ReNew Youth Housing Program. This housing program serves homeless and vulnerable youth in our community who also attend Eastside Academy's non-profit high school, where they receive education, recovery support, mental health counseling, and mentoring (with campuses in Bellevue and Redmond). With the summer approaching full force, they wanted to add outdoor seating for their students, and Dunn DIY was happy to be able to lend a hand—and a drill!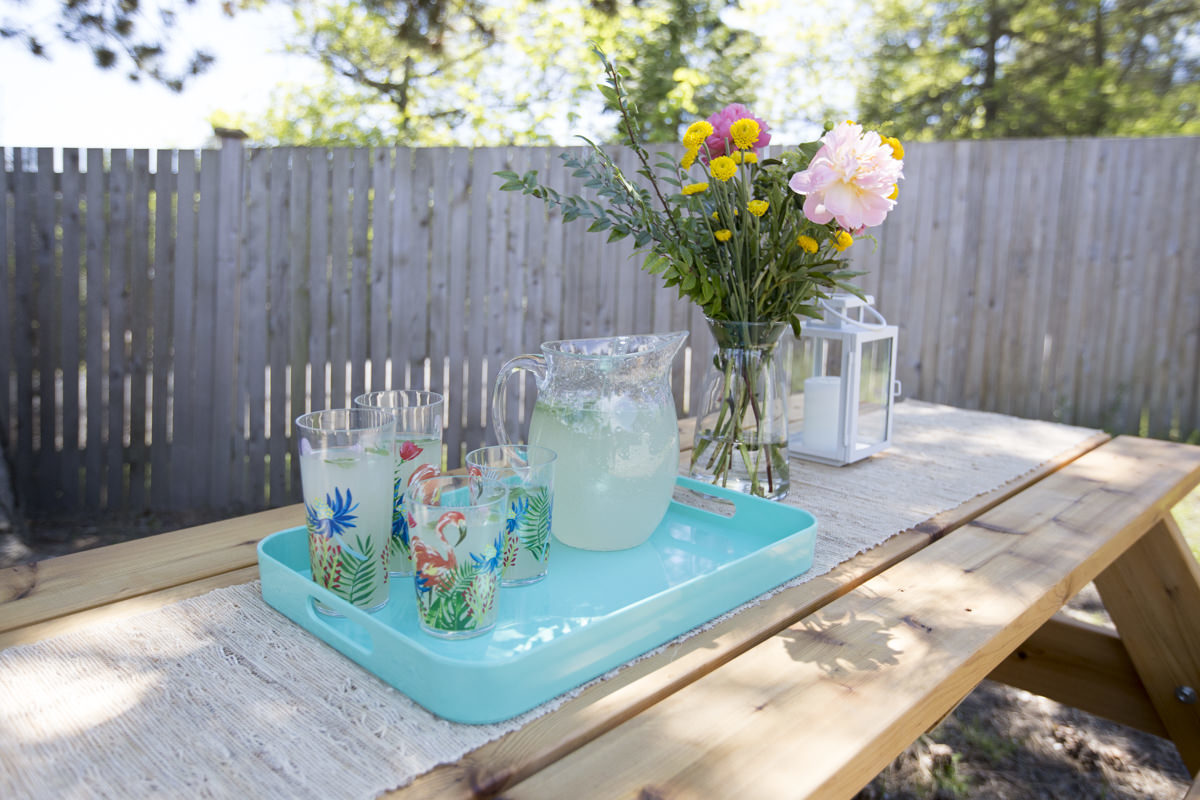 Step 1: Cut wood
A project this big has a lot of different parts (and cuts), and it could get confusing if you don't have everything organized. I assigned a letter to each piece of wood and will reference them throughout the post, as opposed to giving everything confusing names like "under-top support piece." As long as you can track with that and it makes sense, I think it will work well!

We used a miter saw because it was easier with all the angled cuts we had to make, but you can use a circular saw with no problems if you have one.
We used tight-knot cedar decking. Cedar is a great outdoor wood that's naturally rot-resistant and has a great, warm look. We used decking-grade cedar because that's the cedar Dunn Lumber carries that's smooth on all four sides. I like the look of the tight-knot lumber, and it's substantially less expensive than clear cedar. (The cost of the cedar decking for this table is $360. If you do the same table out of clear cedar, it goes up to $907.) You could also make this table out of spruce which would be significantly cheaper. It won't hold up like cedar, but if you preserve the wood with a finish, or paint it, that can be a good way to go too.
A lot of the decking I purchased was in 12-foot lengths. Because those don't fit in my car, I had them cut into 6-foot lengths. Normally picnic tables are built to six feet or 72 inches. Because I cut all the 12-footers in half and I wanted smooth ends on either edge, I cut them down to 71 inches. I figured that one inch didn't make a difference (and I wanted nice, fresh, clean-cut edges). The rest of the decking I got in eight-foot lengths. If you have a bigger car than I do, you may be able to rearrange the cutting and make it more economic.

Another thing to consider: Unless you hand-pick your lumber, you may end up with some dirty pieces. You'll want to consider how you're finishing the table, and if you're using a stain—be sure to clean those pieces if they're going to show. You can brush off dry dirt, use a wood cleaner like Penofin deck cleaner, or you can sand through the dirt to a fresh layer of wood.
Now, let's really get started!
Here's the guide we used for cutting:
2x6-12' - two A pieces
2x6-12' - two A pieces
2x6-12' - two A pieces

2x6-12' - two A pieces

2x6-12' - one A piece, one E piece

2x6-12' - one E piece, two D pieces
2x6-8' - two D pieces
2x4-8' - one G piece, one F piece

2x4-8' - one F piece, H piece

2x4-8' - one H piece, four B pieces

2x4-8' - three C pieces, one B piece

2x4-8' - one B piece

The angled cuts on the C and D pieces were made 1 1/4" and 1 1/2" from the edge respectively.
Step 2: Sand wood according to desired smoothness
Use a sanding sponge or sander to buff out cut edges and remove splinters, or take a sander to all the pieces until you get a furniture-grade smoothness. The amount of effort you expend here is a question of how smooth you want your table to be. At the very least, you definitely want the end splinters sanded so you're not injuring people as they sit at your table.
Start with 100- or 150-grit and make your way up to 220-grit sandpaper. I used mostly 150-grit with our tables, and I was really happy with how smooth they turned out. You probably want to pick one side of the wood that's going to be facing up, and smooth that side more meticulously. Or, do preliminary sanding now, and a smoother sanding after the picnic table is fully built.
Step 3: Make bench tops
Take your first pair of 2" x 6" x 71" benchtop pieces (A) and lie them top down on two sawhorses. You'll want 3/8" gaps between each of the boards. Use one ¼" plastic spacer and one 1/8" spacer on either end between the two boards.
Measure in from either end 7 and 11/16", and draw a line across the board with a speed square. Measure in 33 and ¾" from both ends, and draw a line with the speed square. Use these pencil lines as guide for the under-top supports (B), placing the end supports inside of the lines. Now center all pieces half an inch from either side.
Clamp each support in place and toenail (insert at an angle) on either side with 2 ½" screws. Flip the whole bench seat over and drill 3" screws through the top. You can use a speed square to line up your screws. Repeat this step with the other bench top.
Something to consider when you're drilling through the top boards of the bench and tabletop is whether you want to line them up and make them quite even. You can use a speed square to do that and measure in from the sides a certain amount and line them up really well. But if you do this, you're inevitably going to run into knots.
Because knots are a harder wood, when you drive the screw into the wood, you're probably going to end up with the top spinning around on top of the wood and not embedding itself properly. The way to avoid this is to pre-drill. Pre-drilling gets enough of the wood out of the way that it allows for the extra turning that will embed the screw. I like to try and get the screw into the knot without pre-drilling, and then I pre-drill f it doesn't work. I try it that way because a lot of the time the knot is at an angle, and you don't know how much you have to get through. It's a bit of a gamble.
Step 4: Make tabletop
Take your five 2" x 6" x 71" tabletop pieces and lie them top down on two sawhorses. You'll want 3/8" gaps between each of the boards. Use one ¼" plastic spacer and one 1/8" spacer on either end between each of the boards.
Measure in from either end 7 and 11/16", and draw a line across the board with a speed square. Measure in 34 and 3/4" from both ends, and draw a line with the speed square. Use these pencil lines as a guide for the table under-top supports (C), placing the end supports outside of the lines and centering all pieces half an inch from either side.
There are a couple of ways to secure these supports to the tabletop. While the tabletop is still upside down, you can toenail screws or nails through the side of the supports into each tabletop piece before you flip it over and screw in from the top. Or, if you're lazy like me, you can just lie on your back and drill the 3" screws in from the bottom. Use clamps to help keep the pieces in place while you're drilling.
Here's a hint: Once you have the two end supports secured, you can toenail the middle support at either end before flipping the whole thing over and putting in the rest of the screws.

Step 5: Add legs
Flip the tabletop onto its front again. Place the legs (D) on the inside of the end supports 7 5/16" from either side. Clamp in place.

Mark on the outside of the under-top supports where you'll be pre-drilling for the bolts. We marked one spot 2" in and 2 ½" up, and the other spot 4" in and 1" up. Pre-drill with a 3/8" bit. Repeat with the remaining legs. Use one 3/8" x 5" hex head bolt along with a nut and a washer at each hole to secure.
Step 6: Seat cross section
This is where measurements get a little tricky and you may be forced to do some math. The seat cross supports (E) should be attached to the outside of the legs 9 ½" from the underside of the tabletop (the side that's facing up). Measure and mark 9 ½" on each leg. You'll need to measure the width of the outside of the legs at this height, which should be somewhere around 37 13/16".
Measure the exact length of your seat cross support piece. It should be 57 3/16" exactly, but cuts are rarely exact, especially when it comes to DIY. That's OK! Subtract the first from the second (57 3/16 - 37 3/16), then divide this number (21 3/8) by two (you'll get 10 11/16). This will give you the exact amount that the seat cross support should overhang on either side of the legs.
Clamp the cross support in place and mark for pre-drilling. We measured in at the top and bottom two inches from the sides and connected marks, creating two diagonal lines. We pre-drilled 2" from the top and the bottom on these lines. Use one 3/8"x5" hex head bolt along with two flat washers and one nut per hole to secure. Repeat with opposite seat cross support.
Step 7: Add angle supports
These angle supports have been cut and, provided they fit and don't need to be adjusted, they should be ready to go! But there is a way to improve them. Use a speed square to measure along the angled cut at one end. Mark at 3 1/2" it should be very close to the edge of the board. Draw a line with the square perpendicular to the cut. You can cut off this little corner of wood by hand or with a chop saw, depending on your skillset and what you're comfortable with. This little cut allows the top of the angle support to sit flush with the top of the under-top support in the middle of the table. Repeat with the other angle support.
Measure and mark the center of the middle under-top support (C). Mark ¾" from either side of this mark. These will be the guides for the two angle supports (F). One angle support should line up on the outside of the right-hand marks, and one on the outside of the left hand. Use a speed square to square up the support. This will leave space for the center support (G) and will allow you to put a bolt through the end of each.
For this step you may need to trim your angle supports to help them fit. Pre-drill with a 9/32" bit into both ends of the angle supports. Use one 3" lag screw and one flat washer in each hole. Unfortunately, no one seems to carry a 9/16" nut driver bit, so we fell back on a ratchet wrench to do the job.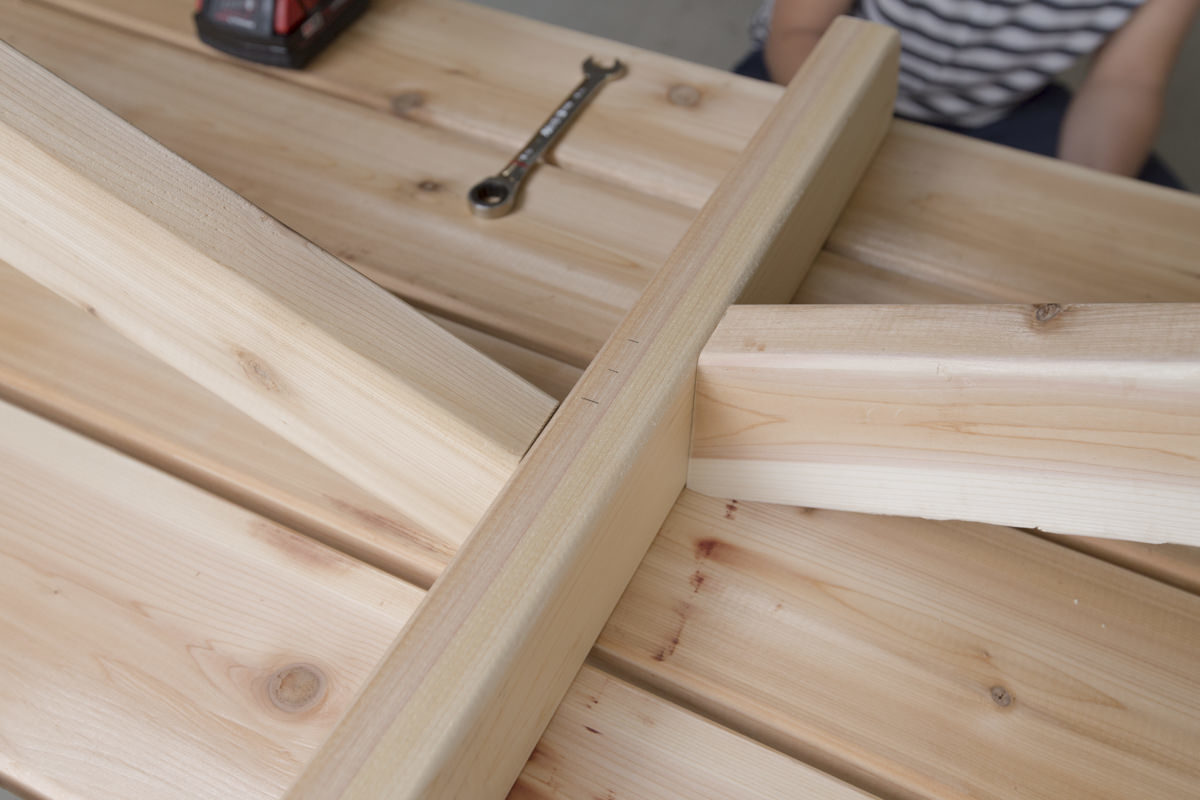 Step 8: Add center support
Fit the center support (G) by sandwiching it in between the two angle supports. Secure with one 3" lag screw on either end and attach to the angle supports with a couple of regular 3" screws (being careful not to run into the lag screws)
Step 9: Add bench seats
Flip the table right-side-up to attach the bench seat tops. Fit the bench tops in between the seat cross supports (E). One of our bench tops fit with a little pushing and pulling, but the other one just wouldn't work. We had to remove one of the under-top supports (B) and shift it. Attach the bench seats through the cross supports with 3" screws (don't run into the screws in the bench tops).
Step 10: Add under-seat support
Turn the table upside-down one last time to attach the under-seat support (H). These pieces fit underneath the bench tops where the angled cut of the seat cross support ends. Pre-drill with a 9/32" bit, and secure either end with a 3" lag screw and flat washer.
Step 11: Finish
You can leave your picnic table as is, or you can apply a finish to it. This is the time to really personalize your picnic table. We finished one of our two tables with Penofin LOG ON, which is a log home finish (note: Dunn Lumber doesn't stock this product on our shelves, but we can order it for you).
Other finish options include Sikkens SRD, which is a one-coat product we used on our camp chair last summer. If you want an extremely low-maintenance option, you can go with the LifeTime® Wood Treatment that we used on our magazine rack a couple years back.

I was so happy because not only did I finally finish a picnic table, but we ended our shoot early! I was thrilled.
I'm learning that with big projects like this, you're going to spend a certain amount of time on it, and you're either going to spend that time building a prototype, or you're going to spend it problem-solving during the shoot. It was a lot of work, but I'm really glad we were building a second table, which went a lot smoother. This table turned out so much better than our first attempt a few years ago, and definitely redeemed picnic table projects for me!