A bench is one of the most versatile pieces of furniture you can have in your home. Not only does it provide extra seating for guests, but it can also be a beautiful place to showcase books, plants, and decor—and, with the right design, the bench itself can be a piece of art worth displaying.
Today I'm going to show you how to create a bench using several small pieces of wood to create a mosaic-like surface that's sturdy enough to seat friends and ornate enough to display. To elevate the design, we're using Semi Exact's tube steel bench legs and coating the benchtop with a shiny MirrorCoat Epoxy finish. Let's get started!
Step 1: Cut wood
Our benchtop is made up of several sizes of wood, each cut to two inches in length. This video gives you the instructions for our design, but you can get creative here and make your own. Think of it like designing a quilt—choose your overall bench dimensions and then cut and arrange a bunch of different sized pieces to fit within those dimensions. Using a chop saw and a two-inch jig, make vertical cuts at exactly two inches long.
For our design, we're cutting the following pieces:
32 two-by-twos at two inches long (#2 on the cutting diagram)
16 two-by-threes at two inches long (#3 on the cutting diagram)
32 two-by-fours at two inches long (#4 on the cutting diagram)
24 two-by-sixes at two inches long (#6 on the cutting diagram)
Step 2: Sand wood pieces
Once you've cut all your pieces, sand the ends down to smooth out your cuts.
Step 3: Design and plan
Now it's time to plan your design. Our design makes a bench 15 inches deep, which means we'll have eight rows of two-inch-long wood blocks set on their ends. Each row will contain:
4 two-by-twos
2 two-by-threes
4 two-by-fours
3 two-by-sixes
You don't have to make each row identical, but keeping the pieces consistent will help make the length of your rows consistent.
Lay out your pieces in your desired design and measure the rectangle they create when snug against each other. Ours measured 12 inches by 42 ⅜ inches.
Step 4: Apply wood glue
Cut a piece of ½-inch plywood to that size and lay the pieces in their pattern on top of the plywood, piece by piece.
Use wood glue on the side and bottom of each piece to adhere them to the neighboring pieces.
Step 5: Clamp and let dry
Clamp all of the pieces together (we have 104) using scrap boards on each of the four sides of the rectangle and let everything dry overnight.
Step 6: Remove scrap boards
Once all the pieces are dry, you can remove the clamps and scrap boards.
Step 7: Add trim boards
Now it's time to make the frame for the bench surface. To do this, cut four more pieces of two-by-three: two pieces at 12 inches long and two pieces at 44 ½ inches long.
Turn your bench seat upside down so that the plywood is on top. Attach the four two-by-threes to the sides of the bench using three-inch screws.
Step 8: Sand wood benchtop surface
Turn the bench back right-side-up and sand the top surface. When everything is smooth, remove the sawdust with compressed air, a tack cloth, or a rag soaked in mineral spirits.
Step 9: Fill cracks with MirrorCast epoxy
We'll apply a few coats of epoxy over the next few steps, so make sure you have a clear workspace where your bench will be undisturbed for at least a week of drying time.
Before starting, level your benchtop using scrap wood, shims, and a bullseye level.
The first coat of epoxy is MirrorCast's thick "filler" epoxy which will fill in any gaps, cracks, or imperfections in your bench surface. Mix the MirrorCast epoxy according to the package directions and spread it across the benchtop using a nap roller. Use a brush to coat each side.
Allow seven days for your benchtop to dry completely before moving to the next step.
Step 10: Sand and remove dust
After seven days of drying time, use an electric sander or sanding sponge to smooth out the surface of your benchtop.
Step 11: Apply first coat of MirrorCoat epoxy
Now we'll seal the benchtop with MirrorCoat epoxy. Ensure your bench is level, mix a thin coat of epoxy, and apply to your benchtop.
Allow benchtop to dry for four to six hours, or overnight, before continuing.
Step 12: Apply a second coat
After the previous coat of epoxy has totally dried, apply an additional coat using the same technique: With your bench level, mix a thin coat of MirrorCoat epoxy and apply it to your benchtop. Let dry completely.
Don't worry if you find air bubbles in the epoxy after it's dried—simply (and safely) wave a blow torch over the bubbled area to remove imperfections.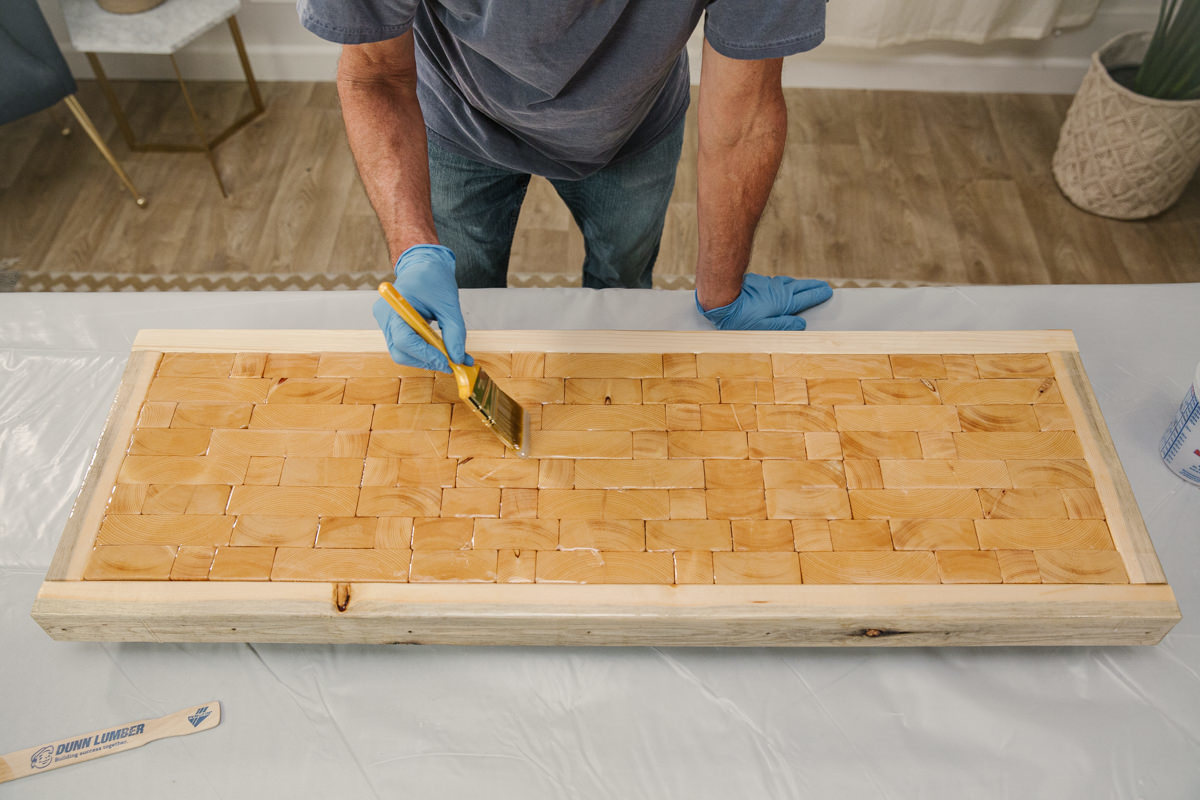 Step 13: Attach Semi Exact legs
For the final step (once everything is dry), flip your benchtop upside down and place your tubular steel legs into position. The flange is pre-drilled, so it's a simple matter of putting a screw into each of the holes. We used ten 1 ½-inch screws.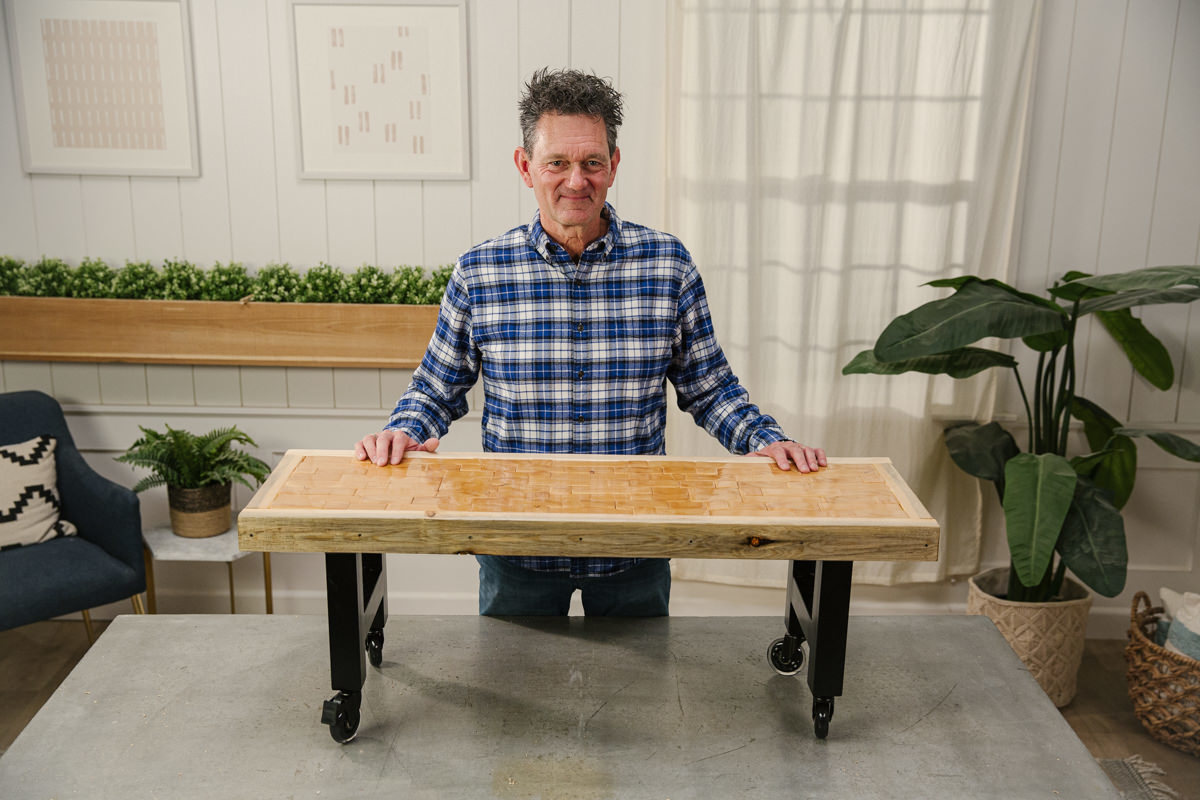 And now your bench is complete! Use it for seating, storage—whatever your heart desires. If you're looking for more DIY indoor furniture projects, be sure to check out our DIY temporary table and DIY laundry drying rack.