Remember Robin Daly? She helped us paint a front door last summer and the end result was spectacular. She's back this spring to help us bring some new life to an old space. Robin is a third-generation employee (and the owner) of Daly's Paint and Decorating. She's a wealth of knowledge when it comes to all things paint-related.


Color trends
There's been a huge movement towards lighter colors. There are several reasons for this: Traditionally, lighter colors make rooms feel bigger. Lately, the world can feel like a pretty dark place at times and people want their homes to be a place to escape and find refuge, where they can go and feel restored. So, we see a movement towards lighter, brighter, refreshing colors.
Honor the history of your home
As you choose the colors for your home, it's important to honor the history and feel of your home. What's it saying to you? The room we're painting is saying, "I want to lighten up!" It's also part of a historic 1900s complex, and we want to honor the history. This affects what sort of white we'll choose; a more classic one fits the feeling of this building.
Choosing a color
We're going with a shade of white—surprisingly, there are a lot of options out there. When brightening a room, you want to steer clear from the bright whites as they tend to make a room feel icy, cold, and clinical. We chose a shade called vintage linen.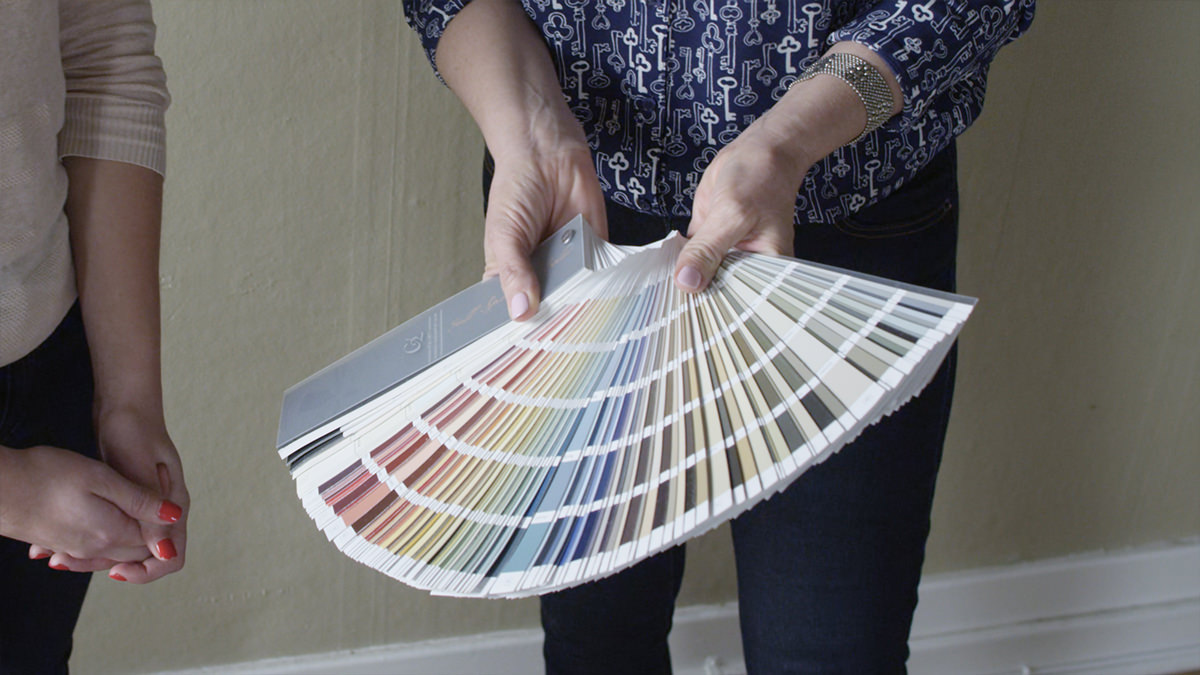 How to test out your color
Use a Fan Deck
First, let's go over how to properly use a fan deck:
Hold the color up against the wall.
Isolate it from the other colors.
Compare the color to the trim. Don't compare the new color to the existing color of the wall.

See how your color reacts to light
There are three key places you'll want to check your paint swatch in that will tell you how your color responds to different light sources (but the more light sources you can test against, the more confidence you'll have when picking up the roller):
Window wall (the window wall is actually the darkest wall)
Opposite window wall (washed with light)
Corner (a corner will magnify or multiply your color)
Once you're confident in your color, check out our post on how to paint a room!