In elementary school, I remember reading a picture book that told the story of a girl from the Middle Ages who made different colored inks for illuminated manuscripts. She used the root of the madder plant to create red ink, ground up lapis lazuli and mixed it with some liquid to form blue ink, and so on and so forth. I found the story fascinating, and always secretly wanted to get my hands on some lapis lazuli so I could try it myself.
This is the story I found myself remembering as I was getting ready for today's project: dying Easter eggs. Having three different pots on the stove—each filled with a different ingredient and a different color—had me feeling like some odd childhood fantasy was finally coming true.
Now, this process definitely had its fair share of trial and error—especially when it came to the color green. My first attempt was to boil up some fresh lawn clippings, my logic being that grass is a pretty good stain on clothing, so it obviously has some good pigment to it. The result, though, ended with some faintly green water and all the windows in my apartment being opened. Not recommended. I can't tell if it was the boiling grass that did it or if it was a combination of all three concoctions (I was also boiling beets, red cabbage, turmeric, and onion skins, as you're about to see). Who's to say?
My second attempt at green was something other DIYers on the internet had backed up: boiled spinach. And, during the process, it seemed like it was really going to work. Unfortunately, several hours in, the murky spinach water only resulted in a rather fuzzy greenish-brown egg that looked like it had been sitting in a pond overnight. Not exactly what I was going for. But then, I had a revelation—one that had me feeling pretty foolish for not thinking of it earlier. I already had successfully created a blue dye and a yellow dye. What if I mixed them together? And thus, I stumbled across a gorgeous, gradient green dye that turned out to be my favorite of all the dyes I created.
This entire process (yes, even the failed green dyes) was such a fun way to get ready for Easter. (It's also a great way to get kids to be more hands-on in the egg-dying process.) My one disclaimer for this project is that, unlike store-bought egg dyes, the eggs are going to need an hour or two to soak in these dyes before they really start taking the color. It may take a little more time, but I think these natural colors are so much prettier than the fluorescent dyes I grew up with.
First, we'll start with the basic overview of the dying process, and then we'll get into each specific dye and the dos and don'ts I learned along the way. Let's get to it!
Step 1: Make Natural Easter Egg Dyes
We made natural dyes by boiling vegetables and spices and using the resulting liquid. The general rule for the vegetables is 1/2 cup to every cup of water (I found that 3 cups of water and 1 1/2 cups of veggies was a good amount for me). For the turmeric, we used 1-2 tablespoons per cup of water. Put the vegetable or spice in a saucepan with water and heat until boiling; let boil for five minutes. Remove from heat and allow to cool. Once cooled, strain and pour into a cup for dying. Here's how to make each dye!
Use Red Cabbage to Make Blue Natural Easter Egg Dye
To make the blue dye, chop red cabbage into strips. Measure out about 1 1/2 cups of cabbage and add to 3 cups of water in a sauce pot. Heat until boiling, then let boil for 5 minutes. (In my opinion, red cabbage has a terrible smell while boiling, so keep your fan on!) Allow to cool completely, then strain into a cup for dying.

Note: This dye will start out looking purple, but over time will turn to blue. Don't worry about waiting to dye. Either color will turn your egg blue. In fact, adding vinegar to this dye turned it a bright pink, but even still, the eggs dyed in the bright pink dye ended up blue.
Use Onion Skins to Make Orange Natural Easter Egg Dye
At first, I thought dying white eggs with onion skins would just make them look like brown eggs, but it turns out this dye has a much brighter tone to it that almost looks peachy and delivers a beautiful color.
To start, peel the skins from the onion. You can do this without cutting open the onion so that it can be saved for later, or if you're cooking with onions in the near future, you can cut off the ends of the onion to speed up the peeling process. I used two medium onions to get about 1 1/2 cups of onion skins. Add the onion skins to 3 cups of water in a sauce pot and heat. Boil for five minutes, then remove from heat. Allow the liquid to cool and strain into a cup for dying.
For this color, add 1 tablespoon of vinegar to each cup of dye to help with the dying process.
Use Beets to Make Burgundy Natural Easter Egg Dye
Start by cutting your beets into 1 1/2 cups worth of cubes. Add the cubes to 3 cups of water in a sauce pan and heat. Like the previous dyes, boil for five minutes before taking it off the heat and cooling. Strain into a cup for dying. Before you dye the eggs, add 1 tablespoon of vinegar to each cup of dye to help with the dying process.
This is the first ingredient we're working with that is very staining. I highly recommend wearing an apron, or at least changing out of your favorite shirt. Because it's highly staining, it's also one of the most potent dyes—you should start to see results within 10 minutes or so. If you like pastel colors, keep your eye on this one.
Use Turmeric to Make Yellow Natural Easter Egg Dye
Here's something you don't often read on Dunn DIY: Beware of this ingredient! It is incredibly staining. Having never worked with this spice on its own, I didn't know exactly how staining it was, but I learned when the turmeric made a lasting impression on my nonstick pot, my stove, and my plates that were left in the sink—not to mention the white ceramic cup I used for dying. My life saver in this process was the cleaning product Bon Ami. You can also use Comet. I highly recommend keeping one of these around when you're working with turmeric in a high concentration like this, and definitely don't let it sit in your sink like I did.
For this dye, add 1-2 tablespoons of turmeric to 3 cups of water in a sauce pot. Heat until boiling and stir until dissolved. Boil for five minutes before removing the pan from the heat and allowing to cool. Pour into a cup for dying.
When you're done dying your eggs with the turmeric (we'll get to this below), I recommend rinsing them off in the sink to remove the granular film of turmeric—the color will be fine.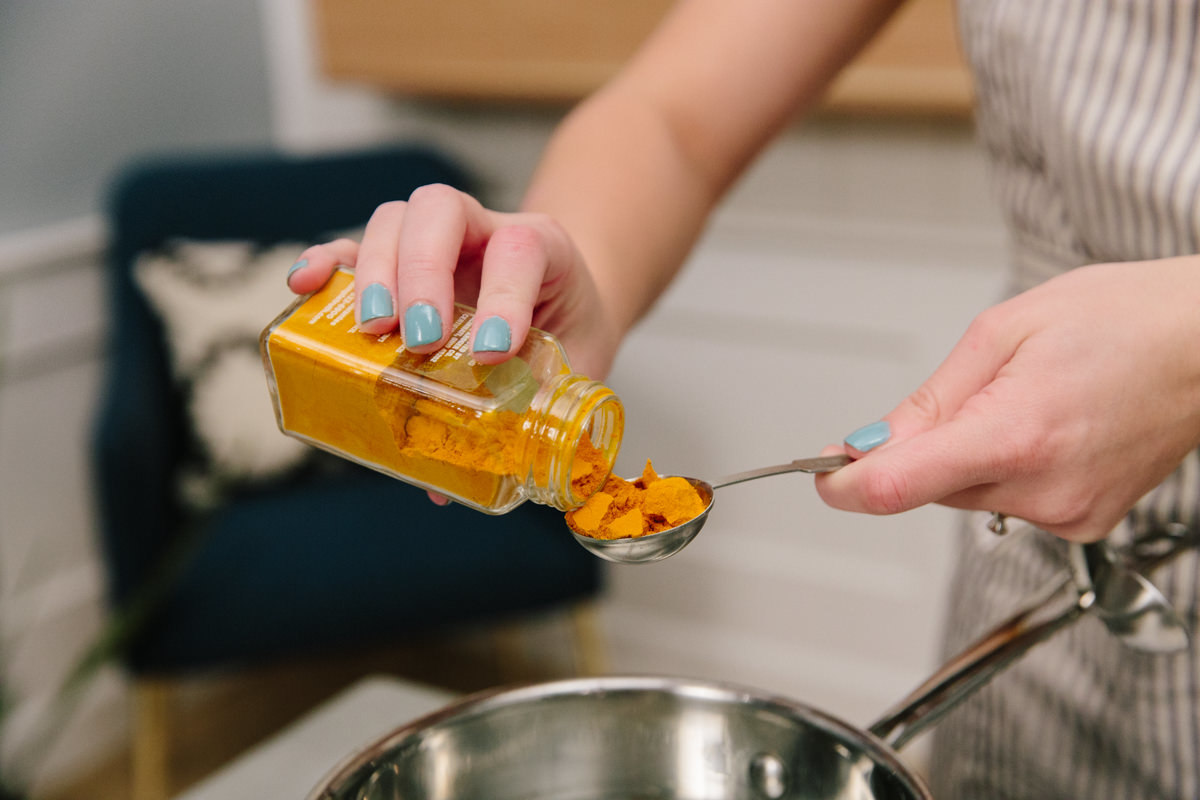 Mix Red Cabbage and Turmeric to Make Green Egg Dye
As I mentioned earlier, the combination of the red cabbage (blue) and the turmeric (yellow) had a magical result: a beautiful pale green. I didn't get scientific with this—start with the blue dye, then slowly add the yellow until you get kind of an olive-y green color (kind of like a green juice smoothie). My only note is that unlike earlier, this time it's best to wait until your red cabbage dye has turned blue, otherwise you'll end up with a brown concoction that makes everything confusing.
Step 2: Dye Easter Eggs in Your Natural Colors
Now that you have your dyes, it's time to get to work! Put an unpeeled hard-boiled egg (or eggs) in each color of dye and leave for an hour or two to get the similar pastel shades I achieved. For a more intense hue, you can put everything in the fridge and let it dye overnight.
Once the eggs tint to the color of your liking, remove them from the dye and let dry. In the absence of the egg holder that comes with the store-bought dye kit, I scooped out eggs with a spoon and then turned them on their side in the egg carton to dry. Try it—it worked well for me!
That's it! I absolutely love the way these turned out (the spotting is so pretty), and something about creating the dyes from scratch made the creative process that much better and more ownable. The colors are a perfect representation of springtime, and I may or may not be putting bowls of eggs, well, everywhere this season.
Easter is a special time of year, so why stop at naturally dyed eggs? Check out our delicious and colorful Easter lemon cake recipe.