The holidays are upon us, and that means parties, activities, and gathering together with friends and family. I think bringing a gift for the host is a lovely gesture, but it honestly can be a little intimidating. I never feel like I know what's enough (but not too much), what's going to be useful and enjoyed, or as far as homemade gift-giving goes—if they generally feel like more work than I have time for during the busy holiday rush. I think this DIY project is just the ticket: homemade, inexpensive, incredibly fast, and easy to make. This project is an easy way to give a personal, practical gift that will charm your host. Wood-burned utensils have an almost Scandinavian-inspired design that just feels warm and cozy. Let's get to it!

Step 1: Pick Out Your Utensils
This project only really requires two things: a wood burner and wooden utensils—both of which are affordable (and easy to find locally, or online). When choosing your utensils, the key is to look for ones that are on the flatter side—this makes wood burning a little easier. I found that the bamboo utensils that have a clear finish on them worked just as well as the regular raw wood utensils, so don't worry about only finding ones with no coating. And remember, you don't need an all-wood utensil—you can pick up something with just a wood handle, like the spatula we grabbed.
Step 2: Test Out the Wood Burner
Once you have your wooden utensils, try out your wood burner's heat settings and various tips on a test utensil. For example, I found the bamboo utensils with the finish to be fairly slippery when combined with the heat of the wood burner. It took a while to get the hang of using the wood burner without slipping all across the wood, so having that practice round was really helpful.
Step 3: Get Creative!
There's no limit to the directions you can go with this. Play with different tips, different patterns, and different utensils. Wood burning kits come with a set of starter tips, but you can also buy more shapes, or even letters and numbers. Use a pair of pliers to quickly switch between tips while they're still hot (this saves a lot of time, especially when you're writing out words with the letter stamps). I love that this project really gets its charm from the imperfections—that's what really makes it feel personal and hand-crafted.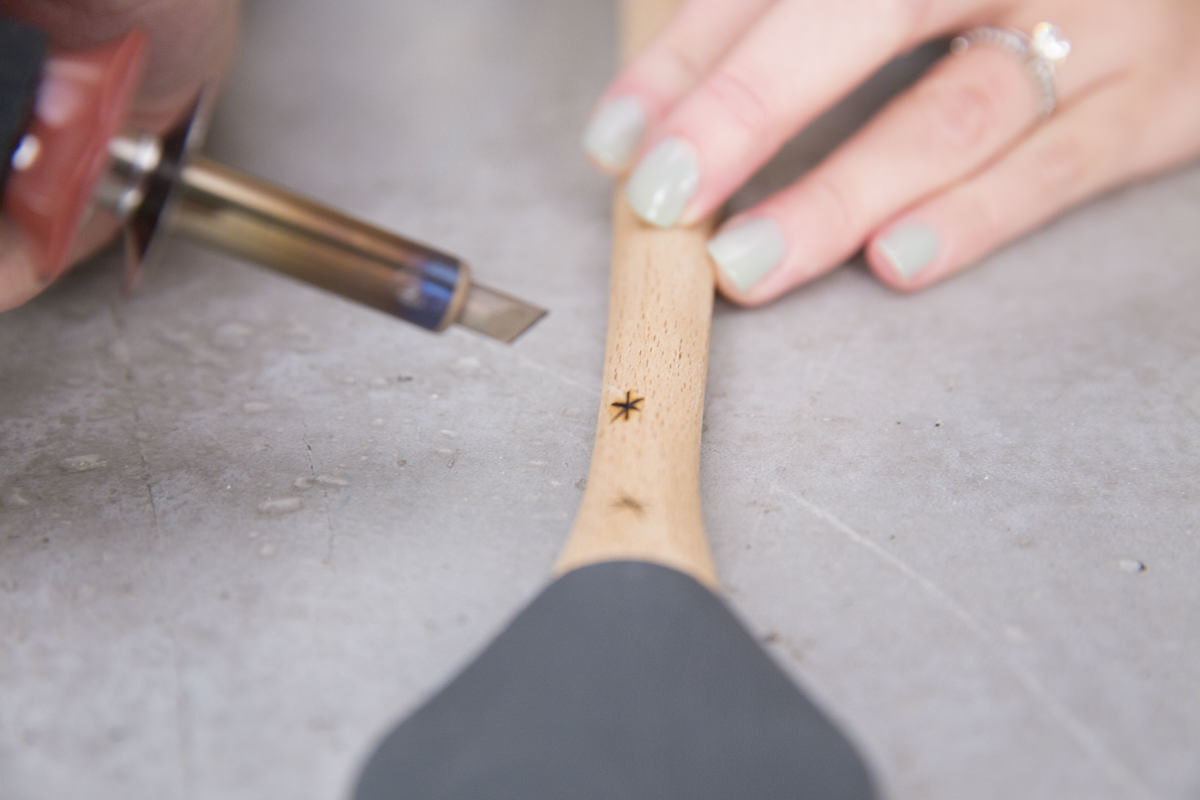 Bundle them in a mason jar (you could even tie a bow or a little gift tag around the neck), and give the gift of DIY this season!