In today's project, we're putting a clear epoxy coating on a beam and adding hairpin legs to make a table. We've already thoroughly sanded the beam smooth. We're using MirrorCoat, a crystal-clear epoxy coating that will leave a bartop finish on wood or other surfaces.
For some, just the word "epoxy" is intimidating. People worry it's difficult to mix and that it will harden too quickly. But not all epoxies are the same—MirrorCoat is easy to mix and apply, and it gives you plenty of work time before setting.
For this project, you'll want to work indoors. MirrorCoat doesn't emit any harmful chemicals, so don't worry about strong odors.
The goal is to get as close to a dust-free environment as possible, so shut off any fans that might stir up particles that might land in your wet epoxy.
We've never used MirrorCoat before and were a little trepidatious, but we found it much easier to work with and apply than we thought.
Tips for success: Before you begin, have all your tools and materials ready at hand. The object you're applying MirrorCoat to needs to be very dry. Our wood was not stained, but MirrorCoat works on stained wood if an oil-based stain is used and the stain is allowed to completely dry—we recommend allowing three times the normal dry time.
Step 1: Prepare your workspace
Spread out a drop cloth in your work area. You'll want a temperature of at least 70ºF and a clean space. To ensure our beam was free of dust and foreign matter, we wiped it down lightly with denatured alcohol and a lint-free rag.
Step 2: Level your tabletop
Because MirrorCoat is a pourable, self-leveling mixture, our beam needs to be level. Elevate the tabletop so that the sides are fully exposed and, using a level, shim as necessary. We used plastic tapered shims, but you can use folded paper in a pinch.
Step 3: Check the clock
With your tools and materials laid out, check the clock. Once mixed, MirrorCoat allows 30 minutes of work time—that's plenty, and you won't need to rush if you have everything at the ready.
Step 4: Prepare the seal coat
Your first coat will be a thin "seal coat" that will seal up the beam's surfaces. Mix up enough MirrorCoat to cover your surface area with ½ ounce per square foot. Use a disposable measuring tub that is labeled with gradient marks and ounces. Pour Part A in first and then Part B in the 2:1 ratio stated in the MirrorCoat instructions. Stir well for 30 seconds or so, making sure to mix from the bottom up and scrape the sides of the tub with the stir stick. When the two parts first come together, they will likely be a little milky. Don't worry, this goes away with the brief but vigorous stirring.
Step 5: Apply the seal coat
Pour out the mixture onto the top of the table and immediately spread it out with a ⅛" nap roller. The goal here is to have a very thin coating, and the roller will help you achieve that. Use a paint brush to spread the coating out to the edges and down the sides. At first it may seem you don't have enough epoxy to coat the surface, but the roller and brush will allow you to achieve this thin coat on all the surfaces you figured into your calculation.
A note on brushes: Whatever brush you use will be ruined, so don't spend a lot of money. We used inexpensive "chip brushes" for our seal coat but found they lost bristles that we had to pick out from the epoxy. We used a better brush for our next coat.
Step 6: Let dry
Wait 4-6 hours or overnight. Keep the area as dust free as possible. In the first 15 minutes or so, wipe any drips on the lower edges to avoid having to sand them later on after they've hardened. Our piece of wood had a few wood fibers sticking up after drying, but this didn't matter and the next coat covered them up just fine.
Step 7: Mix the flood coat
With the same 70ºF+ environment that's "dust-free", you'll apply more MirrorCoat. For this second layer, called a "flood coat," mix and apply 4 ounces per square foot. Just like before, figure out the amount you need and pour Part A into a mixing tub followed by Part B in the same 2:1 ratio. Stir well until the milkiness is gone (this should only take a minute or so depending on how much you mix).
Step 8: Apply the flood coat
On the flood coat of MirrorCoat, you won't use a roller—only a brush. Pour the mixed epoxy onto the top of the table. Using your brush, spread the coating out gently toward the edges of the table and allow it to run down the sides. The brush will help you move epoxy across the table surface and blend the drips on the sides into a uniform thickness.
Step 9: Remove bubbles and wipe drips
The epoxy may have some bubbles in it after the step above. After 5 or 10 minutes, you'll see the bubbles. The easiest way to take care of them is with a blowtorch. Holding a portable blowtorch 6 to 8 inches from the surface, wave it over the bubbles and they'll pop. Note: It's not the heat of the torch that makes the bubbles pop—it's the CO2 of the flame, so keep the flame moving or you'll "cook" the epoxy. If you don't have access to a blowtorch you can gently breathe (not blow) onto the bubbles. The CO2 in your breath will make the bubbles pop. Be careful not to lean into your wet epoxy - and don't hyperventilate!
Step 10: Apply additional coats & let cure
If you're doing additional coats, repeat steps 8 and 9 at a rate of 3 ounces per square foot. Leave your tabletop alone for five days before installing the legs.
Step 11: Install hairpin legs
We used clear-coat, ½" diameter hairpin legs from our friends at DIY Hairpin Legs. These legs are plenty sturdy, and are easy to install with screws. That's it! Your table is now ready to use.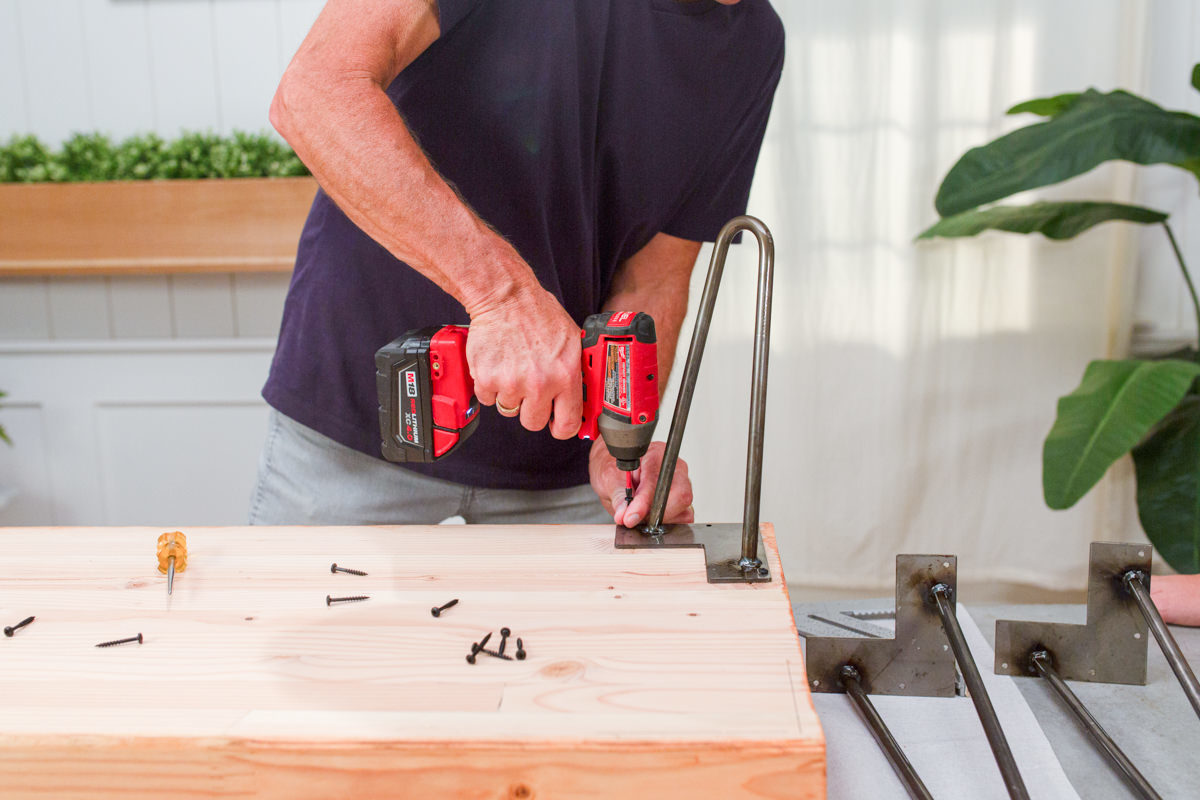 Are you looking for other DIY table ideas? Head to DunnDIY.com to learn how to build a DIY end table, a hairpin coffee table and this DIY side table.