Today I'm teaching you how to make your own Christmas stocking. First, a little back story: My mom made handmade Christmas stockings for us growing up. All of us kids had coordinating stockings before she and my dad had coordinating Christmas stockings. Since my siblings have gotten married, my mom has sewn them and their spouses new coordinated stockings, so I felt compelled to make my own coordinated DIY Christmas stockings with my spouse. I've been looking for stockings and waiting for the right inspiration to strike, which finally happened while I was browsing the West Elm website. They were hanging from a mantle in the back of a photo, and while I assumed they were for sale, I couldn't find them anywhere. So I decided to make my own in the spirit of the stockings I wanted but couldn't find.
The nice thing about this project is that it's adaptable. If you have a good sewing machine you're comfortable using, you can use it. If not, you can sew by hand. And if you want to go even simpler, you can grab some fabric glue—who's going to know?
Step 1: Cut Stockings
For this project, you can use a thick wool felt or a craft felt. We used a thick wool felt, which you should be able to find in the aisle of your local fabric (or craft) store with all the felting tools and materials. Wool felt is a little sturdier than a craft felt, and it's 100 percent wool, which makes it look and feel more quality in my opinion—that's why I went with it.
I used an old stocking for my pattern and traced the shape onto the new felt with chalk. Then cut out two stocking shapes from your felt. If you're using another stocking to trace yours out, give yourself some extra room to allow for seams.
Decide whether you want your stocking to have a cuff at the top or not. (I decided yes.)
Step 2: Cut Out Decorative Shapes
I'm adding reindeer and branches to my stocking, but you can add whichever shapes you like—stars, snowflakes, etc. Print out our templates to use, or draw your own. Trace the shapes onto fabric with chalk, then cut out with scissors. If you're using our templates, cut out a little extra room at the bottom of the branches—that way, you can sew them into the seam of the stocking for a more professional look.
I picked out a faux cashmere stretchy wool-blend fabric for my shapes (it's a mouthful, I know.) The key is finding a fabric that won't fray. You can always use felt, too!
At this point, decide which direction you want your stocking to hang. After doing a ton of research, I've concluded that there's no correct way—just make sure it hangs the same as the other stockings on your mantle.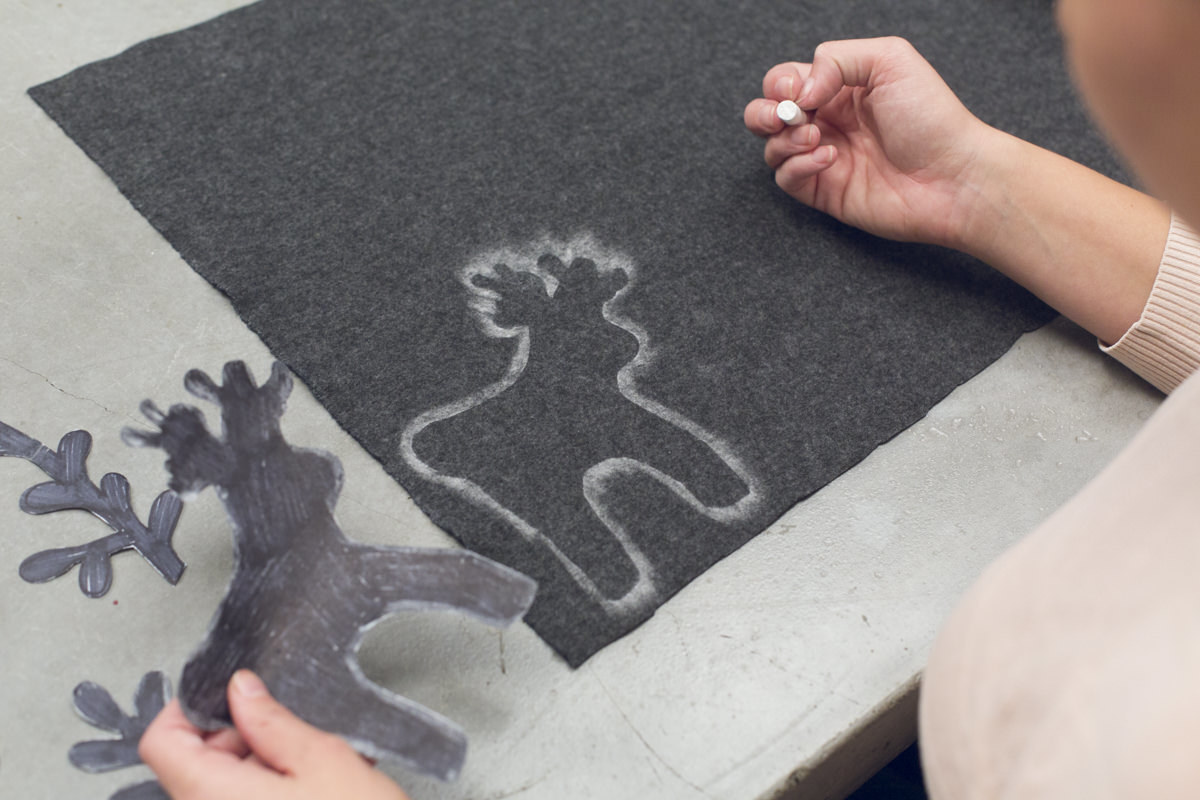 Step 3: Sew Shapes on Christmas Stocking
Next, lay out the shapes in a pattern on the front of your stocking. Use your sewing machine to attach them to the stocking, or stitch them on by hand. I used white thread for this step because I wanted the stitches to stand out and be more of an accent, but if you're not into that, you can go subtle and find a thread that matches your shapes. If you're sewing on branches, start at the base, then go around the edges with a very thin hem. For the narrowest branches, go straight down the middle.
My fabric happened to be double-sided which was fun—that meant I could flip over the shapes to shake up the look, or use one side for one stocking and another side for the other stocking. It's a fun opportunity to make two different stockings that have the same theme but distinguishing characteristics.
Note: If your sewing machine has a foot pressure adjustment, it's easiest to do this on the lightest setting so you can easily manipulate the fabric under the needle. Being able to quickly turn corners without having to stop and turn constantly makes things so much easier.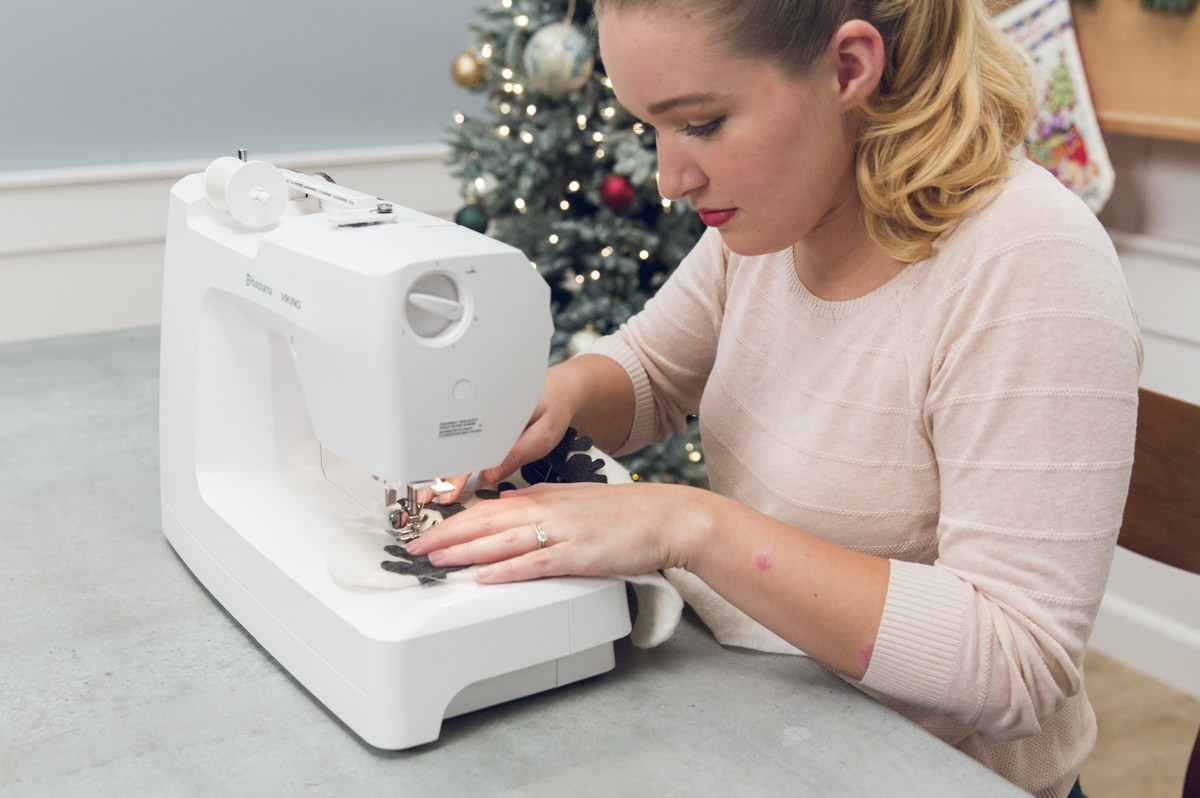 Step 4: Sew Christmas Stocking Pieces Together
Once your shapes are attached, it's time to sew the stocking pieces together. Pin the front and back pieces together with the shapes facing in. Sew a 1/8" seam along the edge with a sewing machine (or by hand, or just glue.) Trim excess fabric if necessary. Turn inside out, then press with a warm iron.
Step 5: Add Loop to Christmas Stocking
If you're using a thick wool felt like I did, cut a 1/2" by 5 1/2" strip of wool felt and sew the ends of either side to the inside of the stocking (not the cuff). If there is no cuff, sew the loop to the back side of the stocking so the stitches don't show.
For normal craft felt, follow these steps for a sturdy hanging loop: cut a strip of the craft felt and fold both edges into the middle. Then, fold the entire piece in half—you now have four layers of felt. Sew the layers together along the edge. Place the loop in the upper corner of the stocking and attach as outlined above.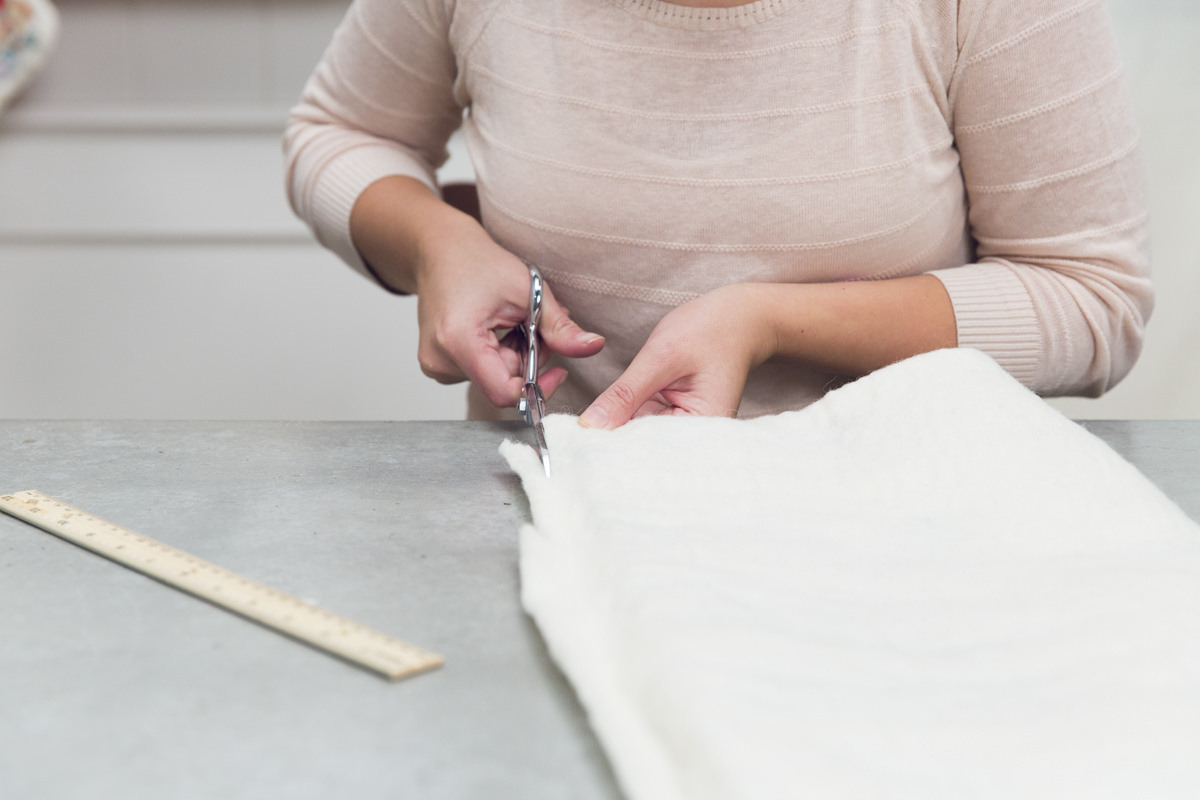 Step 6: Add Pom Poms
If you decided to do a cuff on the top, you can add a string of pom poms along the edge for decoration. Fold up the edge of the cuff, then pin the pom pom string along the outside and sew in place. I picked up my pom pom string at a craft store—they're super "in" right now, so you can find them in all sizes and shapes. If you're ordering online, know that this slightly off-white color is called beige for some unknown reason. The cream is practically yellow.
Note: You'll see the stitches you use to sew the pom poms in place when you fold the cuff down, so I used zig-zag stitches to make it look a little nicer and more intentional. You can also go with craft glue and eliminate stitches altogether.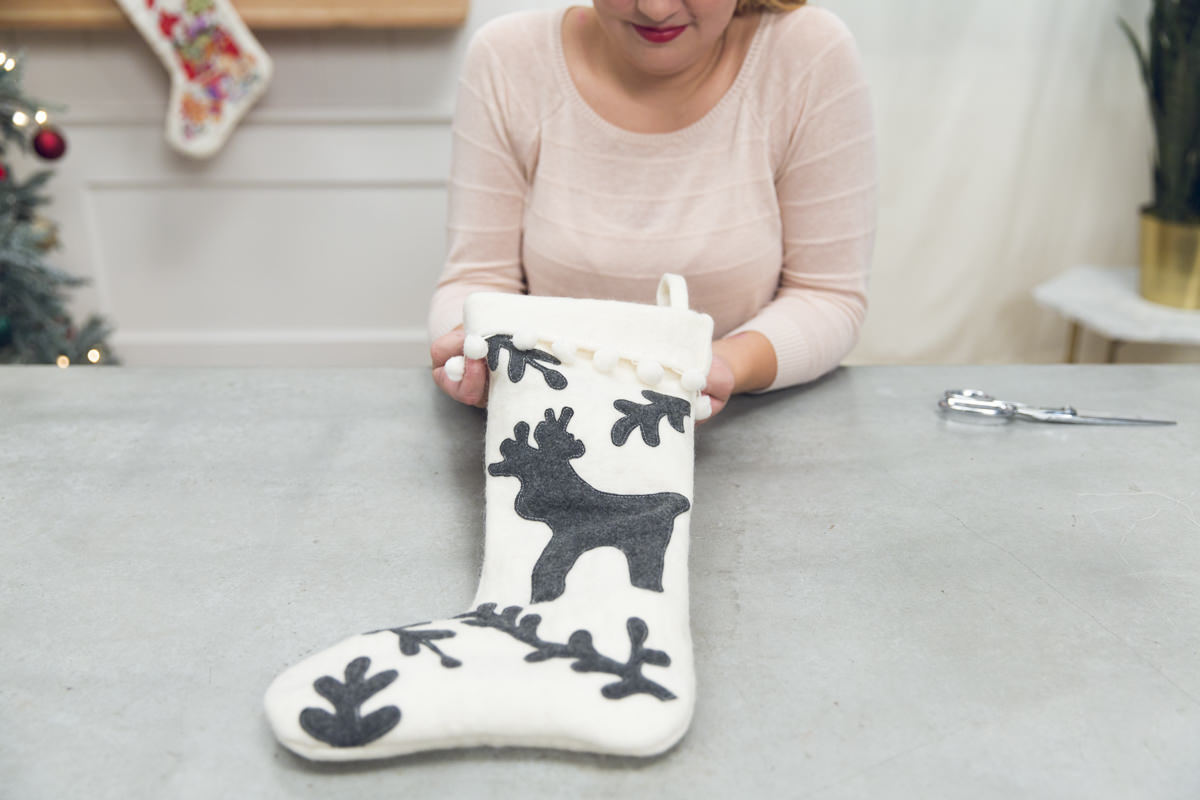 Step 7: Make Name Tag for Christmas Stocking
Finally, we're adding a name tag. Cut out a piece of white felt in the shape of a gift tag—use the diagram from the top of the post. Cut a small hole at the top and thread with white embroidery thread. Write out the stocking owner's name on the tag with fabric paint, or embroider the tag with red thread (use a washable fabric pen to sketch it out first). You can also cut letters out of red felt and glue or sew them on.
Next, tie the tag around the handle.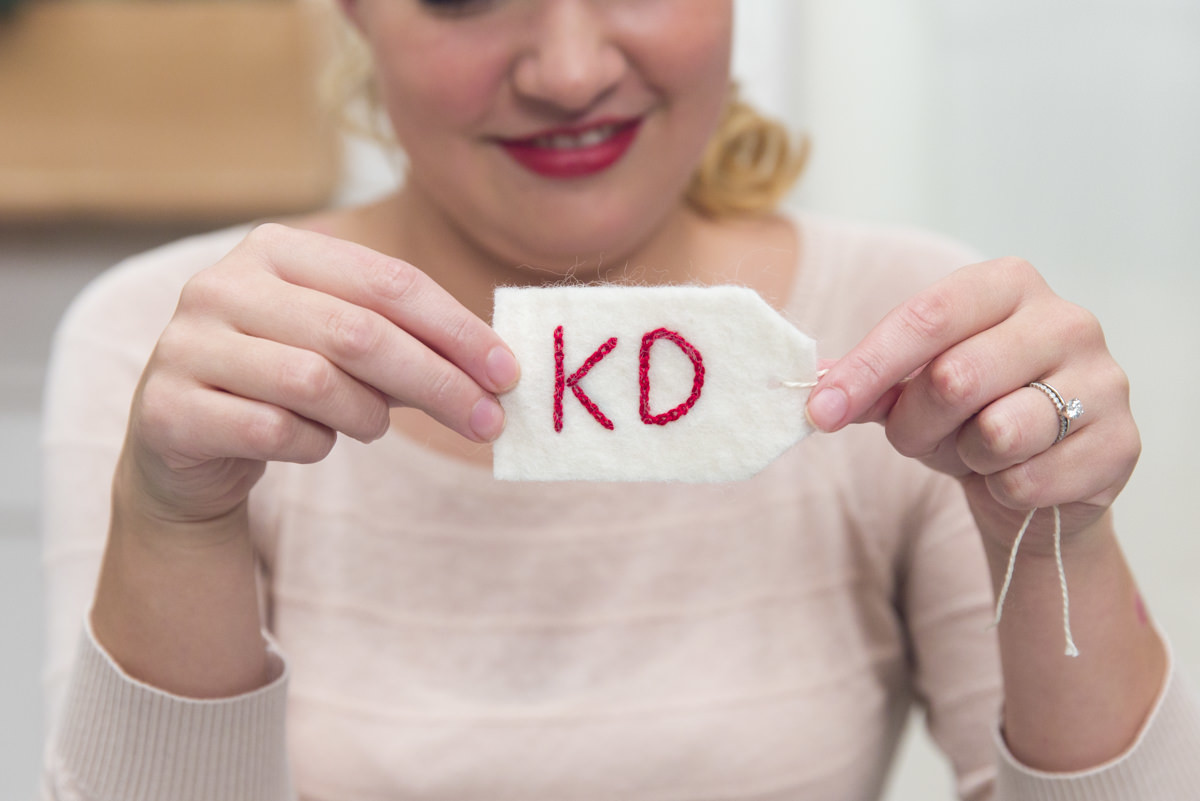 Now all you have to do is wait for Santa! This project is great because you don't need much material to make one stocking. I'm thrilled with how this turned out, and I love the way it looks hanging in my home among all the other DIY Christmas decorations I've made. I hope you love yours, too. Interested in more DIY holiday projects? Check these ones out: How to Make a Gingerbread House, How to Make a Wooden Advent Calendar, How to Make a DIY Wooden Toy Truck, and How to Make a DIY Tree Collar.