When I was growing up, I was always the kid who got tired of summer and was anxious to get back to school. Granted, it wasn't long before I'd get sick of school and be ready for summer, but there's something about back-to-school season that feels like a real fresh start. Back then, it was the new backpack, new outfits, new textbooks—now, it's all about being organized and refreshed at work.
I still go for the new outfits (who doesn't love breaking out the sweaters and scarves), but I've swapped backpacks and textbooks for cleaning, organizing, and upgrading my office accessories—which explains why I had so much fun creating a DIY lunch box and pencil holder, and loved reupholstering a tired office chair.
Today, we're making a DIY computer case. Last fall, my friend bought a pencil case that was very similar to the one we're making today— thick felt with a fun zipper—and while she loved it, she wished it was big enough for her computer. I loved the idea and thought it'd be easy enough to DIY, so I took the idea and ran with it.
Step 1: Glue Together Felt Sheets
I think just about any fabric will be sufficient for protecting your laptop from scratches, but I love working with felt because it's so easy—you don't have to worry about raw edges. Plus it has some stiffness, so it maintains its shape when it's in your bag with everything else. I got my felt from my local fabric store, and went with the green because it felt like a nice companion to the upcoming fall season. I also opted for a quality felt—this one is a step up from the felt sheets of your childhood that have that weird texture and are almost see-through. You of course are welcome to choose whatever material and color you like—just make sure you choose a size that'll fit your computer.
I picked up four 12" x 18" sheets. To start, glue them together in pairs with fabric glue. When you're finished, you should have two thick pieces. If you're able to find thicker felt, you can always purchase two sheets of it and skip this step.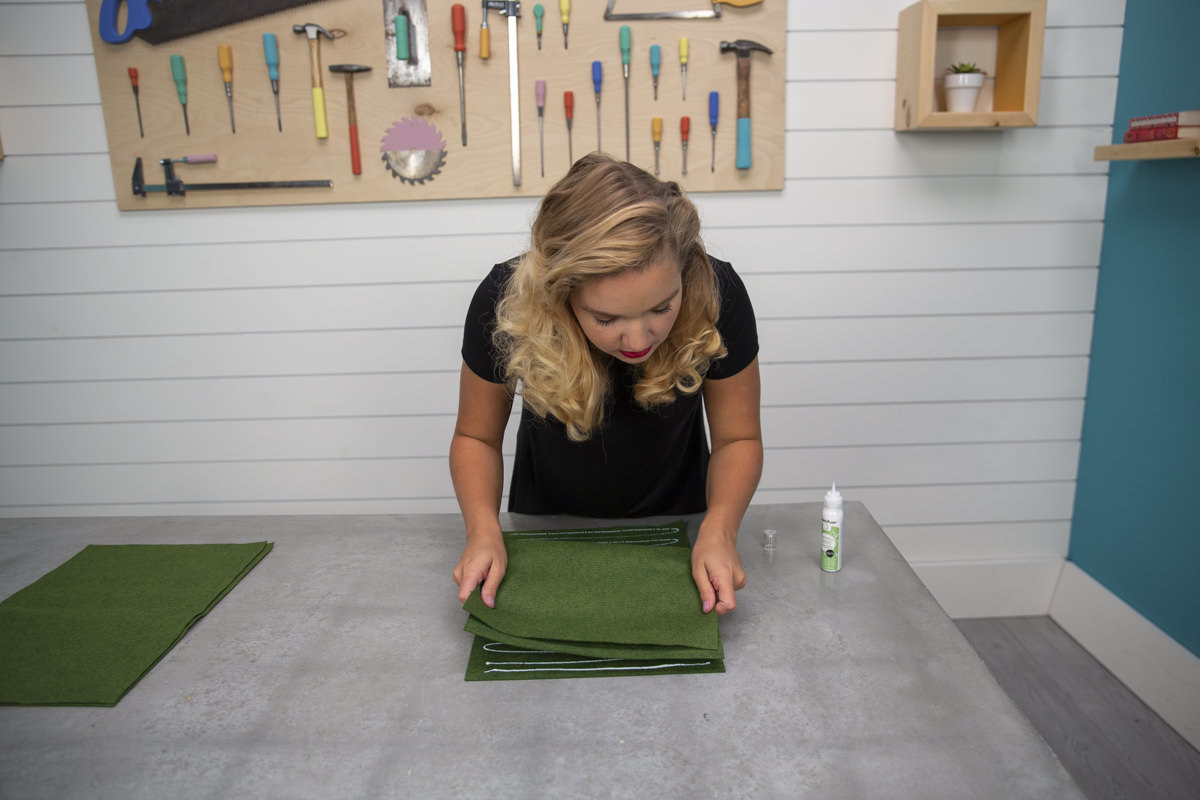 Step 2: Cut to Size
My laptop is 9" x 13", so I cut the felt to 11" x 14". Make sure the dimensions of your felt are a few inches larger than your laptop—you want some wiggle room. It's important to keep in mind that the length of the long side is mostly dependent on zipper lengths—you can get a 14" or a 16" zipper, for instance, but you can't get a 15" one. Mark your cuts with a pen or pencil, then trim with a pair of scissors. Because the zippers only come in certain lengths, it's wise to compare it to the length of your felt as you're cutting it to ensure an even match. I ran into some problems here, so learn from my mistakes! It helps to use a straightedge here, too—the beauty of felt is the clean edges, and if you're not getting clean edges, it ends up defeating the purpose of the felt.
Once your first piece is cut, use it as a template to cut the second.
Step 3: Attach Zipper
Now it's time to attach the zipper. Start with your first piece of felt, then pin the zipper into place along the long side. Next, choose a thread—you can go with something that matches the color of your felt, or you can go with something contrasting. If you're using a sewing machine, you'll want to use a zipper foot. If you're sewing by hand (it's easy), consider using an embroidery thread—it'd make a nice finish along the edges.
A note about the zipper: the tabs should be folded down so the pull tab is close to the edge of the felt. If you haven't sewn a zipper on a sewing machine before, sew from the bottom of the zipper up. When you get to the pull tab, move it out of the way before you sew the section so it's not getting in the way—it'll make things super easy and save you from a lot of trouble.
Repeat on the other side.
Step 4: Hem
Now that your pieces are connected by a zipper, it's time to sew the remaining three sides of the felt together with a 1/4" hem. You can do this with a sewing machine or by hand. Make sure that you tuck in the tail of the zipper during this part so it doesn't stick out at the end. If your pieces don't align perfectly, trim any excess so the final look is clean and sharp.
That's it—easiest project ever or easiest project ever? This is one of the projects where you pull it out of your bag and everyone's like, "Oh my gosh, where did you get that?" which is extremely satisfying when it's something you've made. If you want to feel good about yourself (for hardly any money, time, or effort), this is the project for you. And you can have fun with it! My mom made one of these for herself and embroidered her name on the front—you could do the same with a cute saying—or add a patch. Make it yours!