There's something about autumn that always sparks my creativity. When the weather outside turns gray and rainy, the indoors become cozy—and crafty. This time of year, I always break out the sewing, crocheting, baking (have you tried our pumpkin bread?), and woodworking projects. It's one of my favorite parts about fall.

The autumns of my childhood were filled with many leaf crafts, whether it meant using them to make rubbings with crayons, gluing them to foam core to turn them into stamps, painting them on windows, or cutting them out of felt and paper. If there was a leaf-related craft, I was on it.
I'm still interested in leaf crafts, but figured there had to be a more sophisticated version of the leaf craft that I could bring back as an adult. Today I'm bringing you two: an outdoor Halloween sign you can put out with your unmanned bowl for all the trick-or-treaters, and a DIY fall banner you can leave up all season.
Beyond loving this project for the obvious reasons, it turned out to be a great opportunity to feature a product I love that just hasn't made it to the blog yet: Minwax Express Color Wiping Stain & Finish, a stain that comes in a paint-like form. It's easy to work with (especially in this setting) and makes a fun way to add in a little color without covering up the wood grain. For the perfect fall palette, we special-ordered ours through Dunn Lumber.
Let's start by prepping the sign, and then we'll work through the steps to complete the trick-or-treat sign and the autumn banner sign. You can make one or both of them!
Prep Your Fall Banner Sign
Step 1: Plan
Before anything, I like to take the stencil, grab some leaves (these should be green leaves, not brown) and lay everything out. This helps me decide how long the sign needs to be (keeping my front door in mind) and finalize where everything will be placed and how many leaves and what kind I'll need. Take the time up front to do all of this. I like to take a picture at this point to refer back to later when I'm doing the finally placements.
Step 2: Cut
Next, cut your lumber to size. We cut our one-by-10 to 16" for each sign, but you can choose whatever length you like best. You can make this cut with a handsaw or a circular saw, or you can have the cuts made for you at Dunn Lumber. (Easy!)
Step 3: Drill Holes
Measure 1/2" in from the two top corners and mark with a pencil—they should be equidistant from both the top and the side. Drill holes with a large drill bit—make sure it's big enough to easily thread your jute through when it comes time to hang it.
Step 4: Sand
Use a fine/medium sanding sponge or a piece of sandpaper to sand down the cut edges and the holes you just drilled.
Trick-or-Treat Sign
Step 5: Stencil
We're starting with the Halloween sign. Position your stencil onto the sign and tape in place. Use a 2" foam brush to apply the stain to the inside of the stencil, and be sure to dab rather than paint to avoid any smearing. A little goes a long way, too, so go easy. For our lettering, we used the color Mahogany.
Once you've finished, remove the stencil and dab off the excess stain. I like to use a large sheet of paper towel for this step, covering all the stain at once and pressing down firmly without moving the paper towel. Let dry.
Repeat this same step with the smaller stencil letters. To keep these words close together, we removed the stencil and dabbed the stain in between each letter.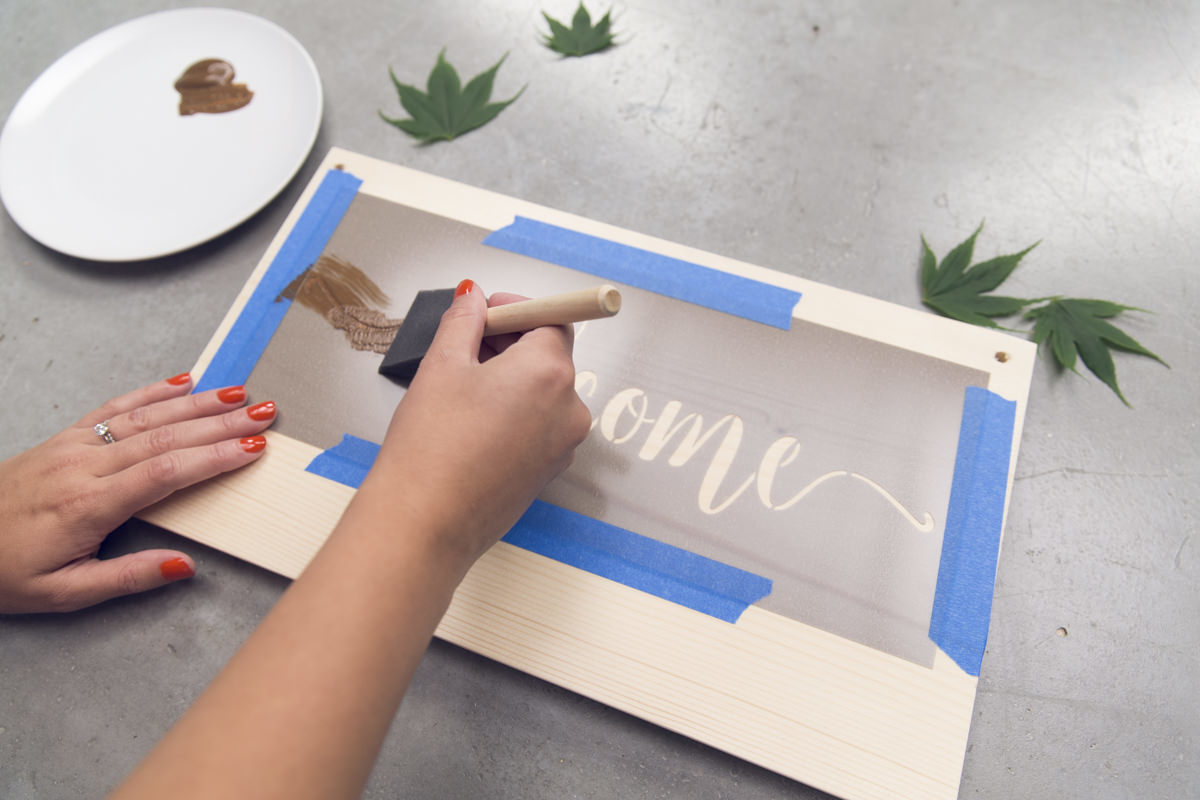 Step 6: Add Leaves
Once your words have dried, it's time for my favorite part: adding the decorative leaves! We used the colors Emerald, Crimson, and Oak. Choose your leaves, then remove the stems. (We used Japanese maple leaves for our sign, but you can pick whatever you have in your backyard.) Lay them out where you decided to place them when you were doing your planning back in Step 1.
On top of a paper towel, paint the top side of the first leaf. The coating of stain should be, again, applied with a light hand—otherwise you'll get smudging. Be sure to paint the entire thing, all the way out to the very tips of the leaves.
Then, flip your first leaf over and place it on the sign. Grab a clean paper towel and press it down firmly over top, just like you did with the lettering. This helps transfer the stain and catches any stain that may have made it onto the backside of the leaf. Be sure not to move it around or you'll blur the lines.
It may take you a few tries to get the hang of it, so feel free to use some scrap wood to do tests before you commit to the sign.
Finally, a pro tip: We painted one leaf red and one green, using separate brushes for both. Then we painted two more leaves in the light brown "Oak" color with the already used brushes. This created a reddish-brown leaf and a greenish-brown leaf, and made the whole thing look a lot more artistic and cohesive. We definitely recommend you try out this trick! (OK, let's give credit where credit is due. I actually got this idea from watching YouTube videos of Bob Ross and seeing how much more natural the nature scenes look when he doesn't clean his brush or doesn't fully mix two colors together.)
Step 7: Add Rope
Find a nice jute or thick string to hang your sign. You can hang it a few different ways, but we have ours with the jute running across the front of the sign and with the two ends of the jute on the back of the sign, tied together with a simple knot. Adding an additional knot on the back side of the sign—where the jute comes through the hole—will help it from moving around, but it's not necessary.
Now you can be spirited—without coming to the door.
If you're interested in creating a general fall sign (or both!), go from the sanding step to here:
Autumn Banner Sign
Step 5: Stencil
Position the stencil on your board and tape it in place. This time, we're using a 1" foam brush to apply mod podge inside of the stencil. Use a dabbing motion rather than a painting motion to prevent smearing. This was definitely harder to do with the mod podge than with the stain, so be extra careful! Remove stencil and let dry for 15-20 minutes.
Step 6: Add Leaves
When the words have dried you can glue your leaves on. Pick your leaves and remove the stems. Lay them out on the sign, deciding exactly where you want them. On top of a paper towel, paint the top side of the first leaf with glue. Keep the coating light and be sure to paint all the way out to the very tips of the leaves. Then, carefully flip your first leaf upside down and place it on the sign. Grab another paper towel and press down firmly so the glue can stick. Remove the paper towel and allow the glue to dry. Repeat with the remaining leaves.
Step 7: Stain
Once the glue has dried, apply stain to the whole sign. For this one, we used Varathane Premium Wood Stain in Early American. Wipe off immediately with a rag. Pay special attention to the words, dabbing until the stain has been removed from the surface of the glue. Peel off the leaves and dab underneath with the rag.
Step 8: Add Rope
Just like the other sign, thread a piece of jute through the holes and tie in a knot, then hang it up and enjoy! Finally: a leaf craft project that nods to my childhood memories while looking sophisticated.
Looking for more fall decor inspiration? Check out our trick-or-treat banner and our Thanksgiving banner.