If you've scrolled through the archives, this transfer technique might look familiar: We used it last year when we made a hanging Halloween trick-or-treat sign. This technique was the result of a lot of time and effort studying the best method of transferring photos onto wood—it's a very confusing art! After a lot of experimentation, we finally found a technique that works well. 
Since that project just required letters to be transferred onto the wood, I wanted to revisit the technique with something that's more intricate and shows what you can actually make with a photo transfer. Well, it just so happens that Valentine's Day falls on a Tuesday this year (which is our normal posting day around here). What better crossover is there? This is a super-easy project you can do in 15 minutes, and if you don't have a gift (I'm sure that happens to no one), now you can have one!
Step 1: Cut Scrap Wood to Size
This project offers a great opportunity to use up any scrap wood you have laying around, because you don't need much of it (it just has to be a little bigger than the photo you want to print).
You don't have to use a specific type of wood, but keep in mind that for this project, the lighter the better. The white in a photo that shows up is white because your paper is white and the ink is transparent, so when you transfer the photo onto wood, the darker the wood, the darker the photo (and the less it shows up). In other words, this isn't the time to use walnut. As long as you have something on the lighter end, you can just use it.
I tried out a few different species (spruce and maple) and found that maple, which is a hardwood, worked a little bit better. Because it's a hardwood, maple is denser, which means everything is smaller and closer together. The surface of maple is smoother, so when you transfer the photo it tends to be more evenly distributed.
I used 1" x 8" wood and cut it to 10" long which makes it an 7 1/4" x 10" frame. Make yours whatever dimensions you want so that it's the size of your photo with ½" to 1" left as a border around the edge.
Step 2: Sand the Wood
Softwoods like spruce tend to develop a sheen from the milling process. That will stop the ink from really taking to the wood, so if your wood has a sheen like that, you should sand it down until it's matte.
I learned how important this step is from the trick-or-treat sign (linked above). We didn't sand down the surface of the wood, and I noticed the ink didn't absorb very well. It's worth the few extra minutes it will take you. If you have a sander, it's not a ton of work. (It's probably not a ton of work even without a sander).
I started with 150-grit sandpaper and finished with 220. The rougher sandpaper deals with the uneven surface, and then the finer one gets that surface—which is now level—smooth.
Step 3: Tape Off the Border 
I've done this with a 1" x 12" piece of wood and opted for a full-page photo, or you can go smaller with a 4" x 6" and leave a one-inch border to make it pop. For this one I made a ⅞" border. If you're looking for the easiest route, just line up the tape with the edge of the wood and use the width of the tape as a border.

Step 4: Choose the Photo
I think it's worthwhile looking at the white in the photo and knowing it's going to now be the color of the wood. Other than that, the type of photos you choose doesn't matter.
These are my engagement photos with my fiancé, Nick, so they seemed very apropos for Valentine's Day.
Step 5: Print the Photo
Now here's the thing: it doesn't matter what kind of labels you buy, unless you buy the wrong kind (which I have now done multiple times). The worst thing you can do is buy a label that covers the entire page. That seems like it would be the most simple, but the back is cut into thirds with horizontal lines, so you can't print anything on it. Some of the ones with two or four stickers on the page have perforations between the stickers, which will leave lines in the finished image. (In fact, you can kind of see them on the photo transfers we did, because that's what we ended up using.) It won't wreck your project, but if you want to avoid that—look at the back of stickers until you find one full sheet. It's usually the smaller stickers.
It's funny how when you do the same thing 20 times, you learn things about it—like what not to do. 
Here's the simple step: Peel off the stickers from your sheet of shipping labels. Insert the paper into an inkjet printer so that the waxy side will be printed on. (It seems a little counterintuitive, but it totally works—trust us!)
Below are two photos. The top photo was printed using an inkjet printer, while the bottom was printed using a laser printer, which didn't work. Be sure to use an ink jet, as the ink reacts differently on the paper. 
Step 6: Print & Transfer
When it's done printing, carefully remove the paper from the printer without letting the ink touch anything.

One important thing to keep in mind: When you have your wood and your photo, it's important to note the positioning of any knots in the wood. I did this with another photo of me and Nick, and I ended up with a knot on the side of his face that looked like a weird Snapchat setting. Things like that can often be solved just by turning the wood around so the knot ends up in the other corner of the photo. It doesn't have to be knot-free wood, it just has to be not-in-an-important-part-of-your-photo.
Align the paper over the wood and press down firmly; with the palm of your hand or a credit card, rub the paper to ensure the ink successfully transfers. 
Take the paper off once you're sure you've pressed down on every inch of it. Allow the ink to dry. It dries pretty quickly, but avoid touching it immediately.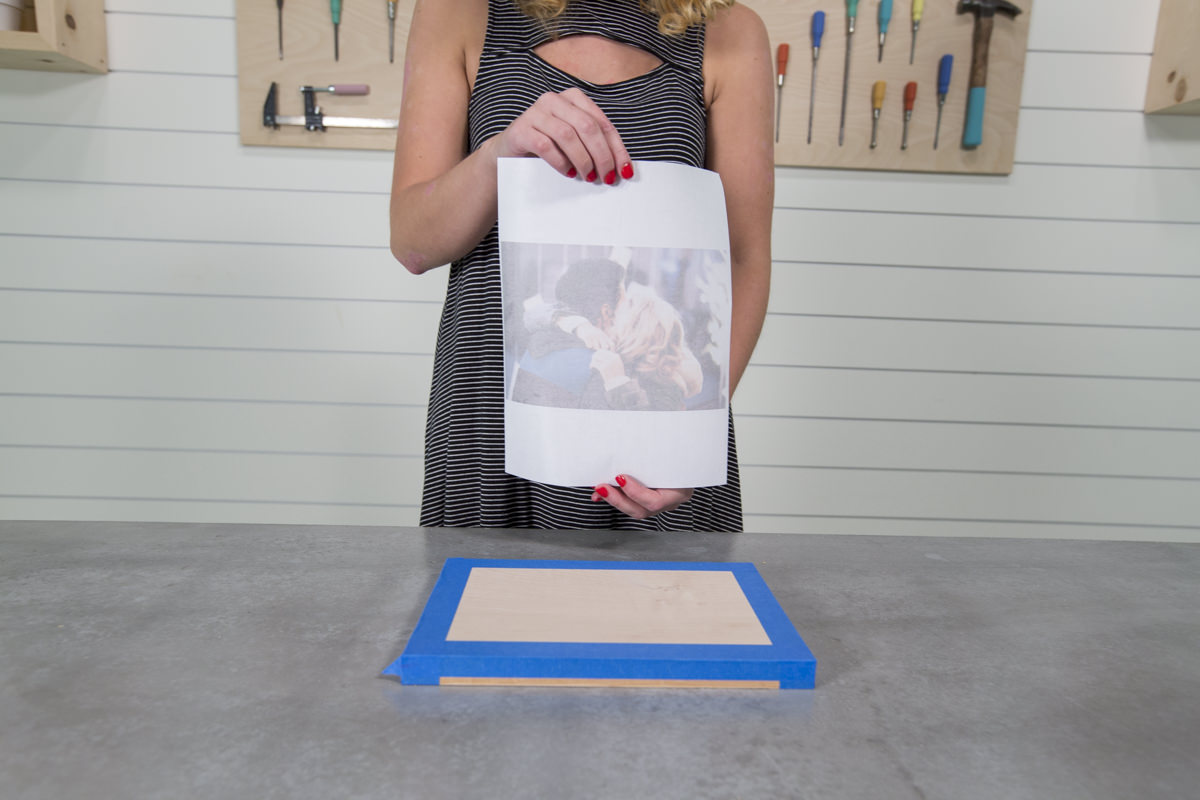 Step 7: Remove Tape
After having done this a lot, I realized I liked the fact that if you get it a little off in your placement, the tape will correct it and make it appear neat. (Saving me from having to be meticulous about it later on.)
Step 8: Hang
You have a few options for displaying your new piece of art. Sitting on a shelf, it can stand on its own. If you want it angled like a photo, take a little piece of 1" x 2" and glue or nail it to the back. Use it as a support so the photo angles back on it like it's a little kickstand.

If you want to hang the photo on the wall, there's a super-simple, self-explanatory piece of hardware you can use. It's called a self-leveling (or sawtooth) hanger, and you just push it into wood to add a hook to the back. You can also use 3M Command Strips if you don't want to worry about nailing things in your wall.
I have done a lot of photo transfers with a lot of techniques, and this is the one that works consistently, but it still turns out different every time I do it. It's very much like making candy: a really precise science, but when you're making candy, things like the weather can affect it a lot. I wonder what little details affect the difference in these. For instance, these photo transfers both have a lot of grey in them. They're kind of washed and look weathered and vintage. But the one I did in prep for this turned out very clear, very dark, and very vibrant in a way that these didn't.
I suggest testing it out and having fun with it; figuring out what works best and what doesn't. You'll gather a lot of what-not-to-do, which helps you DIY in the future. DIY is like building blocks: you take what you learned from one project and apply it to the next.