Whether you're camping, spending a day at the beach, or having a summer gathering at your house, seating is something to consider. Having something compact, lightweight (and therefore easy to store), not to mention comfortable, is super-important. Now, imagine if it was cute enough that you could even use it for extra seating in your living room. That was our goal for today's project.
This camp stool can be used wherever you need it and can be stored away easily, or it can be left out in your home for when guests come over—think, ottoman or pouf alternative. The two keys to making this project are hardwood and heavy-duty outdoor fabric. A hardwood, like oak, provides the rigidity softwood can't, and it allows this design to be delicate. The heavy-duty outdoor fabric also provides added strength. You absolutely can opt for a regular exterior fabric (like we used for the hammock or the outdoor movie seats), but I loved using this awning fabric. It doesn't fray, and therefore doesn't need to be hemmed along the edges (that's a serious bonus, for me!), and it doesn't have any stretch, which means there's less room for variance.
One note before we get started: Whenever I'm fitting dowels into a pre-drilled hole, I choose my dowels very carefully. For a project like this, I want a dowel that will fit very snugly in the hole, and because wood is an organic material, measurements can't always be precise. Even if you have a ⅞" dowel and a ⅞" drill bit, they won't necessarily be a perfect fit. I like to drill a hole in a piece of scrap wood with the bit I'm planning to use, then bring the scrap piece to the store and see which dowels fit best.
Step 1: Cut one-by-two and dowels
The first step is to cut the wood to size. Cut oak one-by-twos and dowels with a hand saw and miter box (or a circular saw).
Cut the one-by-two into four lengths with one straight-cut end and one end at a 45-degree angle. These four lengths will make up the legs of the chair. Each piece should measure 24 ½" from the point of the angle to the flat end. Cut each dowel into one 17" length and one 18 ¾" length. The dowels will act as cross pieces between the legs, and will also hold up the fabric seat.
Step 2: Mark and drill holes
Measure and mark along the length of the one-by-two legs for where the dowels will go. Measure from the top of each leg (the straight cut end) down ¾" and center—mark with a pencil. Measure from the point at the bottom up 3 ½" and mark in the center. Clamp the pieces down on top of a scrap piece of wood and drill through both pencil marks on all of the legs.
Next, measure and mark for the pivot point on the legs. Measure down from the top of each leg halfway (12 ¼") and mark in the center. Drill a hole with a 9/32" drill bit.
Step 3: Remove stickers and sand
Because we're using pretty much the entirety of each dowel, we have to deal with the bar code sticker. I like to use a razor blade scraper to remove the bulk, and then just sand off any sticky residue (most adhesive removers contain oil that will stain the wood).
Sand the cut ends and drill holes with 150-grit sandpaper or a fine/medium sanding sponge. At this point, you can choose to leave the sharp edges on the boards, or round them out with a sander.
Step 4: Assemble first side of the wooden camp stool
Take two of the legs and lay them down with the bottom points facing toward each other. Fit the two short dowels into the pre-drilled holes in one of the legs and the two longer ones into the other leg.
Pre-drill through the side of the leg into the dowel with a countersink drill bit. Remove the dowel and add a thin coating of glue around the inside of the hole before reinserting and securing with a 1 ¼" exterior screw. Wipe away any excess glue.
Step 5: Cut and sew fabric for the DIY wooden camping stool
Cut fabric to 15 ½" x 25". You can use a rotary cutter and a cutting mat, or a pair of fabric scissors. Use a straight edge or a framing square and a fabric pen to create straight lines and square corners. Fold over the ends 2 ¾" and pin in place. Hem ⅛" away from raw edge and then again, ¼" in from that.
Because this fabric is so thick, you'll need a heavy-duty needle in your sewing machine and heavy-duty thread.
Step 6: Add seat to the camp stool frame
Slide fabric onto the two top dowels attached to your stool legs. Add the two remaining legs onto the other side of the dowels, making sure the bottom angles point in the same direction as the legs on the other side of the dowels. Pre-drill and secure dowels to legs with screws, but hold off on glue for the moment.
Step 7: Create the pivot point
Slide both sets of legs in between each other creating an "X." Add two washers between the two legs at the pre-drill pivot point and slide a bolt through. Secure with a nut. Repeat on the opposite side.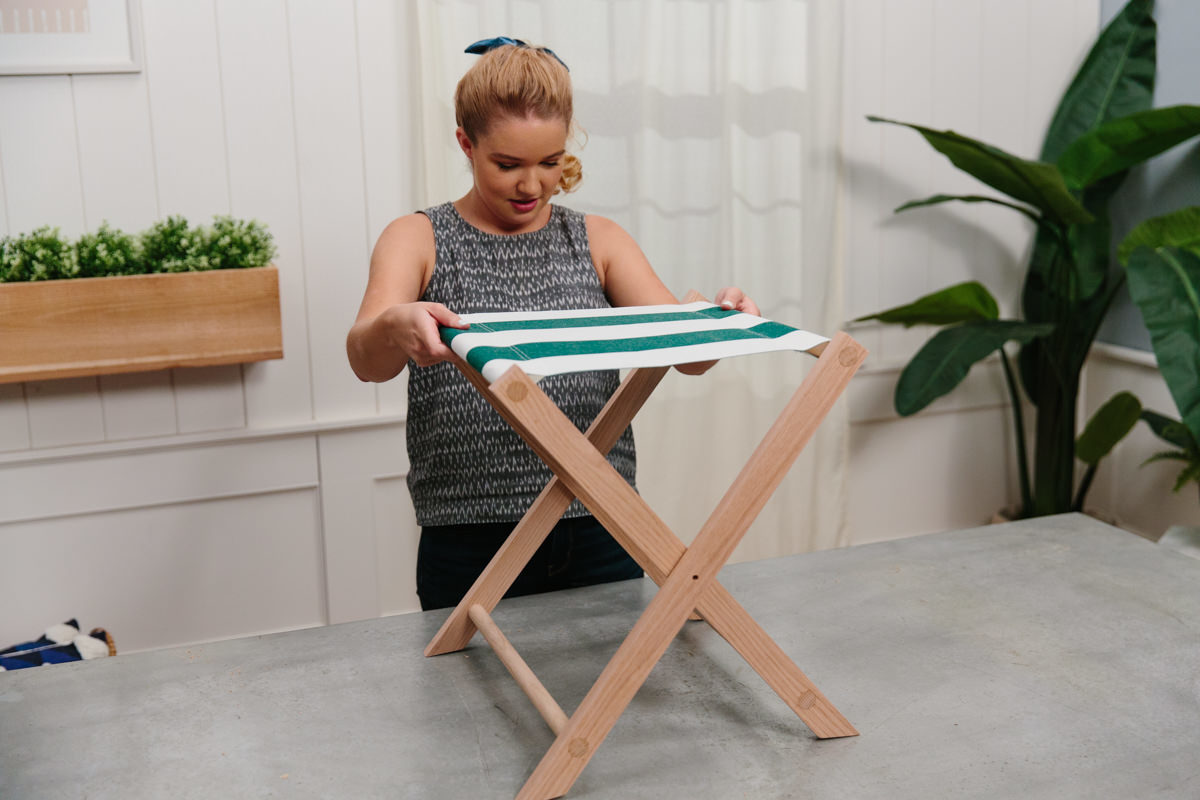 Step 8: Dry test
Now that your stool is assembled, test and make sure that the fabric is the proper length (i.e. that your stool is unfolding to the correct angle). Because I built a prototype with a stretchier fabric, my stool seat ended up being a little narrower than I was expecting. This wasn't a big enough deal for me to go back and readjust it, but I adjusted the tutorial, so your stool should come out just right!
Step 9: Disassemble and apply finish to the folding camp stool
Take apart the side of the stool that hasn't been glued yet and remove the fabric seat. Make any necessary adjustments. Because I had already pre-drilled the holes to attach the legs to the dowels, I numbered each dowel and hole to make sure I put everything back together the right way.
Finish the wood with an exterior finish, appropriate for hardwoods. This process proved to be a little tricky because oak is rarely ever used exteriorly. I recommend you do what I did and keep an eye on your finish, wiping away any areas where the product is pooling (even if, like mine, your finish doesn't call for wiping). Any unabsorbed product that leaves your chair sticky can be removed with mineral spirits.
Step 10: Glue and reassemble
Once your finish has dried, slide the seat cover back on again and reattach the legs you removed, this time gluing as you go. That's it! Once it's dry, you're ready to tote this stool to your next camping trip or picnic—and then fold it up nicely once you're back home.