A gingerbread house is a classic Christmas staple, and there's something oh-so-satisfying about making one from scratch. When I was little, my mom had the recipe book "Entertaining" by Martha Stewart. Of all of the beautiful table spreads and delicious meals, there was one recipe that stood out to me. It was a three-story gingerbread mansion complete with sugar glass windows and detailed icing on the moulding and brickwork. I always wanted to make that gingerbread house; it glowed with warmth. My mom told me a story about some friends she knew (people who were artistic and gifted with their hands) who got together to bring this gingerbread house to life. They spent hours constructing it, and although I understand the final product was satisfactory, the whole experience tested their friendship like they had never anticipated. These friends vowed they would never again put each other through that.
At the time my mother told me this story, I believed that I could pull off a gingerbread mansion better than her friends, but as time has gone on and my self-awareness has grown, I know that it would take several Christmases before I could satisfactorily master it in reality. (Altogether it just might not be worth it to me.) So I thought, why not try something that still has a wow factor—just on a smaller scale. Hence, this gingerbread alpine lodge.
I love this project because you can totally customize it to your skill set or interest level. Today I'm bringing together some of my favorite recipes from around the internet for a DIY gingerbread house that'll be the star of your holiday table. To start, download our gingerbread house plans.

Step 1: Make Gingerbread House Dough and Refrigerate
1/2 Cup Brown Sugar
4 Teaspoons Cinnamon
2 1/2 Teaspoons Ginger
1/2 Teaspoon Cloves
1/8 Teaspoon Salt
2/3 Cup and 2 Tablespoons Light Corn Syrup
6 Tablespoons Butter (Room Temperature)
1 Tablespoon Vanilla
2 2/3 Cups Flour
This "construction-grade" gingerbread house recipe came from Serious Eats. The author explains how the chemistry of this dough makes for the best gingerbread house results, which I like. I also like this recipe because even though it's not my mom's gingerbread cookie recipe, it still has spices in it (unlike a lot of gingerbread house doughs), so you're not missing out on that wonderful aroma while it bakes in your oven and you can still enjoy sampling the dough! For our house, we doubled the recipe (our already doubled quantities are listed above).

Combine sugar, spices, salt, corn syrup, butter, and vanilla in a large mixing bowl. Mix on low until combined. Add flour slowly while mixing to form a stiff dough.
This recipe doesn't call for refrigerating before rolling out, but I feel like chilled dough always makes things easier. I divide the batch in two, wrap it in plastic, then let it cool it for a few hours in the fridge. The dough is divided because working with smaller portions allows you to keep the rest of the dough in the fridge. If you roll out all the dough at once, it will warm up before you're finished working with it.
Step 2: Make Marshmallow Snow Blanket
3 Packages Unflavored Powdered Gelatin
1 Cup Water
1 1/2 Cup Sugar
1 Cup Light Corn Syrup
1/2 Teaspoon Salt
1 Teaspoon Vanilla Extract
1/4 Cup Powdered Sugar
1/4 Cup Cornstarch
Cooking Spray
While the dough is chilling, make the marshmallow. I stole this idea from an episode of the "Great British Baking Show." I think it's a super fun way to decorate your house without having to rely heavily on icing skill.

To create marshmallow for the roof of the house, I poured part of the mixture into half of a small baking sheet that I made non-stick with wax paper, cooking spray, cornstarch, and powdered sugar. Make sure there's more than enough to cover the roof so you have room to trim off clean edges when the marshmallow is set (you'll notice my marshmallow doesn't quite reach down to the bottom of the roof because I didn't give myself quite enough wiggle room).
For the blanket of snow on the ground, I poured the rest of the marshmallow onto a large cutting board I covered with foil, then added foil edges so the marshmallow would stay in place. This cutting board will be the board for the gingerbread house scene, so don't worry about making the bottom foil non-stick. I do recommend applying cooking spray, cornstarch, and powdered sugar to the foil walls, because that proved to be a challenge to remove.
Step 3: Roll Out Gingerbread House Dough
First, preheat the oven to 350°. Roll out your chilled dough on top of lightly floured parchment paper. I like to tape down my parchment for easier rolling.
I used guides on my rolling pin to keep the dough nice and even, but since the recipe calls for 3/16" thick dough and I only have ⅛" and ¼" rolling pin guides, I used the ¼" to get the dough even. Then I took the guides off and eyeballed the 3/16".
Step 4: Cut Out Gingerbread House Dough
Next, position your templates on the dough and use a sharp knife to cut out the shapes. If your knife stops making clean cuts, rinse off any dough residue with hot water. Serious Eats recommends you leave some dough in place around the cutouts to prevent it from spreading. Pre-cut these lines. I found with the windows, I got a cleaner edge if I removed the dough before baking, and with the chimney, I got a stronger piece if I removed the surrounding dough before baking.
Step 5: Bake and Cool
Bake the dough at 350° for 25 minutes or until the dough is dry to the touch and golden brown. (Enjoy the smells!) Remove the gingerbread from the oven and immediately cut along scored lines with a knife or pizza wheel. Let the gingerbread cool completely before moving the pieces.
Step 6: Make Sugar Glass Windows for Gingerbread House
1 Cup Water
1/2 Cup Light Corn Syrup
1 3/4 Cups Sugar
1/8 Teaspoon Cream of Tartar
After several tried and failed recipes, this recipe from Howcast seemed the most foolproof for this step.
First, lay your cooled gingerbread walls on a baking sheet lined with foil. You can alternatively use cooking spray and wax paper, but I found that this reacted oddly with the liquid sugar by creating more bubbles that didn't pop easily and causing clouding in the glass that didn't go away.
For this project, we only needed a little sugar glass, so we've halved the recipe for you here (please note that the pictures show the full recipe). Combine water, sugar, corn syrup, and tartar in a medium saucepan. Stir over low heat. The key to getting it translucent is to heat the sugar up. If the heat is too high, the sugar will caramelize and turn brown—that said, a little coloring is OK and to be expected. Heat sugar to the hard-crack stage (290°–300°) by slowly raising the temperature of the stovetop when the temperature levels off. Remove from the heat immediately to prevent the sugar from growing darker in color, and pour into the windows of the house. Use a pin to pop any stubborn air bubbles.
Step 7: Make Buttercream Frosting Trees
1/2 Cup Butter (1 Stick)
1 Teaspoon Vanilla Extract
2 3/4 Cups Powdered Sugar
1/2 to 1 Tablespoon Whole Milk
Food Coloring (For Decorating)
Ice Cream Cones
I've had a lot of trouble with buttercream frosting recipes over the years. They always end up lumpy, semi-translucent instead of that pretty white, too wet to pipe with, or all the above. Then I found this recipe: my all-time favorite buttercream frosting for decorating! After making it for this project, I realized I only needed half the recipe, so the ingredients listed above reflect that.

To make the trees, dye the frosting forest green. The food coloring I'm using is also a new favorite of mine. If you want to know why, here's a video from Nerdy Nummies, where I found it.
To create an evergreen tree, put frosting in a piping bag with a #21 star tip and pipe around an ice cream cone to create your tree. Repeat this as many times as you like.
Save the remaining frosting for step 10.
Step 8: Make Icing
2 Egg Whites
5 Cups Powdered Sugar
Food Coloring (For Decorating)
This icing recipe is from Real Housemoms. Make this recipe as directed. I tried adding in the almond extract because I love the smell and wanted the icing to be more interesting, but honestly, it seemed to bring out the alcohol smell more than the almond smell. I wouldn't bother adding it again.

Set aside a small amount of icing for the door, then put the rest into a piping bag with a #5 round tip.
Step 9: Make Gingerbread House Door
Take the icing you set aside and dilute it with water to create a runny consistency. Dye it with red food coloring. Cover the front of the door and allow it to drip down the sides, then let dry. I wanted to do something different with the door and make my gingerbread house stand out, and we learned from Robin Daly that red is the sign of welcoming!

Step 10: Make Gingerbread House Chimney
With icing, "glue" the chimney piece to back wall. Working in stages so the icing doesn't dry, apply wet icing, then glue on rock candy. Let dry. Make sure to glue rocks to the side of the chimney piece to create depth, and stop before you get to the top of the walls—otherwise you'll have problems with the icing and rocks running into the roof when you start assembly. (You'll notice I failed to do this and did, in fact, run into problems.)
Step 11: Decorate Walls
Before assembling, decorate the door, windows, and walls. Let dry. (I switched to a smaller #2 round tip for this detail work, and then back to the #5 tip for the assembly). Add a wreath with green buttercream frosting and decorate with candy. Allow to dry.
Step 12: Assemble House and Add Christmas Lights
Using the icing as a glue, assemble the walls of the house on the table before moving to the marshmallow board. Cut a piece of wax paper the size of the gingerbread floor and position on the marshmallow snow blanket. Then, cut a line from the paper to the edge of the marshmallow with a sharp knife. Take your Christmas lights and wrap the base of the cord and the battery pack in cling wrap. Place the lights on the wax paper and tuck the plastic wrapped cord into the slit in the marshmallow snow blanket. Move the walls of the house onto the wax paper and arrange the lights inside. Then, glue on the door and roof pieces—leaving the door slightly ajar. The goal is to see the light shining through, but not to view the actual wires. Place the marshmallow snow blanket on the roof and cut to size.
Note: If you need extra support, bracing the gingerbread house with toothpicks works wonders!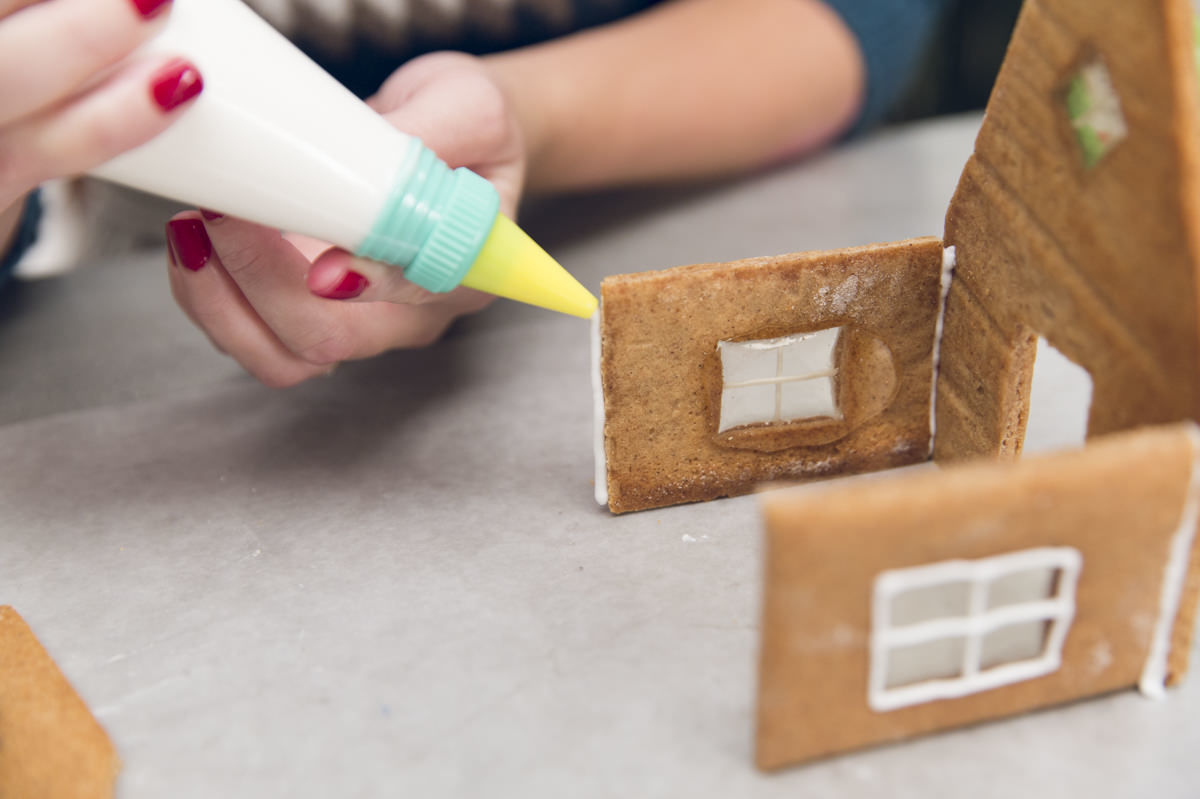 Step 13: Finish Gingerbread House Chimney
Add icing to the top of the chimney and finish stacking rocks so the chimney comes up over the roof.
Step 14: Add Snow
Add snow to the roof.
Step 15: Add Icicles
Use icing to create icicles around the edge of the roof. If your icing is too thick, thin it down a little for this step.
Step 16: Make Skis
Cut out skis from a piece of gum and lean them against side of the house.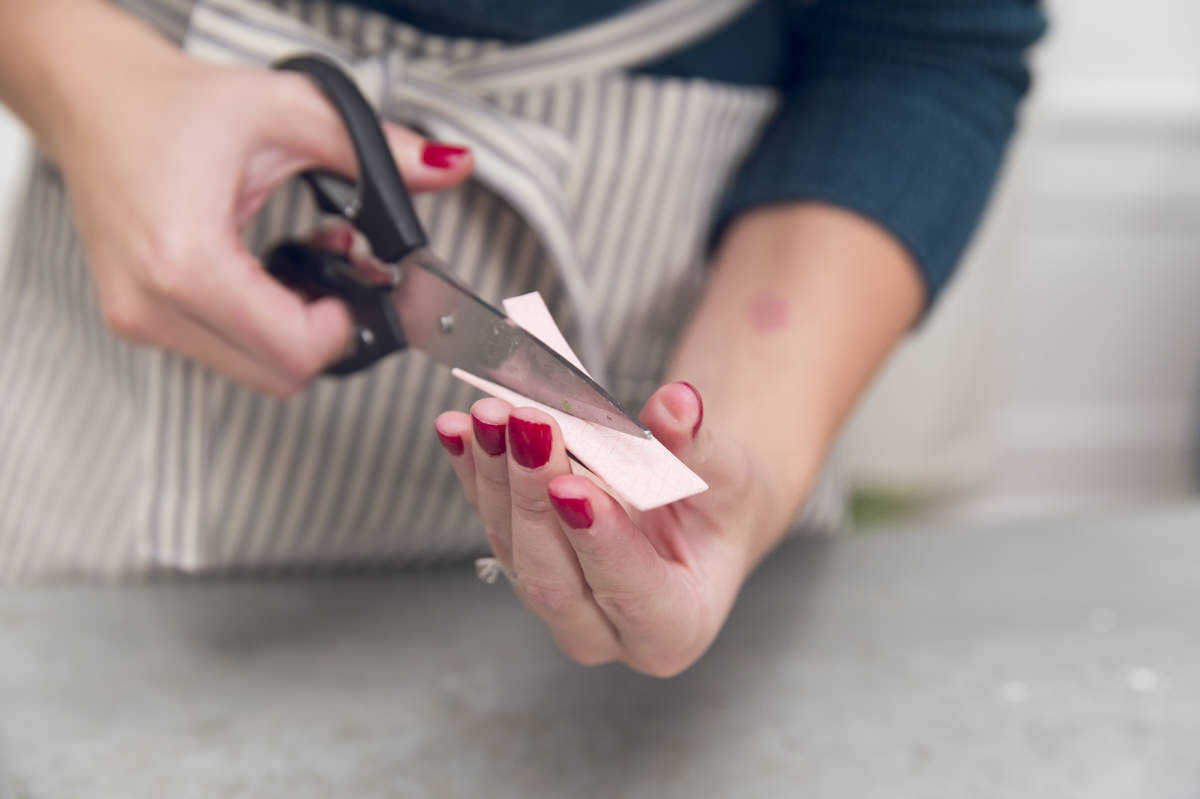 Step 17: Add Cinnamon Wood Pile
Break up cinnamon sticks into fairly equal lengths and stack them near the house to look like a pile of firewood.
Step 18: Add Ribbon and Dust With Sugar
Wrap a piece of ribbon around the base to cover up the messy edges of the marshmallow, then dust sugar. This is definitely the finishing touch that will make everything come to life. Use a sieve to dust powdered sugar all over the scene to look like new fallen snow. Focus especially on the wood pile and the trees.
That's it! Turn on the lights, watch your magical creation comes to life, and try to resist eating it. Interested in more DIY holiday projects? Check these ones out: How to Make a Wooden Advent Calendar, How to Make a DIY Wooden Toy Truck, and How to Make a DIY Tree Collar.