Last spring, I finally got around to making a dual-purpose bathtub caddy and breakfast tray. It had been on my project wish list forever, and the second one I created made for the perfect Mother's Day gift. The first attempt? Not so much. I apparently forgot to apply the saying I grew up on: Measure twice, cut once. I measured the bathtub and the tray, but when I put the prototype in the tub, the dimensions didn't add up at all.
I still don't know what went wrong, but I do know I was left with a beautiful tray. (You see where this is going.)
I always try to get the most out of my materials, particularly if they are more expensive. In this case, it wasn't the cost of the materials—it was the amount of time I put into the prototype. I spent a lot of time on the tray and loved the way the lattice strips turned out, so I came up with a design-forward, practical way to repurpose it: a hanging shelf.
Step 1: Build the shelf
To get started, follow steps one through four of the dual-purpose bathtub caddy and breakfast tray. You should end up with something resembling the shelf in the photo below (minus the notches in the corners; those were a design idea that didn't exactly pan out). Now to make it hang!
Step 2: Drill and screw
Start by selecting a drill bit which is smaller than the diameter of the screw eye's shank. Using an electric drill, pre-drill holes in each corner of the shelf. Then screw in eye lag screws by hand. You can use a screw driver through the eye like a wrench to get them extra snug.
Step 3: Thread for hanging
Thread string, twine, or whatever floats your boat through the eyes of the lag screws. Since it's such a simple project, doing a fancy knot can make it look more professional and "put together." I found a really great website called animatedknots.com, which has tons of videos that teach you how to tie different knots. We went with the "Double Davy Knot."
Step 4: Cut away excess
Once you've finished tying the four knots, trim off any extra length.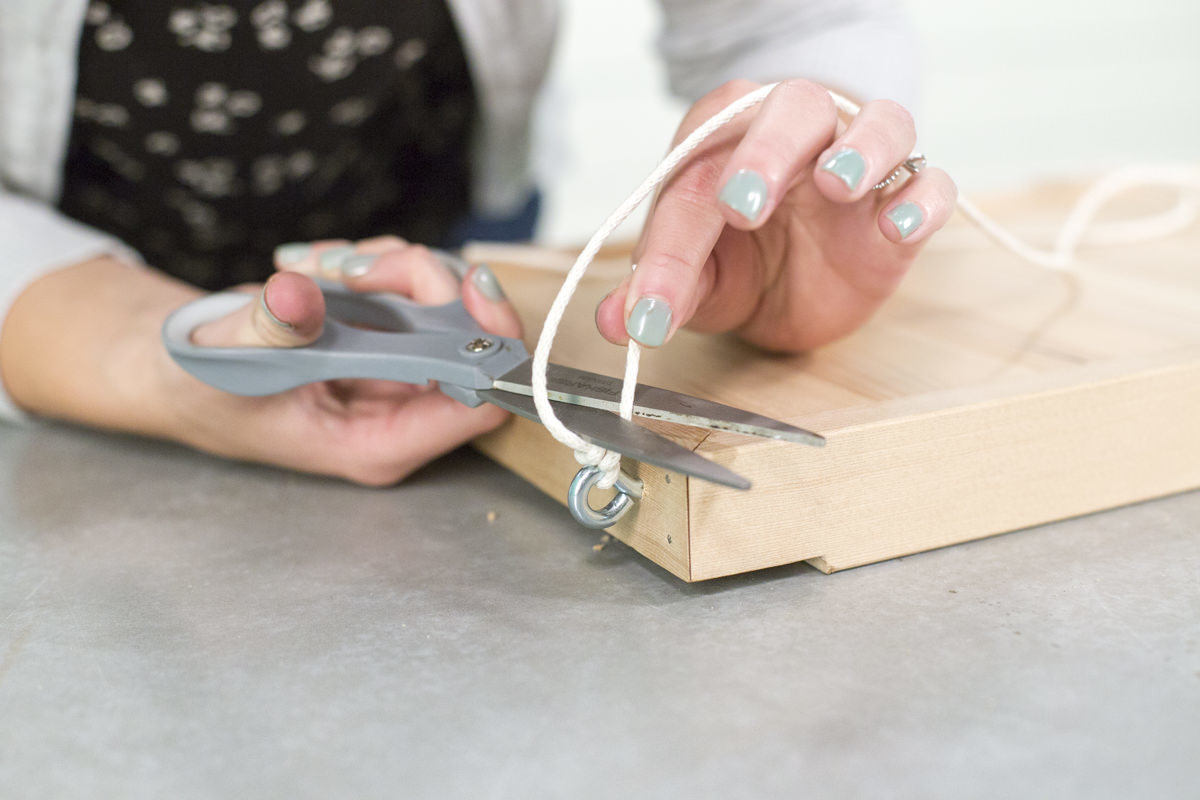 Step 5: Pick a spot for your shelf
Now it's time to decide how and where you're going to hang your shelf—this will impact how you tie the strings together. You can hang it from one or two points on the ceiling or a wall.
If you're hanging it from the ceiling, you want all strings to be tied together at equal length. If you're hanging it from a wall, you'll want the two strings closest to the wall to be shorter than the two strings farthest from the wall, so the shelf is parallel to the ground (and not tipping forward or backward as it hangs).
Another option would be hanging the shelf from two hooks in the wall or the ceiling, which would mean not tying all four strings together. It all depends on how you plan to use your shelf.
This project was a fun and easy way to repurpose a lovely piece of work from a failed DIY project. If you have this hanging shelf in your house and the dual-purpose bath caddy and breakfast tray, no one would guess that they're practically the same project—especially with a different finish!
In theory, every mistake you make is a learning experience that won't happen next time. Learning to see your mistakes as an opportunity for your next project can make for an amazing finished product. Every time I get to the point where I think I've made too many mistakes, and I'm so frustrated that I just can't deal with it, I set the project down. If I leave it there, I'll inevitably come back to the project with fresh ideas and fresh motivation to transform it into something innovative and beautiful.
For more organizational inspiration, check out our DIY pegboard organizer or this hanging bulletin board.