Since my husband and I moved into a new apartment last summer, we've been unable to work out a good storage solution for our shoes. We've had a number of different hanging shoe storage contraptions in several different closets, but there were just never enough.

Finally, we came up with the idea to build a narrow shoe storage bench for our entryway that would do double duty. Now we have a place to keep our shoes and a place to sit down and put them on! This shoe rack bench has allowed us to cut down to one hanging shoe organizer where we keep our older, less attractive shoes (that we don't want on display) and my stilettos (because it's a little hard to balance stilettos on copper pipe).
Measuring the space and our shoes to determine the best fit proved to be the key to making this shoe rack bench perfect for our home—keep that in mind before you get started. With that in mind, let's get to it!
Step 1: Determine Size of Shoe Storage Bench
The first thing we did was measure the length of our shoes to determine how deep the bench would be. We went with a narrower 2' x 10' bench, but we have smaller feet, so you might want to consider a wider board than we did.
Once the depth of the bench was determined, we measured the space where the bench would eventually live, then lined up our shoes and measured them. I wanted to fit as many pairs of shoes as possible, and because the space is tight, I didn't want a bench with a lot of extra room at the ends. We settled on about 40" for the inside length of the bench. Because copper pipe comes in 10' lengths, we cut it in thirds (down to 40" exactly) and ended up with a slightly smaller inside dimension.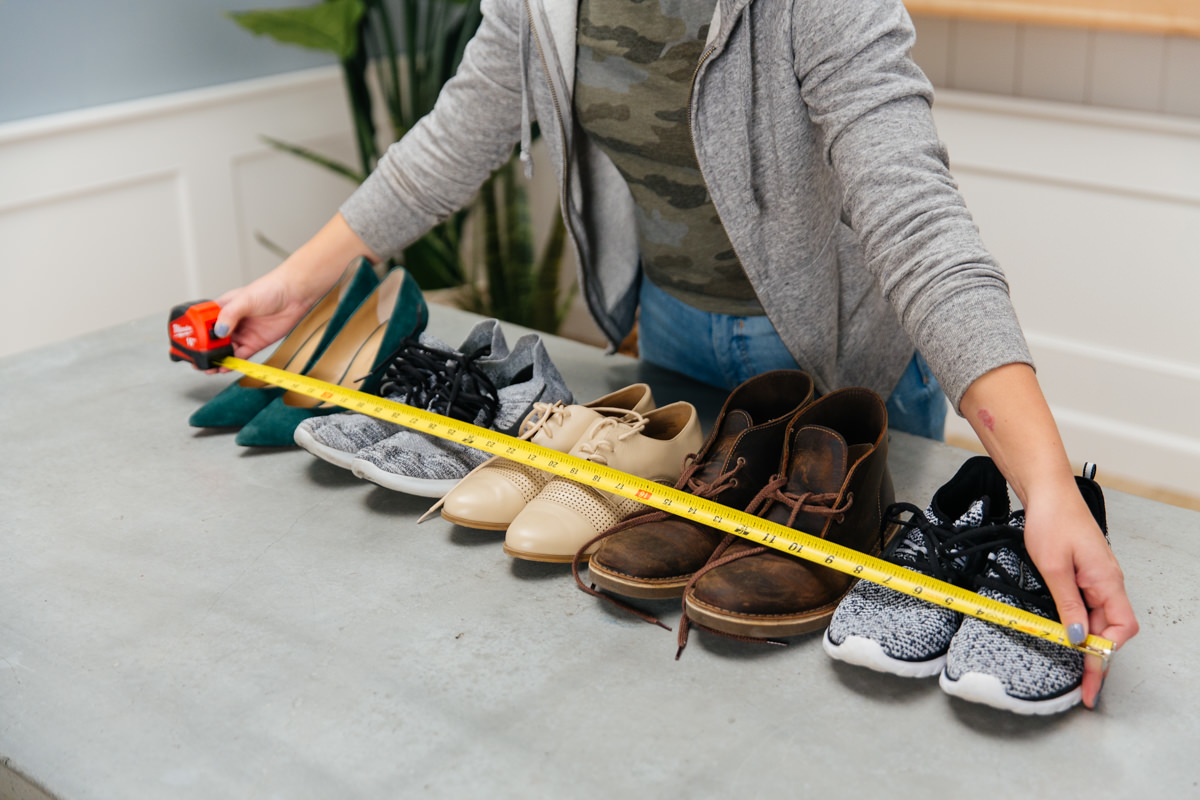 Step 2: Cut Legs
First we're going to cut the legs of the bench. The standard ADA height for benches is between 17" and 19". Again, saving space was an important consideration for us, so we went with 17". Cut a length of 2x10 with one cross-cut (a regular, straight cut) and one 45° bevel cut. The longer face of the piece should measure 17" and will equal the height of your bench. Repeat for the second leg.
Don't worry about the top of the bench for now—we'll cut that piece later.
Step 3: Cut Copper Pipe for Shoe Organizer
Next, measure and cut the copper pipe into six equal lengths with a hacksaw (they should all be about 40 1/8"). Use a rough piece of sandpaper or a sanding sponge to smooth out the sharp cut edges.
Step 4: Clean and Polish Copper Pipe
Remove stickers and clean sticky residue with Krud Kutter Adhesive Remover. Clean the rest of the pipe with Krud Kutter cleaner, then polish with fine steel wool.
This is always the sort of step where I forget to put on gloves. Chances are, your copper pipe will be very dirty. Once you get the stickers off, I highly recommend you wear gloves for the cleaning and polishing.
Step 5: Pre-Drill Holes for Copper Pipe
Before putting together this grid, I measured the height of our shoes to determine the spacing of the pipe. I settled on the bottom section being 7 ¼" for our taller shoes, and the top being 6". Adjust the grid to your own needs.
Measure the grid on the inside of the bench legs. Tape off your ⅝" spade bit ½" from the points on the side (not in the middle), then pre-drill. We're sharing a handy diagram to help avoid any confusion.
Step 6: Sand
Next, sand the legs smooth with 150-grit sandpaper. I used a sander to quickly get a smooth finish.
Step 7: Finish Legs of Shoe Rack Bench
Seal your bench legs with a finish to protect it from water, mud, and other entryway problems common in the Pacific Northwest. We're applying finish because it will be much easier to do now rather than waiting until the end and having to work around the pipes.
I wanted to make sure the inside walls of the bench had a good coat of finish so that any dirt from the shoes won't stain the bench. If you want to stain your bench before finishing it, now is the time to do that. Get creative, and make it yours!
Before you begin applying a finish, wipe down the wood with a tack cloth or a wet cloth to remove all of the fine sawdust created during sanding. To finish, follow directions on the can and allow to dry.
I picked this finish because I wanted to preserve the original color of the wood. This polyurethane has a satin finish, making it barely noticeable, and it's water-based, which means it doesn't have a yellow tint like oil-based polyurethane does. If you don't mind that, or if you're staining first, you can buy a smaller size of an oil-based polyurethane.
I coated one side and then waited an hour before flipping it and coating the other side, because the wait time between coats is a couple hours but the polyurethane dries before that. This made the finishing process a lot quicker and easy to slip in throughout my day.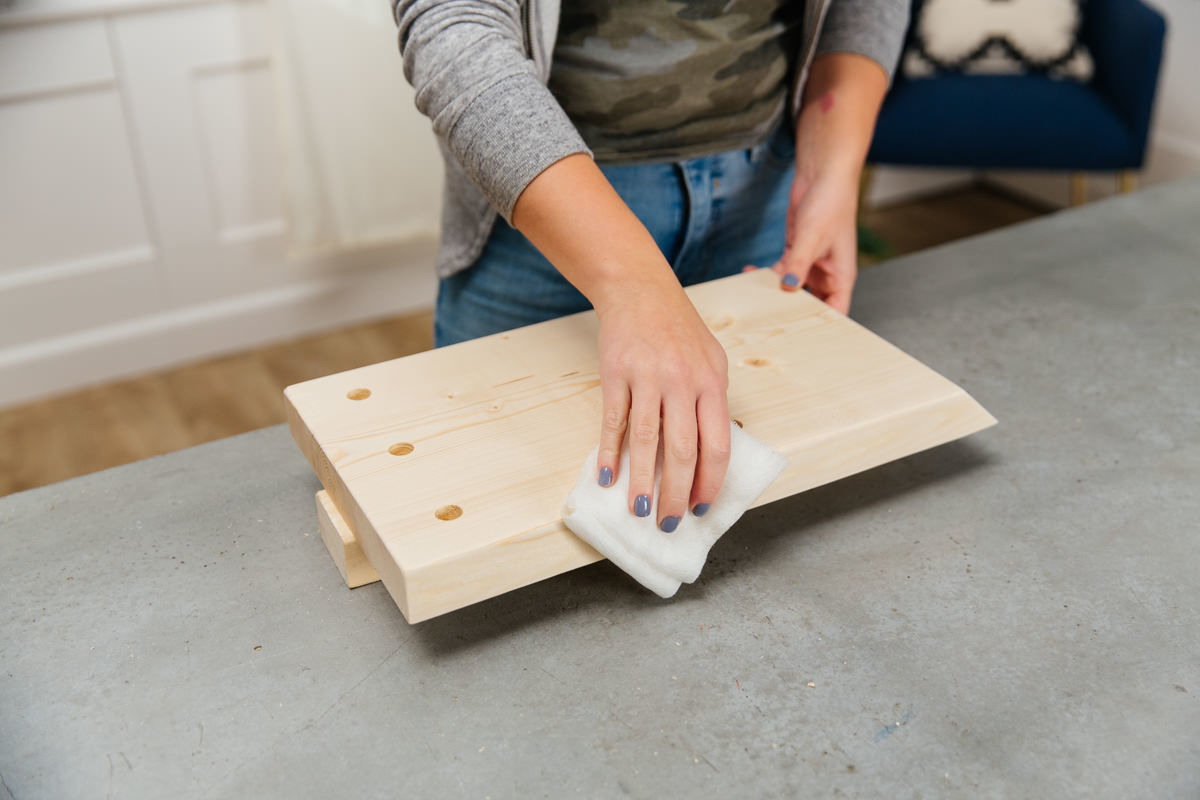 Step 8: Connect Pipes to Legs of Shoe Rack Bench
Caution! This step has the potential to become frustrating, but we're here to help you avoid that.
We're going to be gluing the copper pipes into the pre-drilled holes in the legs. But before you do that, I highly recommend doing a dry fit—if the pipes aren't all exactly the same length, it might take some adjusting, which is much easier to do before glue is involved.
Once you're confident with the fitting, apply glue to the holes of one leg and fit the pipes into place. Before the glue dries, apply glue to the other leg and fit together. I did this with the legs standing up so the glue wouldn't pour out of the holes while I was trying to get the pipes fitted. Once the pipes are seated in all the holes (this may require some adjusting back and forth between the two ends), turn the bench on its end. You can use a rubber mallet or a hammer with a piece of scrap wood to pound on the top and get all of those pipes well fitted in the holes.
At the end, grab a tape measure and calculate how deep the pipe is on either end. Once you're satisfied, use a square to square everything off. Let dry.
Step 9: Cut Top of Shoe Rack Bench
While the bottom of your bench is drying, it's time to get started on the bench top. Measure the bench from end to end to determine the length of the top piece. Then, cut a piece of two-by-ten with opposing 45° angles to fit. Position the piece between the legs and adjust the length as needed (be very careful doing this if the pipes haven't had time to dry fully).
Step 10: Sand Top of Shoe Rack Bench
Sand the top smooth with 150-grit sandpaper, just like you did with the legs.

Step 11: Finish Top of Shoe Rack Bench
Repeat step 7 and finish your bench top. (If you're staining or painting, do that first and let dry before applying a finish.)
Step 12: Assemble Bench
Position the bench top in place and secure each end with glue and 2 ½" screws. It's best to pre-drill to get that screw just where you want it. Pre-drill from the side to make the screws less noticeable.
Because wood is an organic medium, these cuts don't always fit together perfectly. If you're having trouble lining up all four corners, I recommend picking a "front" side and focusing on lining up the corners on that side. Once you have a couple screws in place, a long bar clamp can be a great help in lining up the remaining corners.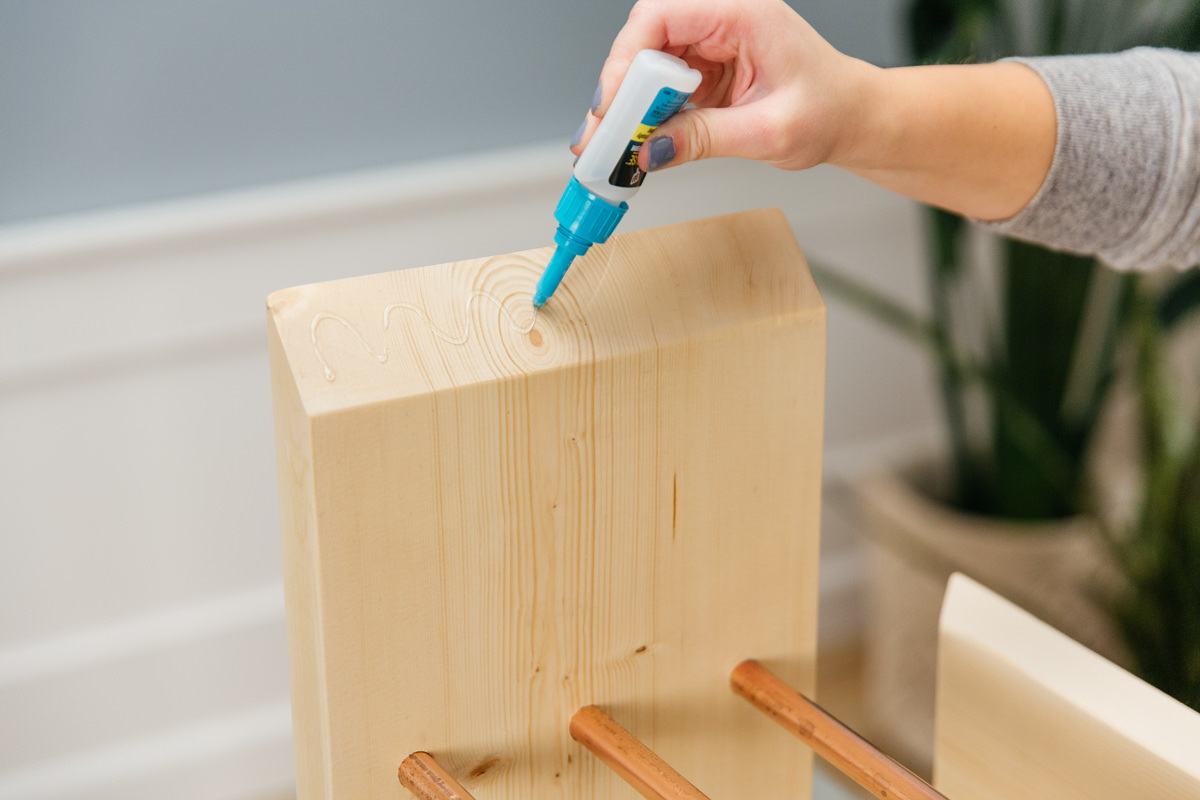 And that's it! Entryway shoe storage, improved. There's nothing like a long-awaited storage solution to make you thankful to put your shoes away, and there's nothing quite like a DIY project that adds something to your home to make you feel proud. Here's a before-and-after look to give you a little extra inspiration.
Looking to get a head start on spring cleaning with a little organization? Check out our copper pipe boot tray, desktop organizer, throw blanket, and bulletin board tutorials.