Happy Fourth of July! Whether you're looking for a patriotic project, like the Fourth of July Pallet Sign, or a fire pit for homemade s'mores, we hope you find fun ways to enjoy this summer holiday.
The weather in Seattle can be hit or miss the first week of July, but even if it rains on the Fourth, it's rare that it will rain the whole day. Usually it's light enough rain and warm enough weather that you can still be outside. I have fond memories of one year when, in the middle of our dinner, it started to rain. The group was big enough that we had been sitting at two tables, but once the rain started, we all crammed around the larger table that was covered by an umbrella. The umbrella just barely covered the seating area, so everyone scooted in as far as they could, and we all leaned over the table. The temperature was still pleasantly warm, and so we finished dinner like this. Soon after we finished eating, the weather cleared up, and we had clear skies for fireworks that night.
Personally, I love eating a meal outside in the evening, and I'm not too picky about the weather. Just so long as there's a nice spread and some protection against rain or cold, I'm happy. One of the things that can make or break an evening soiree (aside from good company and good food), is good ambience. And so, I've been on the lookout for some nice lanterns to upgrade my summer dinner party game. So far, here's what I've found: lanterns are expensive! If I want a good collection, I'm going to have to spread them out over many birthdays and Christmases before I have a satisfactory number.
And so what did I do? I DIY'ed. Naturally. By recreating a simple design I saw in a store (and by nixing the glass), I've come up with an easy alternative that will be a lot more friendly to your wallet. Not to mention, you can now customize your lantern size to fit your specific needs, and you can customize your stain to coordinate with your other decor. These lanterns can come out in the summer and then migrate back to your dining room for the winter months. We even added an optional hanging method for a woodsy summer party. Let's get to it!
Step 1: Cut wood for DIY wooden lantern
Today we're giving you the specific measurements for two lanterns. The small lantern will measure approx 5 ½" x 5 ½" x 15", and the large lantern will measure approx 9 ¼" x 9 ¼" x 23 ¼". For the small lantern, you'll need one 8' length of square moulding; for the large lantern you'll need two 8' lengths.
Use a handsaw and a miter box to make the cuts for this project: For the smaller lantern, cut a square out of a one-by-five piece of hemlock. For the larger, cut a square out of a one-by-eight piece of hemlock. We chose hemlock so that the bottom coordinated with the sides, but then we ended up painting it. If you're going to be painting like us, you can swap the hemlock out for something more affordable like white wood. Note that we don't carry white wood in a one-by-five, so you'll either need to change the size to a one-by-four or one-by-six, or you can always cut down a larger board to 4 ½" (the width of a one-by-five).
Next, cut the hemlock square moulding into eight pieces that equal the width of your bottom square, plus the width of the moulding. Measure these pieces and add them to get the most accurate measurements. The measurements should be about 5 9/16" for the smaller lantern, and 8 5/16" for the larger lantern. Lastly, cut four longer pieces of moulding to 12" for the small lantern and 21 ¼" for the large lantern.
Step 2: Sand wood for wooden lantern
Sand cut pieces with a piece of 150-grit sandpaper or a fine/medium sanding sponge. Pay special attention to the cut edges and to the corners of the moulding because they're sharp, and they have a tendency to splinter.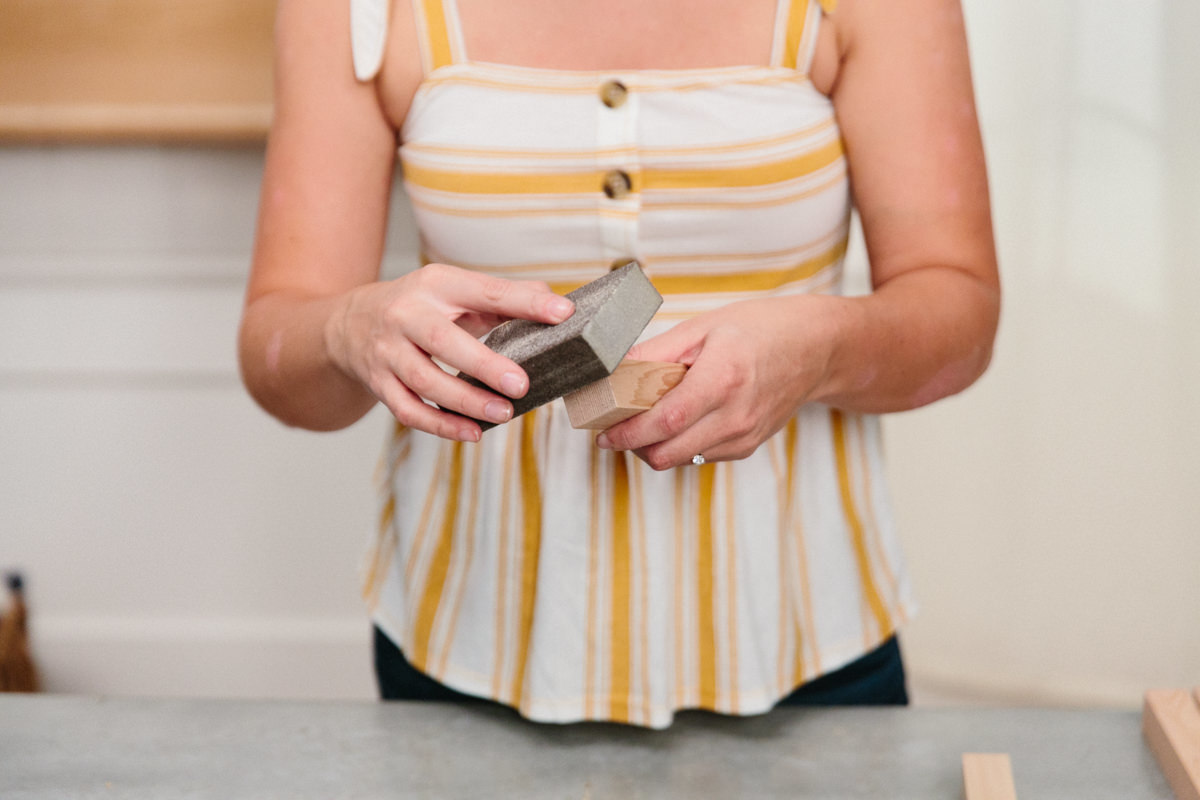 Step 3: Paint wood
This step is, of course, optional. Wipe off any dust from sanding and lay down newspapers or a sheet of plastic. Paint the desired color and allow to fully dry before moving on to the next step.
I have mixed feelings about metallic paint because it often has the hue of gold without the shimmer, like in a cartoon. I was a big fan of this spray paint though, because of its beautiful metallic sheen. We intentionally didn't use too much paint so that the different textures of the grain still showed through.
Step 4: Assemble base of wooden lantern
Fit square moulding around the one-by-five base. Pre-drill at the ends of the moulding, and then glue and add screws. Don't center screws because we'll also have screws coming up from the bottom of the lantern. Allow glue to dry before putting pressure on the bottom piece.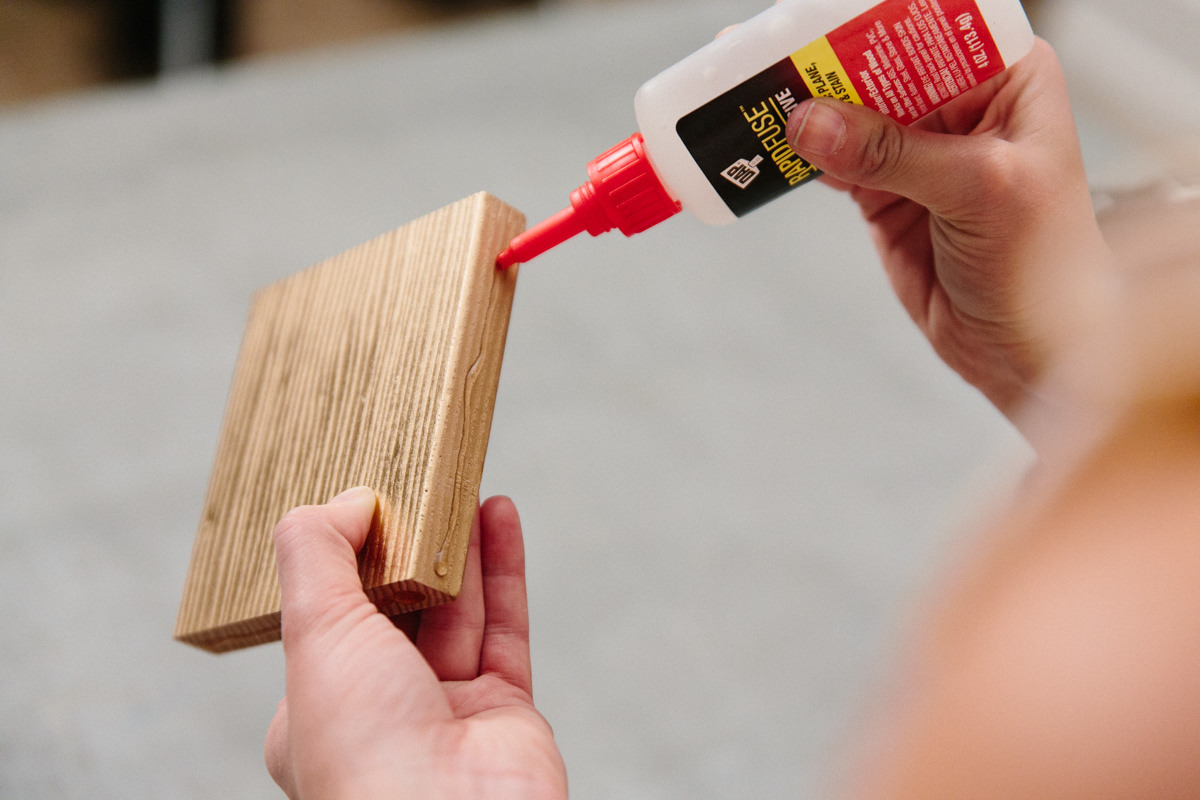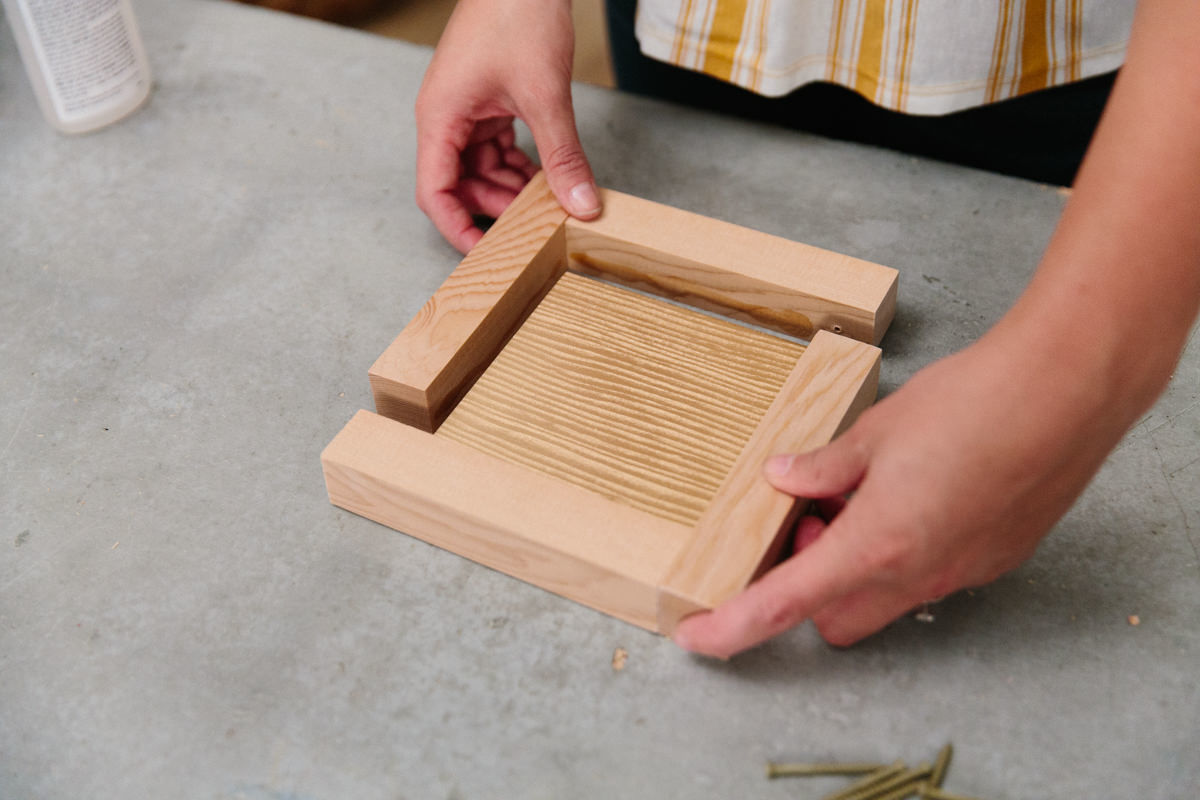 Step 5: Assemble sides of wooden lantern
Add long sides in each of the four corners. Pre-drill first, then glue and screw in place.
Step 6: Attach chain for hanging (optional)
For the small lantern we added an optional hanging method (the big one seemed too big for hanging, but if you have the space you can definitely add this feature to both).
Before assembling the top, take two of the top pieces. Measure over 2 ¼" from one end (for the small lantern) and drill a hole part way through. You'll notice that this hole isn't centered, but don't worry! It will be once the top is assembled. Screw in a little hook into each hole. Once the lantern is assembled, cut a length of chain (we went with about 2') and hook either end onto the lantern. Clamping the hooks together for a tighter hold worked well for us, but don't clamp them all the way together. Leaving a little room for the chain to be unhooked makes hanging from a tree branch so much easier, and it means that if you want to use the lantern for a centerpiece you can easily remove the chain. (You'll notice we used an "L" shaped hook, but a regular "C" shaped hook would work better).
Step 7: Assemble the top of the wooden lantern
Assemble the top the same way you did the bottom, excluding the middle piece. Attach to the tops of the side pieces the same way you attached the sides to the bottom.
Step 8: Nail bottom of wooden lantern to frame
To secure your candle in place (since we don't have glass in these candle holders), drive a small finish nail up through the center of the bottom so it sticks out and keeps the candle from sliding out of the holder. Because that would be a bummer way to end your dinner party.
Step 9: Apply stain to wooden lantern
As a final touch, tape off your painted base (and remove the chain if you added it), and stain your lantern. For this stain I actually broke out my custom stain that I mixed for the bed frame and nightstands I made: equal parts Minwax Early American and Classic Gray. Follow the directions on the side of the can to apply the stain. Optionally, you can finish this lantern off with a protective clear coat. This is especially recommended if you plan to leave your lantern outside overnight!
I don't think there's anything quite as magical as a party in a wooded place with lanterns scattered about. These lanterns are definitely going to be well-loved this summer, and I'm sure there will be more added to the collection soon!
Need more help or outdoor lighting ideas? This post covers how to choose the right wood stain to create the look you're going for. Or, instead of lanterns, you can set up free-standing string lights for a nice, soft glow.