This year, I'm getting married. And, fingers crossed, it's going to be outside—so long as this Seattle weather cooperates.
The venue we chose offered a cedar arch to anchor the outdoor ceremony, but it wasn't my style. I thought I could create a wedding arch that was simple, elegant, and that would make more of a lasting impact. So, inspired by a wedding I saw on Pinterest, I built my own!
A quick note before we get started: the wedding arch I built was created to look pretty for one day. I didn't necessarily use wood, or stain, that's optimal for long term outdoor use; I went with an inexpensive option that would get the job done. If you're looking to build this archway to live in your backyard, consult with a Dunn Lumber salesperson about which products would be best to ensure long lasting results.
Step 1: Choose and cut the wood
Cut all the four-by-four posts to 80". If your saw is too small to make these cuts, you can have these posts cut for free at Dunn Lumber when you purchase your materials.
There are a few things to note about the four-by-four posts. I picked green Doug fir posts, because they were the most affordable option (if you're not sure what green lumber is, check out this post). Alternately, you could opt for cedar, which costs a little bit more, but is also naturally bug and rot resistant—thus ideal for long-term outdoor use. Finally, you could opt for clear vertical-grain Doug fir—this is a stunning option for your wedding, although substantially more expensive. It's not ideal for outdoor use.
For this particular project I didn't think the appearance of clear vertical-grain lumber supported the price for a one-day-use project. And I wasn't planning on using this arch long term, so for me going with the most affordable option made sense. The only downside here is that green lumber is going to be wet—especially this time of year. To make sure the posts were dry enough to work on, I kept them inside for a week or two.
Another thing to be aware of when working with green lumber is sap—I found a big glob of it on the end of one of my posts. I was able to cut some of it off when shortening the posts, but wound up using a putty knife to get rid of the excess. Using the putty knife helped smooth the area so it was flush with the wood, and actually allowed the sap to dry much quicker so it wasn't forever getting hands sticky.
For the remaining cuts, you can use a handsaw and a miter box, or a circular saw and a speed square. From each two-by-four, cut:
one long piece with opposing 45° angles, measuring the shorter side at 48"

another piece with opposing 45° angles, measuring the shorter side at 12"

a 24" piece with straight angles
Take the long 48" pieces and measure in from the point of each end. Mark at two inches and cut at a straight angle. Remember: measure twice, cut once.
Step 2: Sand the Wood
With an electric sander (or by hand) buff away rough patches and any ink stamps, paint, or unsightly markings on the wood.
Two-by-fours and four-by-fours are construction-grade lumber, which means they're not designed to be on display—they're designed to frame your house. If you're working with a piece that has a painted end, trim it off. If there are specks of paint or visible stamps, erase them with a sander. And if you're feeling like cutting corners in the figurative sense, skip some of the buffing and face those pieces with unsightly marks towards the back side of the arch (where no one will see it). This project is more like set design than furniture building, which is really fun because you get to skip steps you normally don't get to.
Step 3: Stain the Wood
The most inexpensive option, is always the option that you already own. Therefore, we used Penofin Verde stain—a really cool, environmentally friendly option—in the color Bitterwood. Ours was leftover from the sandbox we built last summer, but go with whatever color stain you like, regardless of whether it's interior or exterior. Because this project is only meant to last a day, all you need to worry about is the aesthetic of your finished arch.
Step 4: Assemble the Top Frame
Take the front and back 48" top pieces and on the shorter sides, measure in 2" from each end. Mark with a pencil. Now line up the two 48" pieces and the 24" side pieces in a rectangle to create the top frame. The sides will fit on the inside of the pencil marks. Pre-drill and secure with 4" decorative screws using a 5/17" nut-setter bit.
The screws I'm using have a hexagonal head like a bolt. For projects that use these screws (including our Mother's Day bath tray), I usually use a wrench and screw it in by hand. But this time I finally remembered we have nut-setter bits with a hexagonal head that fit into our drill—and I remembered before finishing the project. It saved so much time!
Step 5: Add Legs
Position the four-by-four posts (which are now legs) in the corners of the top frame. Using a scrap piece of two-by material, prop up the post at the opposite end so it's supported and level. Secure the post through the side piece with two 4" screws, being careful not to run into the other screw already in place.
Attach the front legs first. Doug fir is heavy, and because the legs are only connected at one end, they're fairly delicate, so get the help of two or three people and flip the frame over. Use scrap pieces to give the front legs support while you attach the back legs—the screws aren't strong enough to hold all that weight in place.
Step 6: Add the Diagonal Supports
With the front of the arch facing up, position the diagonal support pieces. These will be placed 1" from the top of the frame. Secure the supports to the legs with a 3" screw in the bottom of the piece. Now secure the pieces to the top of the frame with one 3" screw through the back, so you can't see the head from the front.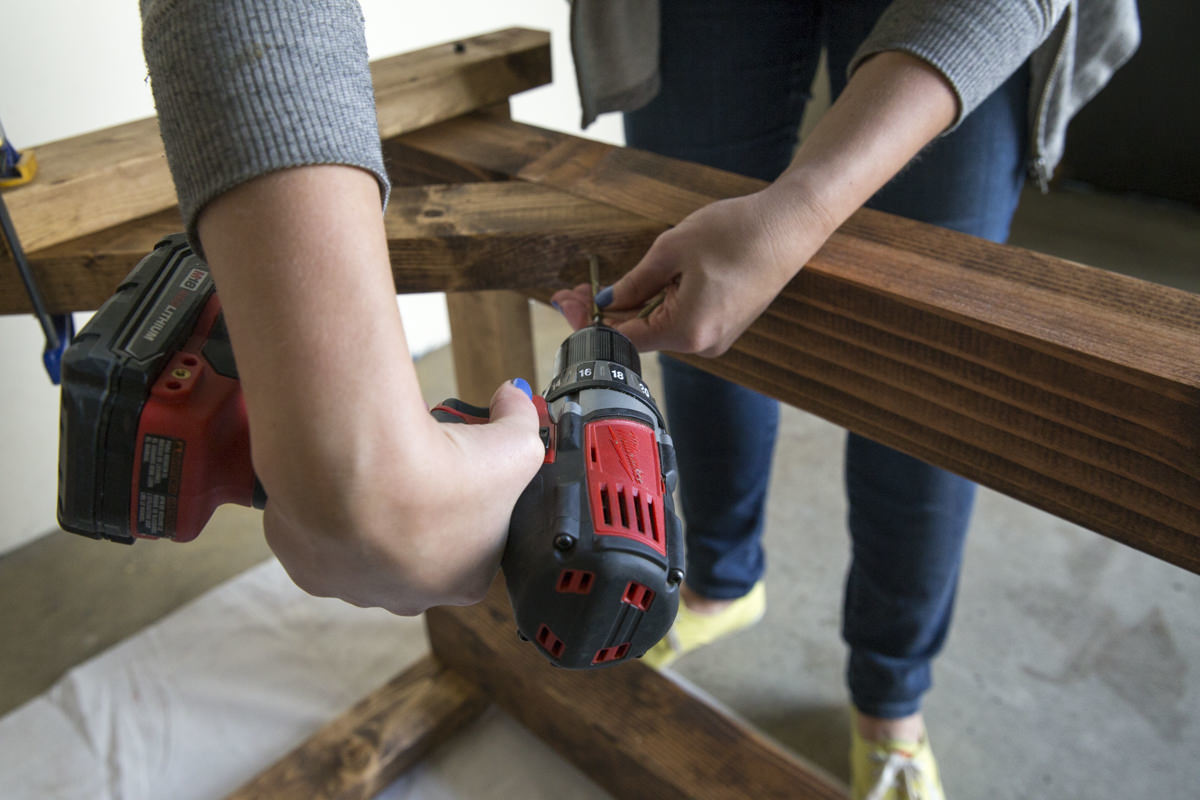 Step 7: Prep for Transportation
Because this piece was created for a wedding and will need to be transported, we designed it with disassembly in mind. If you have a car big enough to fit the entire thing in one piece, all you need to do is attach a little scrap wood to support the legs during the drive.
If you have a smaller car like me, you'll need to disassemble the arch a little. First, mark the tops of all four legs, and the corresponding connection points so that you reassemble everything correctly. Next, unscrew the top of the diagonal supports from the legs. Finally, unscrew the legs from the frame. Now you should have five separate pieces: the top frame (with the diagonal supports and four legs. Easy.
Step 8: Anchor Your Arch With Stakes
Depending on your location (the slope of the ground or the amount of wind, for instance) or for your own peace of mind, you may want to consider adding stakes to the bottom of the structure. We went with metal stakes that attach to the bottom of the post's back side with screws, and don't leave a gaping hole when they're taken out again.
Remember, this is a prop designed for my wedding, not for permanent use. When the whole thing is said and done, the legs have a tendency to bend back and forth, which means they need some adjusting to stand straight. I think it's fine for a day, but if stability is a concern for you, I'd suggest adding stained 2x2s or 1x2s between the bottom of the legs. If it's going in the grass, the extra support will likely be hidden completely. This makes for a quick fix!
The final product is very pretty, and looks just how I imagined. For the amount of effort it takes—a whopping two hours for me—it's so worth it.