If you've been following Dunn DIY for awhile, you may remember our previous bath tray that doubled as a breakfast-in-bed tray—a total win to have both in one! Unfortunately, back when we made it I applied the paint detailing for the original tray too soon after staining and the paint peeled. I kept it for a while, but eventually passed it on to someone else during a move. Recently, though, I found myself wanting a new bath tray. I happened to be working on the cedar vertical planter, and had some wide cedar boards in my shop. One was about the right length, so I turned it into a temporary (and rather precarious) bath tray before quickly deciding I needed a new official bath tray, which is what I'm sharing with you all today.

I love this project because it's about as simple as it gets, and while you can't turn it into a breakfast-in-bed tray, you're not really missing out on any bath tray luxuries. In fact, because this tray is exclusive to bath use, it might actually sport a few more luxuries than our last one (bath tray with a book holder, anyone?). Not to mention, as usual for our DIY projects, this is fully customizable to fit your specific wants and needs—or your specific size of wine glass.
Step 1: Measure and cut bath tray cedar
Because the cut list for this project is pretty short, we used a handsaw to make all the cuts, but you can also use a circular saw or a chop saw. Measure the width of your bathtub from wall to edge, and cut your one-by-ten to length. Cut your one-by-two into two 9 1/4" pieces for bumpers (these will keep the tray from sliding off the side of your tub), and two 13" pieces for a book holder.
Step 2: Make wine glass holder
For the wine glass holder, drill a hole a couple inches in from the front of the tray and then make a narrow cut from the edge to the hole. We came up with the measurements below to fit our wine glass; test your wine glass to make sure it works and adjust as needed. You want the stem to fit easily through the narrow cut and the bottom of the glass to rest in the larger hole so that the glass has to be raised to be removed from the tray. This is the best approach to reduce the chance of spilling.
Decide where along the front of the tray you want your wine glass to sit. Measure in from the edge 1 1/4" and mark. With a 7/8" spade bit, drill a hole using the mark you just made as a guide. Measure and mark two lines from the edge of the board to the edge of the hole (they should be 1/2" apart). To make these lines even and straight, I used a combination square to draw a line down from the middle of the hole and then measured out 1/4" from either side. We had a jigsaw on hand and used it to make the cuts quickly and easily. If you don't have a jigsaw, you can easily make these cuts with a handsaw. If you use a handsaw, I would recommend using your combination square to mark the lines on the top, bottom, and side of your board to ensure a straight cut.
Step 3: Make candle holders for bath tray
For some added ambience, we're going to make some partially drilled holes for tea lights to sit in. Decide where you want your tea lights to sit and how many you want. I just eyeballed this part. Next, tape off a 1 1/2" spade bit to the correct depth. I used the tea light as a guide to determine the depth—this meant drilling a small hole all the way through the tray with the center point of the drill so that the tea light could sit flush with the tray, but I was OK with that.
Step 4: Sand cedar
Now that the drilling is done, sand your tray and the pre-cut one-by-two pieces. To get a quick, smooth finish, I recommend using a power sander, but you can also get the job done with some sandpaper or a sanding sponge. I used 100- and 150-grit sandpaper and a fine/medium sanding sponge.
Step 5: Make book holder for bath tray
Our last special accessory for this bath tray is a book stand. I tried to make this stand as versatile as possible, but with all the different sizes of books, that was somewhat challenging. This stand was designed to fit an average size book, but if you read a lot of skinny paperbacks, thick classics, or big coffee table books when you're relaxing in the suds, adjust this stand to fit your book needs.
Position your 13" one-by-two pieces in the center of the bath tray with both pieces on-edge. Mark the position of one parallel to the edge of the tray, then position the other 1 3/4" away. Pre-drill and secure with screws and/or water-resistant glue.
I first thought about making a stand for a tablet, but I figured most people who own a tablet also have a case that props it up. But if that's not the case for you, don't worry: I already did the math for you. To turn this into a tablet stand, flip your front one-by-two over on its side so it doesn't block the bottom of your screen. Then, close that gap down from 1 3/4" to 1/2". That should do the trick! Test out your tablet before securing.
Step 6: Attach bumpers
The last step of assembly is to add the bumpers. These two little pieces will keep your tray from slipping off the edge of the bathtub. I recommend taking your project into the bathroom and marking the positions of the bumpers there rather than relying on measurements. No matter how you determine where they end up, clamp them in place and make sure the tray fits nicely in your bathtub to eliminate any pain down the road. Once the position is finalized, secure the bumpers with screws or water-resistant glue.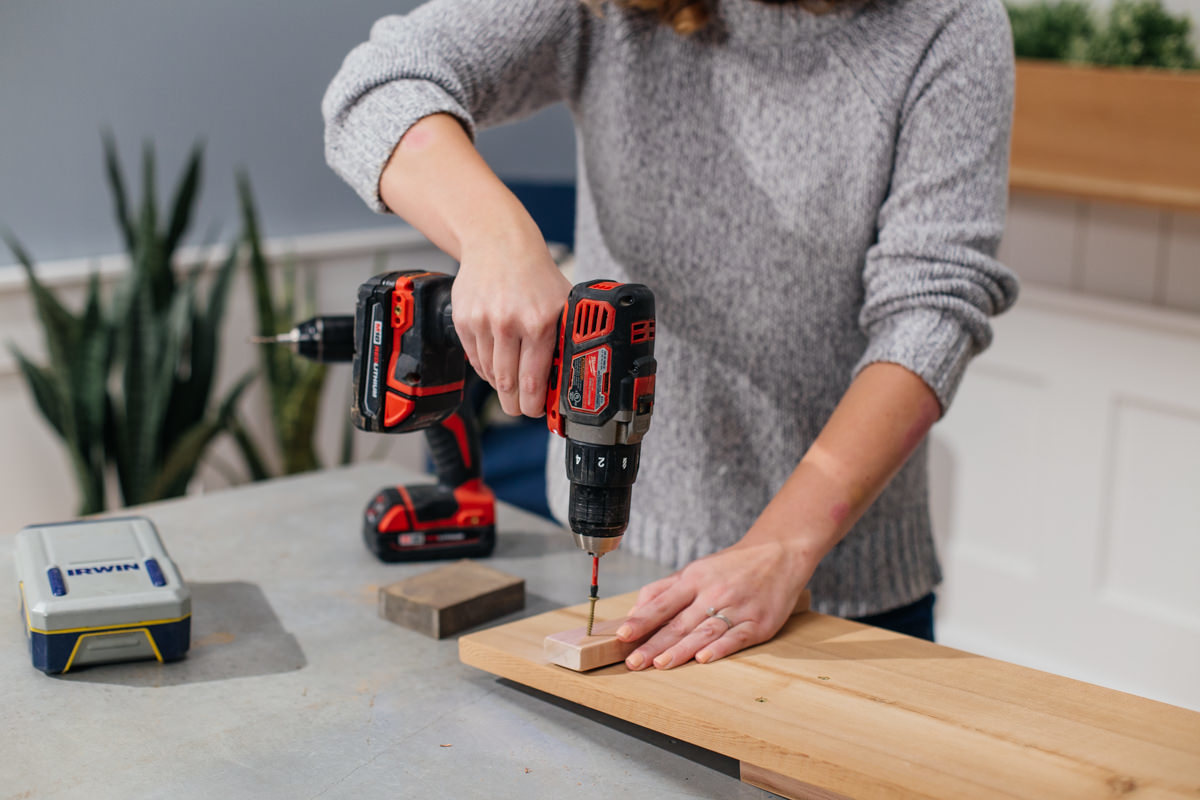 Step 7: Apply finish to bath tray
Lastly, you'll want to protect your bath tray with a water-protective stain or finish. We used teak oil for this project, which is somewhere between a stain and a finish. It was designed for teak decks on ships, which means it's designed for coming in contact with a lot of water—which is perfect for the bathtub. Teak oil can be applied over a stain, or it can be applied directly onto the wood, which is great. Teak oil can even be used as a maintenance and intermittent coat, giving existing varnished surfaces a longer life. I have a lot of love for teak oil, and it's worth having on hand.
That said, you can also finish the cedar with an exterior polyurethane finish or an exterior deck stain. It's easy to use whatever you have on hand instead of running out to buy something new.
Whatever you choose to use, start by running a tack cloth or a damp paper towel over the wood to remove any fine sawdust leftover from sanding. Apply teak oil or your finish of choice with a natural bristle brush (and definitely not a synthetic brush, which I did once and regretted) or a lint-free cloth. Let sit for 5-15 minutes, then sand with 400-grit wet/dry sandpaper. Wipe off any excess oil and allow to dry.
I love this tray so much for its simplicity and versatility. If you love wine in the bath, but hate the candles, or if you like reading but not the wine, or if you love all three (what's not to love?), you can cater this tray to your own specific needs. Not to mention, with a little creativity you can be inspired to come up with your own unique customizable additions!