I don't have kids, but I've always loved walking through the baby department and looking at clothing, furniture, and nursery decor. I love making things with my hands, and I figure if I want to sew clothes for my children or build them a rocking horse or a cradle, I better do it before they show up and I still have time.
Recently, I was walking through the baby department at Crate and Barrel when I caught sight of this charming baby mobile. I've always adored the Seattle gray and I'm totally into the cloud trend that's been going around recently. I have a DIY cloud light hanging in my bedroom—how perfect would it be to have a matching baby version in my (future) nursery? If you've got a baby on the way or upcoming baby showers this summer be sure to check out these fun baby projects:
There's nothing quite like the moment you see something and think to yourself, "I could make that." But it's nothing compared to the moment following, when you look at the price tag and think, "Oh, I could make that for way less!" At the store, this simple crib mobile is priced at over $100. Here on the blog, we used the highest quality material we could to recreate this look for $25. And if you swapped out linen for cotton, or leather for faux leather, you could make this for even less. Doesn't get much better than that.
Step 1: Print and cut baby mobile patterns
To start, print the right, left, top, and bottom pattern pieces as well as the loop pattern (not pictured here) and star pattern. Cut them out and tape them together.
Step 2: Lay out patterns and cut fabric for baby mobile
Next, lay out your fabric in a single layer. I like to iron the fabric first because linen wrinkles easily.
We'll be arranging the pattern pieces a little uniquely. Instead of cutting out a certain number of each piece, we're actually going to be cutting out different combinations of the right, left, top, and bottom pattern pieces. For the moment, set aside the loop and star pattern pieces.
This step was the most confusing for me—and I came up with the pattern. I highly recommend using a washable fabric pen and labeling each piece as you cut.
Basically, you'll want to cut out four unique pieces: a top right, a top left, a bottom right, and a bottom left. Pair together the top piece with right piece to create the top right pattern piece, etc. To make this all a little more confusing, for the bottom right and left pieces, you'll need to flip the "left" and "right" pieces upside down. Once each fabric piece is cut, label the top of the fabric—this label will help you differentiate between "right" and "wrong" sides of the fabric. Also, cut out one "loop" piece.
You can cut out your pattern pieces with a pair of scissors, but if you sew at all, a rotary cutter and cutting mat will change your life!
Step 3: Sew left and right patterns together
Lay your left and right bottom pieces together with the right sides together (it doesn't matter whether you choose the right side to be the side with markings, just be consistent because the fabric is reversible but the pattern isn't). Sew the pieces together with a narrow hem, using the edge of the machine foot as a guide.
Then, pin the top right and top left pieces together with the right sides facing each other. Sew in from either end, leaving a few-inch gap in the middle for stuffing later. I like to mark out this gap with perpendicular pins because if I don't, I'll just sew through it without thinking.
At this point, you're probably noticing I wasn't consistent about whether I put my markings on the right or the wrong side of the fabric. Let me just restate: I got really confused and only incorporated the labels after messing up more times than I cared to. This is a good reminder to stay humble and follow all the steps—even when you're the one writing them.
Step 4: Sew top and bottom pieces together for baby mobile cloud
Now you have a top and bottom piece. If they line up with the right sides together, it should be smooth sailing from here on out. If they don't, it's time to backtrack and see where you went wrong.
For this step, pin the top and bottom together and sew all the way around with a narrow hem. Be very careful to turn gently on the curves, otherwise you'll end up with a pointy cloud. This requires going slowly and carefully. If you can control the pressure of the presser foot, turn it to the lowest setting so you can more easily turn without having to stop and lift the foot every couple stitches.
Once sewed, turn the cloud inside out and take a look at your seams. If you're happy with them, it's time to get out a wet rag and wash off the fabric pen labels because you don't need them anymore. Hurray!
Ironing a shape like this is challenging, so I like to just rub the seams between my fingers to roll them all the way out. Linen is a fairly pliable fabric, and I find that a little manipulation and the warmth from my hands is all I need to get it to agree.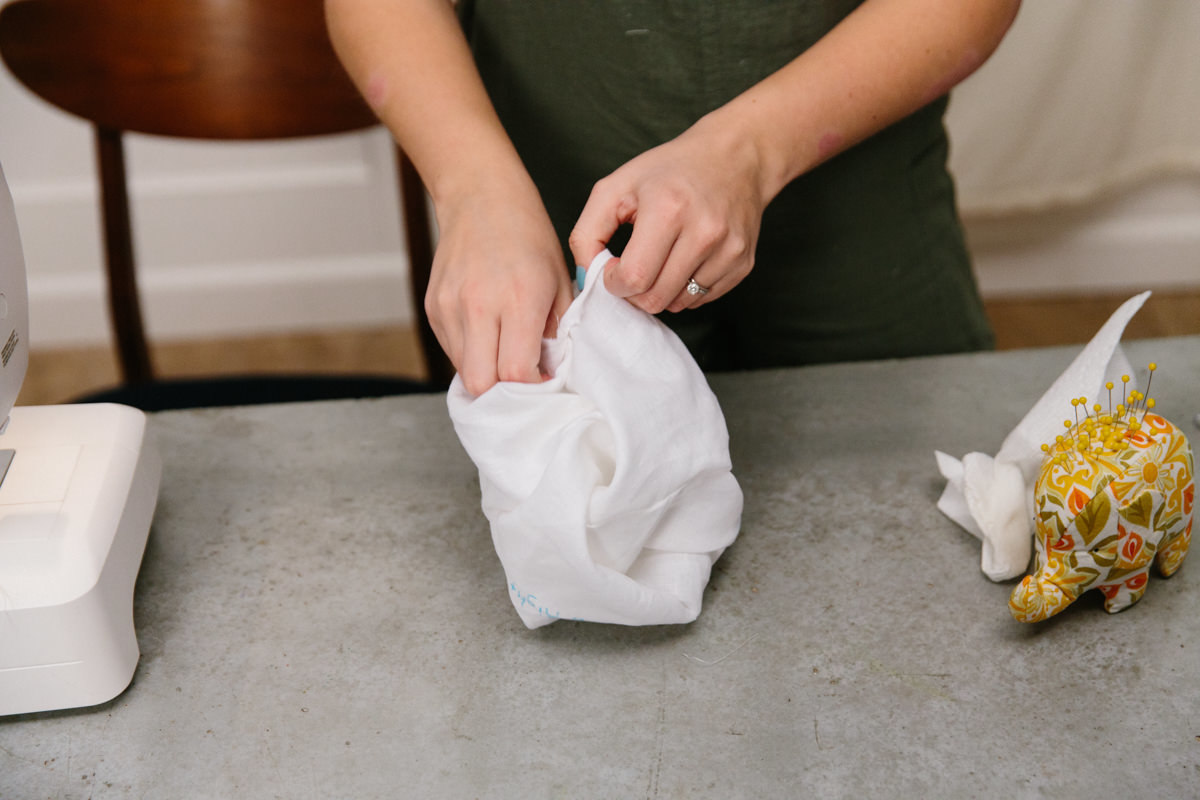 Step 5: Stuff cloud
Now it's time to give it some depth! Stuff your cloud with polyester stuffing. This takes some time and some playing around to get the right shapes. I like to ball the stuffing a little and then fit it into each of the outer curves of the cloud shape. Make sure to fill your cloud full enough so it looks nice and happy.
Step 6: Create the loop
Fold the loop in half lengthwise and sew down the long edge with a 1/2" seam. Turn it inside out and press flat.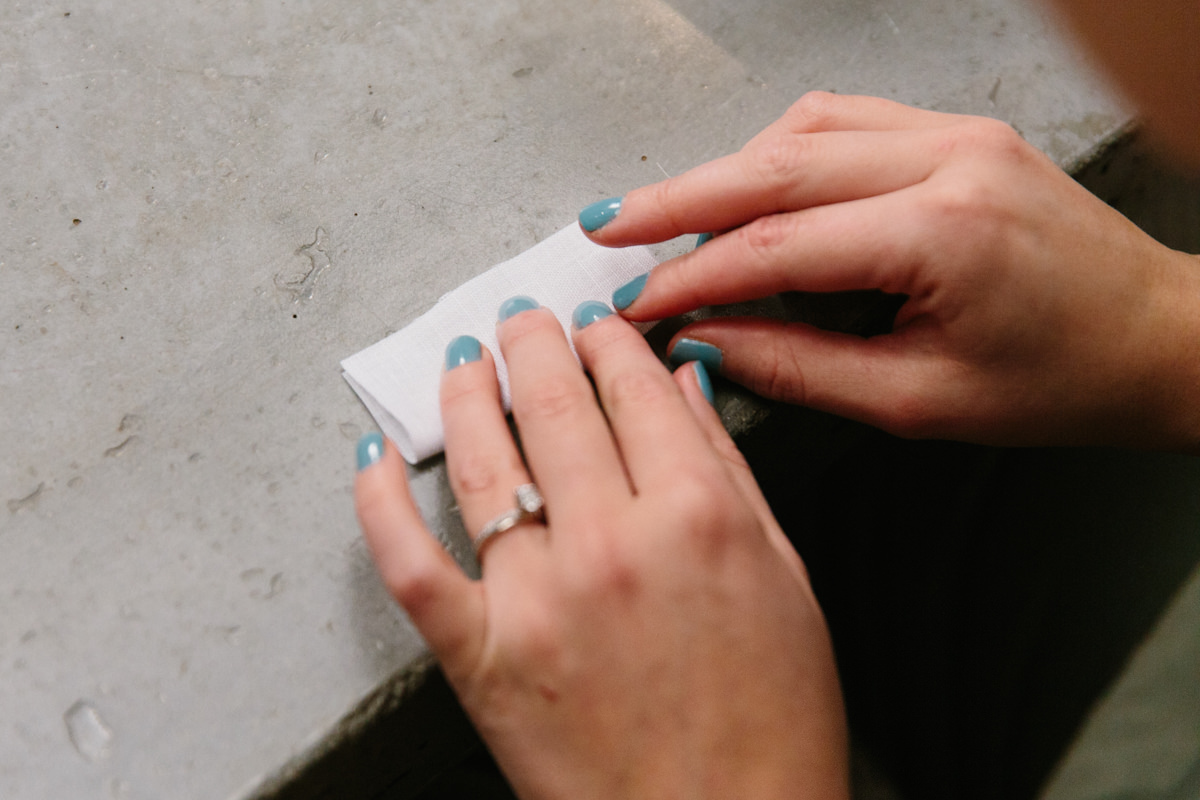 Step 7: Attach the loop to baby mobile cloud
Next, fold the edges down in the top center of the cloud. Fit the loop in between the sides and pin it in place. Sew the sides and loop together with neat hand stitches.
Step 8: Make stars for baby mobile
Now it's time for a little flare. Using the star pattern, cut out eight leather stars. We used a metallic gold leather that had one shiny side and one matte side. I considered gluing two pieces together to make them double-sided, but I thought the leather was too thick for that.
As an alternative for a slightly different look, you could use a thinner suede that's matte on both sides and sew or glue together to create a little more stiffness.
Step 9: Hang stars
To start, thread white embroidery thread (I used all of the strands rather than separating them) onto a large embroidery needle. Punch a hole through the top of each star and knot it in place. Hang each star from different points in the cloud and at varying heights. Make a knot at the bottom of the cloud, then pull the thread through the top of the cloud and knot, creating a dimpled effect.
Step 10: Hang baby mobile
To hang the mobile, pull string or embroidery thread through the loop at the top. I braided the remainder of the embroidery thread together for a little added flair (this took a minute).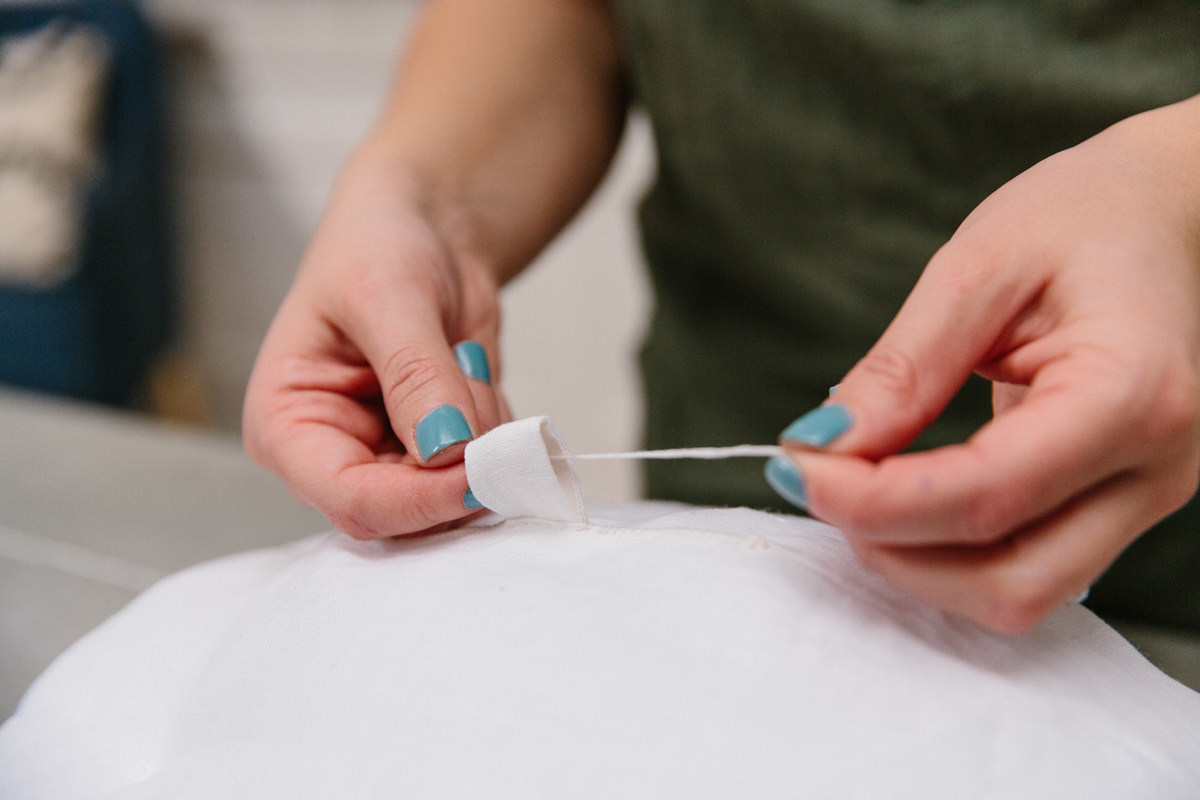 Normally with baby projects, I'm thinking about the next baby shower I'll be attending so I can gift it to a friend. But I love this nursery mobile project way too much to give away! This is definitely going into storage until I have a nursery to hang it in.