Before we show you the final product, let's recap what we learned about how to get there. Two weeks ago we talked about how to choose the right color for any room with paint expert Robin Daly. Today she's going to teach us how to prep and paint a room.
Robin Daly is the third-generation employee and owner of Seattle's very own Daly's Paint. She's a wealth of knowledge when it comes to all things paint-related. From primer to paint brushes, Robin makes it interesting and fun.
What you'll need
Here are a few pieces you should invest in to make sure you get the best bang for your buck when it comes to painting.
Krud Cutter Original All-Purpose Cleaner: This is a nontoxic cleaning agent that's great for spot cleaning before, during, and after you painting project. It a great alternative to TSP, which is a harsher chemical cleaning agent often used to clean/prep for painting to remove dirt and grease.
Sponge and bucket: There will be plenty of cleaning before, during, and after your painting project. Having a sponge dedicated to a painting project is a great idea to help you keep things clean and organized as you work.
Visor: You put this along the edge of your paint can and it prevents dripping. And it's only 99 cents! You'll save more than your money's worth in paint that doesn't end up dripping off the side of your paint can.
Angled sash brush: This allows you to cut in at an angle. It's great for edge work and making sure you don't paint your crown moulding the same color as your walls.
Telescoping extension pole: This saves your back. It lets you get really high and really low and it lasts for years.
Gloves: Keep your hands clean as you work.
Canvas drop cloth: We used a plastic drop cloth this time, but in general, a canvas drop cloth is a great option because you can reuse it.
Roller cover: Splurge here and get a quality roller cover and frame. This helps you distribute paint evenly over the surface. Cheap roller covers splatter paint as you use them. For smooth to semi-smooth surfaces, you should choose a ⅜" nap roller cover. Look for the "3/8-inch" on the label. Use a thicker nap roller cover for stucco surfaces. If you use a thick roller cover on a smooth surface, the result will be sloppy.
*All these products are available at Daly's Paint and Decorating and virtually all of them at Dunn Lumber too. (The links you see here link to Dunn Lumber since Daly's does not have an online catalog at this time). You'll find helpful employees at both Daly's and Dunn Lumber who can help you find the painting supplies that will help make your painting project a success.
Prepping
First, clean the entire wall before you start painting. Use your sponge and Krud Kutter. Another tool that works great is one of those sponge mops, they help extend your reach. Then let your wall dry. Be sure to clean the trim as well. The last thing you want to do is paint grease, dirt, and dust into your wall.
Next, lay down the plastic or canvas cover. Use blue tape to tape your plastic or canvas tarp in place. Cover the floors. Use the brown tape to tape off the edges.
Painting
Then, it's time to cut in. (Making an outline on the wall you want to fill in.) Don't dip your brush all the way into the bucket of paint. It makes it more difficult to clean, and drips too much! If you hate cutting in, don't worry, you're not alone. Just remember Robin's words of wisdom:
I love old houses because they have character, not perfection—also known as permission to give yourself a break. P.S. If you have a new house… no break for you. Just kidding!
Here's a pro tip for using brushes. If you know it'll be an hour before you're going to use the cutting in brush again, wrap it in cellophane and put it in the refrigerator. It can stay there for an hour or up to a week. When you're ready to start using that brush again, bring it out and let it warm up a little bit. Then get back to painting. This allows you to avoid cleaning your paint brush any time you take a break.
Before you start using the roller, rinse it off to make sure you're not rolling fuzz on the wall. Then, begin painting. Paint in the shape of a "v" and move up and down your wall. This will help you get a smooth finish.
Allow the walls to dry for two to four hours between coats. Remember, paint dries from the inside out. This is called coalescence. So though it may feel dry to the touch, it may still be setting. Plan on covering the walls with at least two coats of paint. These walls were really thirsty, but two coats did the job!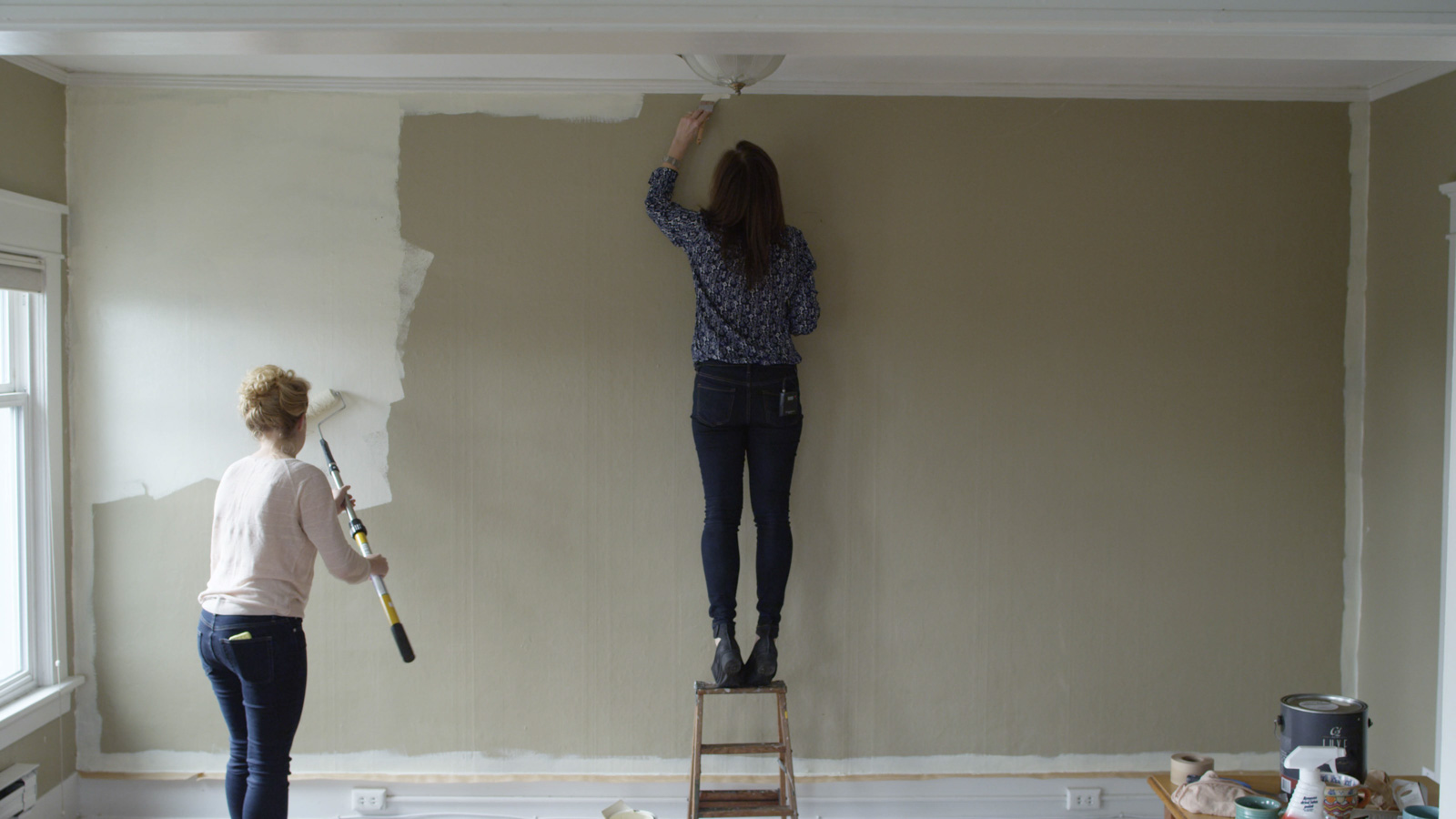 Cleaning up
We recommend investing in good, high-quality paint brushes. This means you'll need to take care of them. Rinse them under warm water and wash with dish soap. Continue to rinse until the water runs clear. Then store them brush-up, so they aren't resting on the bristles.
If you used a canvas drop cloth, allow it to dry before folding it and storing it.
To get more painting know-how, we recommend this door-painting tutorial and our tips for choosing a paint brush.