Kettle corn is one of my favorite snacks—it's very near and dear to my heart when it comes to movie night. So when I recently discovered how easy it was to make kettle corn at home, I wondered why I haven't been doing this my entire life!
Making kettle corn at home is so simple—you only need a handful of ingredients, and it takes all of five minutes to pull together. There are a number of ways you create variety in this recipe, like swapping white sugar for brown or coconut sugar, or trading canola oil for avocado or coconut oil. Today, I'm sharing how to make both regular kettle corn and a twist on the classic: maple bacon kettle corn.
I was at a Dunn Lumber event when someone gave me a taste of maple bacon kettle corn, and it was amazing. Of all the kettle corn variations to tackle, this is the one I wanted to try first. Naturally, it also proved to be the most challenging kettle corn variation. As it turns out, both maple syrup and maple extract burn quickly when they come in contact with hot oil. Getting the maple flavor to stay involved a lot of sizzling (and burning oil splattering around my kitchen). It was so frustrating. Artificial maple syrup worked, but when it was finished, you couldn't taste the maple flavor. The bacon proved to be challenging, too. If you add it in too late, the sugar-oil combination isn't as sticky; if you put the bacon in too soon, the bacon burns. It's a very tricky process—there were lots and lots of bowls of kettle corn sitting around at the end of my experimentation.
But then I discovered maple sugar at my local grocery store and got the bacon timing just right. Now I'm sharing my secrets with you!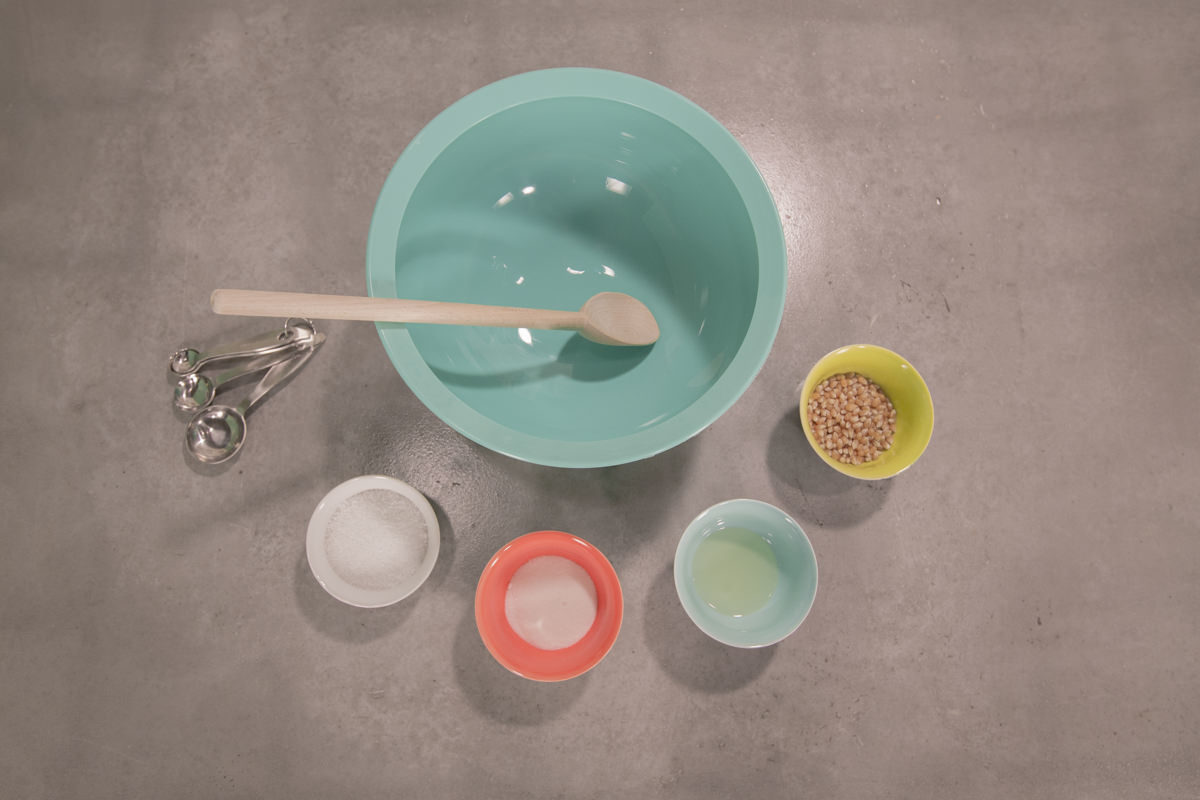 Classic Kettle Corn
Step 1: Pour ¼ cup of oil into a pot over medium heat, then throw in a few popcorn kernels. Cover with a lid.
The recipe I'm sharing today makes a (totally subjective) regular-sized bowl of popcorn. I used a 3-quart nonstick saucepan. I'd say it feeds two to four people. The ratio is generally one part each of oil and sugar, and two parts popcorn. If you're scaling up, grab a larger pot.
You can experiment with lots of different oils, but I used canola oil because I had it on hand and it's flavorless—which is always a good starting point. Some oils will infuse their flavor.
When you hear the kernels popping, the oil is hot enough for step two.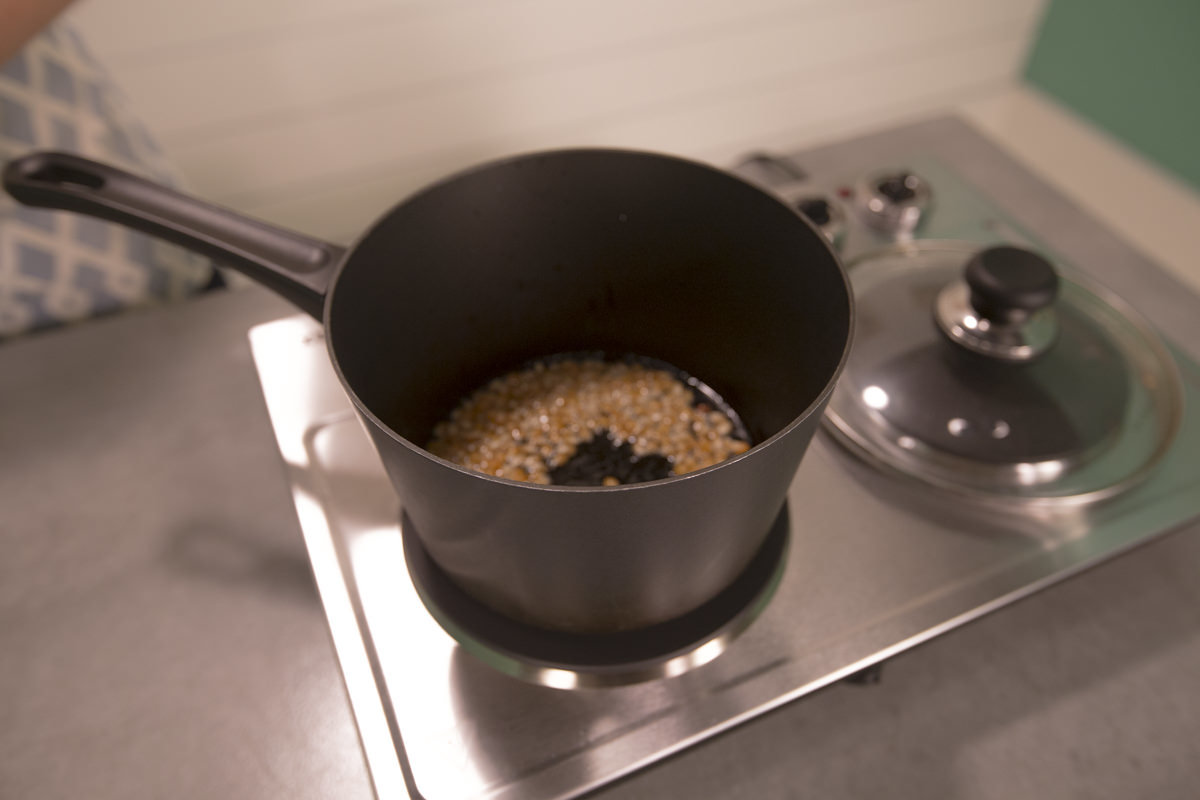 Step 2: Add ½ cup of popcorn kernels and ¼ cup of sugar.
Step 3: Shake the pot constantly to keep the sugar from burning. Keep over heat until the popping slows.
This is the annoying part of making kettle corn. If you let the pot sit for more than a few seconds, the sugar starts burning on the bottom of the pan. You have to shake it continuously, but you don't want to move things too much because if you do, it doesn't get hot enough and the popcorn won't pop. It's a balance you have to find.
Once there are two to three seconds between pops, that's usually a good sign you're getting to the last kernels.
Step 4: Remove from heat and immediately pour into a bowl. Add salt while it's still hot. Cover and shake until evenly mixed.
Maple Bacon Kettle Corn
Step 1: Fry bacon in a pan.
For the maple bacon kettle corn, we'll be using the bacon grease and the actual bacon itself. We got ⅛ cup of grease from two pieces of bacon—use that as a reference point as you decide the amount of bacon you want to fry. The grease will replace half the oil in the recipe, so depending on the amount of kettle corn you're making, that's how much you'll need.

Fry the bacon until it's crispy, then crumble it into tiny bits and set aside.
Step 2: Make kettle corn as you did before, using half oil and half bacon grease and substituting maple sugar for white sugar.
Once the oil is hot and the first few kernels have popped, pour in the rest of the popcorn and the maple sugar, and shake continuously while cooking. Add the bacon bits at the very end. Then take off the heat, pour into a bowl, and sprinkle with salt. Shake vigorously to mix.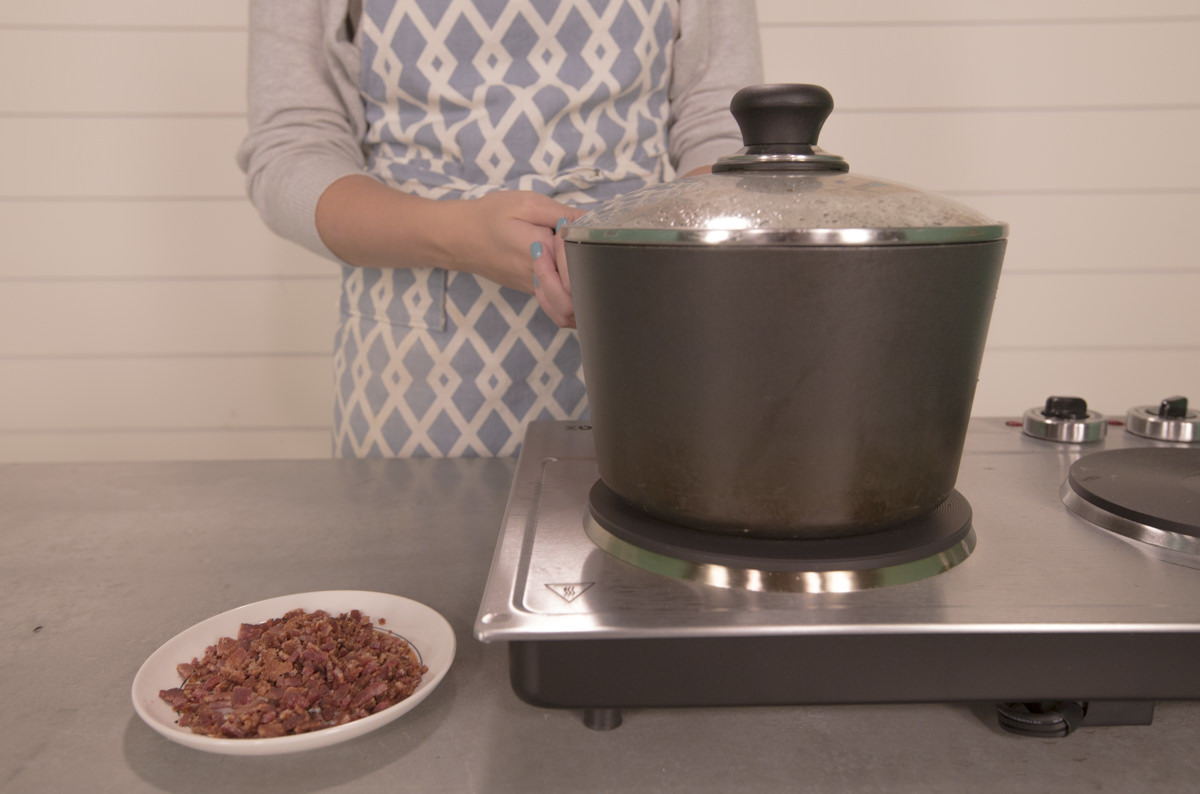 It's official: I now know everything there is to know about kettle corn. I feel like I possibly gained too much expertise on this because it took so long to figure out, but I'm very happy with how it all came together. The classic is always good, and the maple bacon is maple-y and bacon-y—everything I could have ever wanted.
The best part about kettle corn is that you can always change it up. After I got the maple bacon batch to work, I wondered what would happen if I did half maple sugar and half brown sugar or if I used a different oil. Improvisation in the kitchen is really fun. As with all DIY, patience is key. The end result is so worth it!
Keep an eye out—we'll be sharing more posts during the coming weeks on how to create your very own backyard summer movie night!