This summer, Dunn DIY is celebrating the warm weather by hosting a movie night! So far we've made delicious kettle corn and extra-yummy maple bacon kettle corn, a lovely (and super durable) canvas picnic blanket, and cozy outdoor folding chairs. This is the final installment in our four-part series.
I don't know what it is about summer, but it always makes me want to do a DIY series. This summer, I'm all about movies—outdoor movies to be exact. It all started when I stumbled across photos of these outdoor movie seats. I was a big fan immediately, and that kind of brought along the idea for an outdoor movie screen. An outdoor movie screen is simple to make, easy to store, fairly inexpensive, and you can use it year after year. Plus, it pairs well with a canvas picnic blanket and lots and lots of maple bacon kettle corn.
Step 1: Cut Pipe According to Diagram
The frame of the screen is made from PVC pipe. I chose PVC pipe because it's kind of like Tinkertoys: They fit together and then pull apart, which makes it really easy to assemble and then disassemble during the winter months. PVC is also waterproof, so you can leave it out in your backyard all summer long.
To start, you'll want to cut the PVC pipe. Cut:
One pipe to 89", 30"

One pipe to 43", 43", 30"

One pipe to 36", 30"

Two pipes to 53", 36", 30"
Another thing I love about PVC pipe is that it is super easy to cut. Despite the fact that it's round, it is actually not all that difficult to clamp down. You can cut them by hand or with a hacksaw, chop saw, circular saw—pick your poison. The one thing you should know about cutting PVC pipes is that they leave little shavings everywhere, and the shavings have a static charge in them (which means they stick to everything). It's a pain, but nothing a vacuum can't handle. Be sure to shake the shavings out of the pipe, too, otherwise you'll learn things the hard way (like I did) and have flakes of PVC all over your yard.
Step 2: Cut Drop Cloth
The screen is made from a drop cloth, which you'll need to cut to 4' x 7'. The drop cloth we had got was 4' x 15', so we only had to cut one end. Be sure to leave enough around the edges to fold over.
You can use any drop cloth you have that's big enough. If you have one lying around that's not too dirty to use, go for it. You can also use a sheet. I tested our projector with both the drop cloth and a sheet, and I was a big fan of the effect the drop cloth had on the movie—it added this vintage feel. Since an outdoor projected movie isn't the setting to get high-definition quality, I like the idea of embracing the retro feel of it.
You don't need anything fancy to cut the drop cloth with—it's fairly easy, and any scissors should do.
One note: Some canvas drop cloths like this one and the one we used for the canvas picnic blanket—have plastic backing. If you were planning on using fabric scissors, I'd advise against using them on the plastic backing.
Step 3: Hem to Reinforce Edges
Depending on how many sides you're cutting from your drop cloth (we only cut one side), you'll want to fold the raw edges over a couple of times and sew it in place. You can use a sewing machine or hem it using fabric glue. It won't be as sturdy with fabric glue, but it's a decent alternative if you don't want to sew it by hand.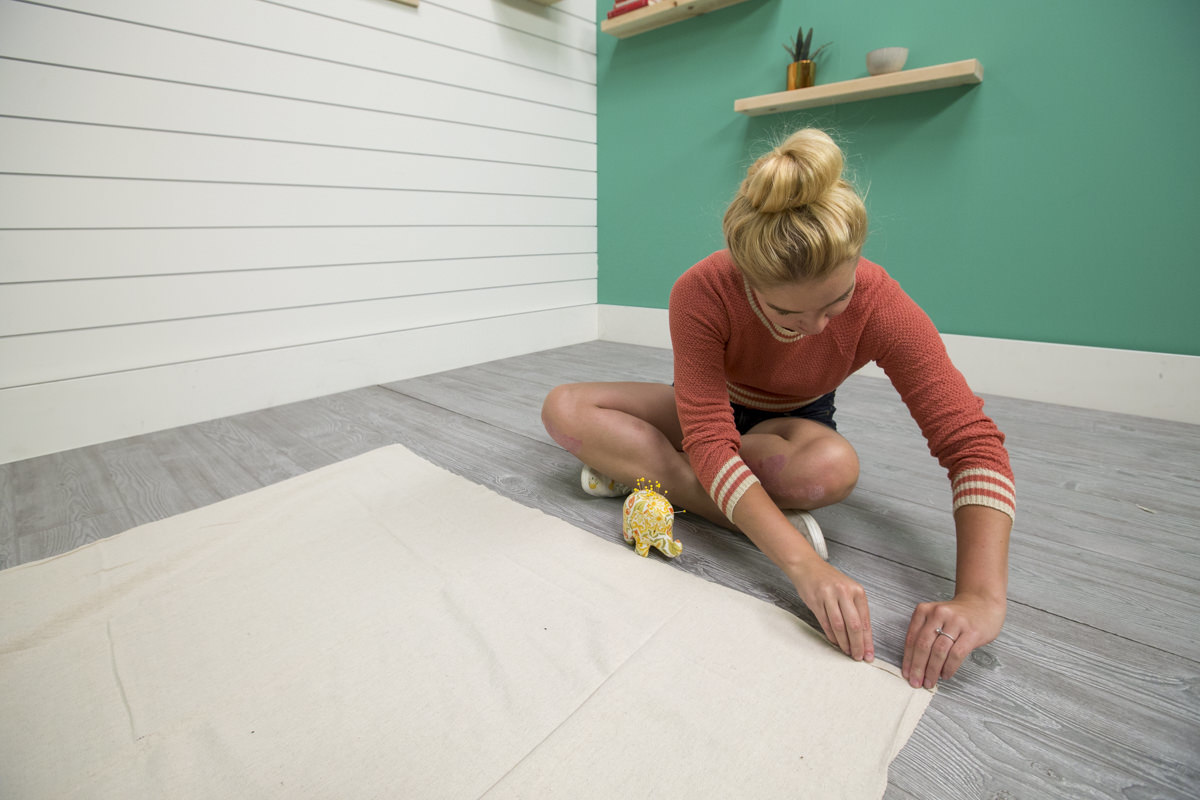 Step 4: Add Grommets
I was really excited about adding grommets to this project because I've always wanted to use grommets with snaps in fabric. Between this project and the outdoor movie chairs, I was able to use both. Grommets are little metal rings that allow you to put a hole in fabric without having to worry about rips and tears. If you're still confused about the look and function of grommets, think of flags you'd hang on a flagpole. Grommets essentially make the fabric more sturdy. I picked up these grommets at Pacific Fabrics—a local craft store. You should be able to find them fairly easily.
You'll use the grommets to attach the drop cloth screen to the PVC pipe frame.
Cut a small hole in all four corners (at the middle point of each short edge), and at two evenly spaced points of the long edge. Place a grommet in each hole—there should be a total of 10. Follow the directions on the grommet box, and use a grommet tool and hammer to secure. This part is surprisingly easy, and it's honestly really fun.
Step 5: Assemble Frame
Start with the long 89" piece of pipe, which will be the top edge of the frame. Secure the 89" piece to the two 53" side pieces with elbows. Secure the two 43" bottom pieces together with a tee piece, and then secure to the two sides with two more tee pieces.
This is the dry fit. We're going to assemble it and then stretch the tarp out to make cuts as needed. Now is not the time to have the pipes fit together as snug as possible—you want to still be able to pull them apart for disassembly and storage.
Step 6: Fit the Screen
Drop cloths aren't made to exact dimensions, so you'll want to cut your PVC frame to fit the cloth inside. We cut everything 5" bigger than the supposed dimensions of the tarp, so this is where you'll want to adjust. Use Velcro ties, string, or zip ties to attach the canvas to the frame. I like Velcro because it's easily adjustable and can be used over and over again. Secure with two ties in each corner grommet and one in the middle grommets. Then, remove the pipe and cut it down until you have the exact size you want.
Step 7: Assemble Legs
Assemble the three legs of the frame using 36" legs and 30" feet connected by a tee piece.
Step 8: Put It All Together
Attach the top to the legs. This can be a little tricky the first time. Grab another set of hands to help, or rest one corner of the top on the ground while fitting on the first leg. Then lift up the other end to secure the opposite leg. Lift the whole structure up a little to attach the middle leg.
Step 9: Add Wind Security
For additional strength you can use strings and tent stakes, or you can use these metal stakes that sit inside the PVC pipe. Try a few screws to secure in place if needed.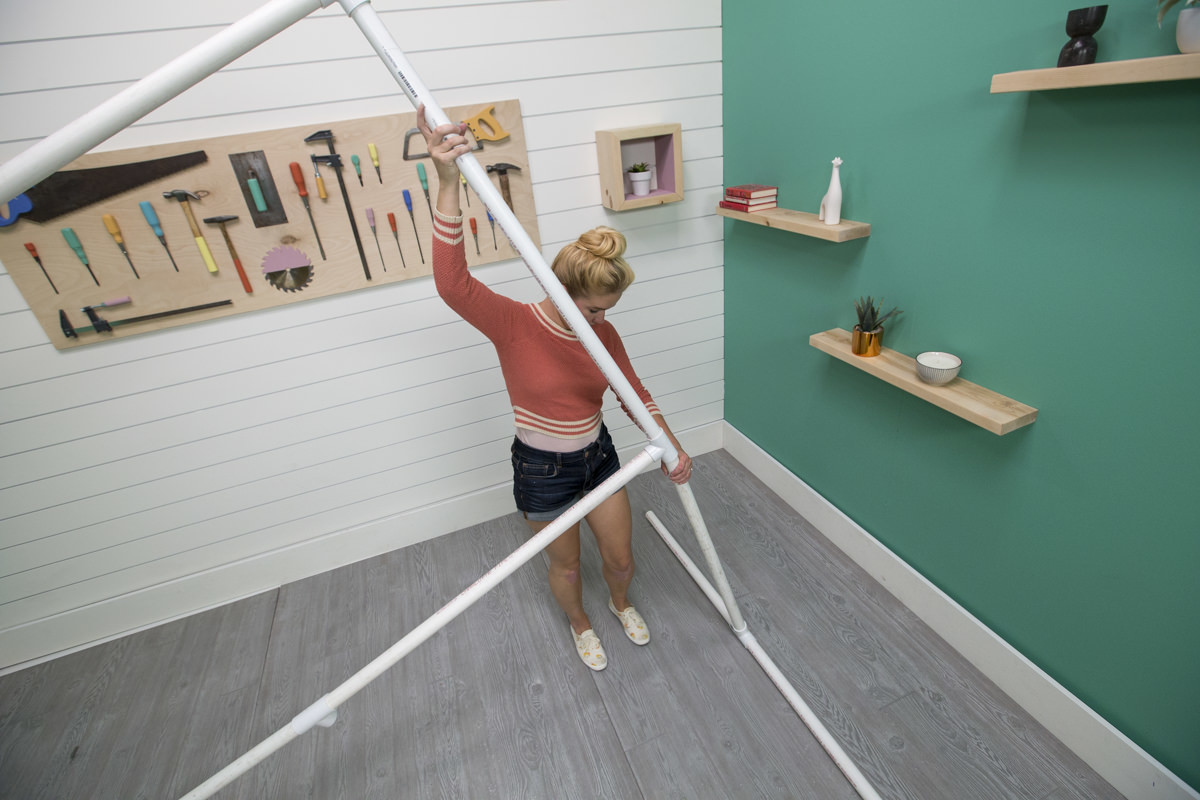 Step 10: Finish Screen
Projector screens have a black backing on them to keep the picture bright and clear (and not have the light pass through the material). My movie screen needed that little bit of extra help. For an upgrade on your screen, cut out a piece of black polyethylene, then cut slits in the corners and sides and secure to the frame behind the drop cloth. I used a black garbage bag and some zip ties. That works too!
I'm the kind of person who would never buy an outdoor projector screen and an outdoor projector so I could have a movie night in the backyard, but this project totally motivated me to buy an outdoor projector. I have plans for a family movie night over the summer—where we'll be able to take advantage of the screen, the chairs, the picnic blankets, and most importantly, the popcorn.
I think outdoor movies are one of the best parts of summer, but rarely do I find that the movie I want to see lines up with my schedule. I like the idea of having control over the time and movie selection at this particular outdoor movie theater—right in my backyard!