Spring is almost here (OK, that's kind of wishful thinking), which means it's time for one of our favorite annual events: the Northwest Flower & Garden Festival. This is our fourth year at the festival, and we always love the opportunity to chat with Dunn DIYers firsthand and showcase some of our latest (and up-and-coming!) garden-themed projects. This year is no exception, and we're extra excited because Todd and I are leading a live tutorial on how to build a strawberry planter from the DIY Stage on Wednesday, February 7 at 5 p.m.
If you're interested in attending the festival (we'd love to see you!), buy your tickets here and visit the Dunn DIY team February 7-11, 2018, at the Washington State Convention Center. Just like last year, we'll be in the South Hall at booth #707.
Whether or not you're able to make it, you can look below to check out some of the projects we'll be featuring at our 2018 booth.
How to Build a Strawberry Planter
In our temperate Seattle weather, strawberries are a great plant to start in the winter as a bare-root plant that will come alive in spring. You can also wait to plant until late spring when the weather has warmed up to accommodate growing. This strawberry planter is a great way to start a small crop of berries without taking up too much space.
How to Build a Bat House
Bats are pretty picky for being four-inch-tall, insect-eating, nocturnal creatures. A lot is required for a properly equipped bat house. It has to have a landing pad on the bottom, a little piece that sticks out where they can land and climb up into the house; it has to be at least 20" tall and 14" wide, with internal chambers where—because bats are apparently cuddlers—they can roost closely to each other; the chambers need to be between 3/4" to 1" wide; there has to be a vent at the bottom so if it gets too hot they can move down and cool off instead of abandoning the house; and you have to seal it tightly so no water can get in. That's a lot, but we promise it's worth it.
How to Build a Self-Watering Raised Bed Part 1: Constructing the Frame
Learn how to build a self-watering raised bed that keeps the soil moist—it's a favorite low-maintenance method for growing your own produce. A self-watering bed consists of two parts: the reservoir and the soil. The reservoir holds water and the soil wicks it up, which means you can leave your fruits and veggies unattended for days. In Part 1 of this series, we share how to construct the frame.
How to Build a Self-Watering Raised Bed Part 2: Installing the Irrigation
In Part 1 of this series, we shared how to build the frame of a self-watering raised bed. In Part 2, we share how to plant a garden—and make the bed self-watering. The beauty of a self-watering bed is that you can leave it be for days and not have to worry about your produce dying.
How to Build a Picnic Table
A picnic table is one of the first projects we ever did for Dunn DIY. It was ambitious, and it never should have happened. There's a reason it was never posted: things went horribly, horribly wrong (you can read about it in Confessions of a DIYer Part II). Three years later, I had learned a lot more, so we revisited the project. It's amazing what experience can teach you! This project requires some skill and time, but it's well worth it for a handmade picnic table of your own.
Make Your Own Chairs for an Outdoor Movie Night
There's a lot of different directions you can take with this project, and plenty of fun ways to update, improve, and personalize these cool (and cozy) chairs. This lounge chair has a wooden back and cushions, and it's easy to fold up, carry, and store. I like that it's simple while making a movie night more of a special occasion—and it works just as well in the backyard as it does at a park.
How to Build an Outdoor Fire Pit
An outdoor fire pit makes a great gathering spot on a summer evening (or virtually any time of year), so whether you're making s'mores or just fire gazing, it's a great addition to the backyard. This is a relatively simple project with a few basic materials—before you get started, be sure to review Seattle Fire Department's home fire safety website (which includes a helpful fire safety checklist).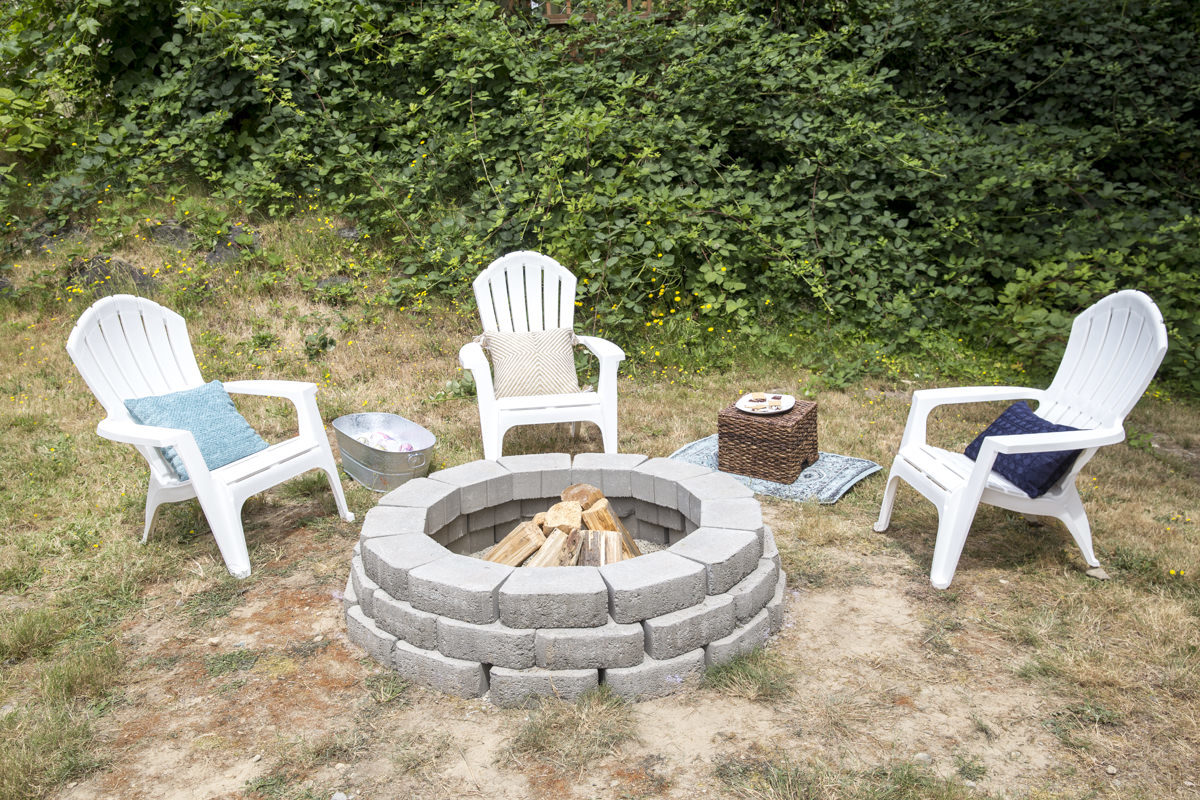 How to Build an Adirondack Chair
This Adirondack chair requires a steady hand with a jig saw and a weekend of free time to get it done. This project—though somewhat intricate—is surprisingly flexible. Unlike building a box where the ends of boards are butted up against other boards, most of the pieces to this chair have open ends, meaning that this is a great project for making all cuts beforehand and not have to adjust during assembly.
How to Make a Storage Pegboard
A pegboard is a naturally attractive and practical DIY storage solution for rooms with limited cabinet space. One of the things we love most about this project is there's no finishing involved—we used natural wood, and because it won't be coming into contact with water, it's not really an issue. It's one of those projects you can start and hang up on the wall in the same afternoon, which is always a win, plus it's completely customizable.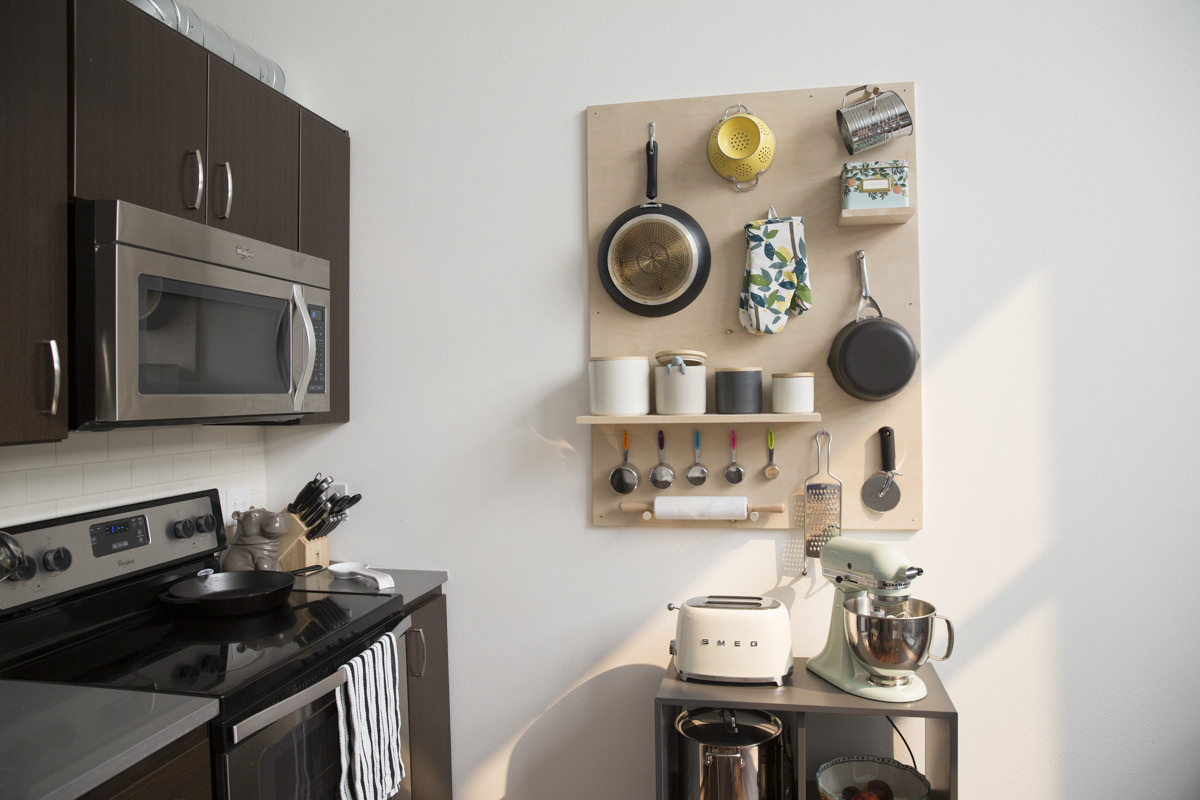 Growing Vegetables in the Pacific Northwest
I'm not sure there's anything better than needing an ingredient for a recipe while you're cooking, and being able to walk outside and pluck it fresh from the vine or the stalk. It might seem kind of intimidating, but growing fresh vegetables in your garden isn't really that hard at all. In fact, if you play your cards right, you can have fresh veggies growing year-round. Because of the fairly mild winters and pretty short summers we get here in the Northwest, a lot of the vegetables that would die in other climate's extreme heat or extreme cold can thrive here.
How to Build an Inexpensive Cedar Birdhouse
Here's a very basic project that costs the price of one 1 x 6 – 5' cedar fence board (and a handful of nails), and it'll bring all the birds to your backyard.
How to Make a Juniper Raised Bed
Juniper is a go-to gardening wood (and makes for a great raised bed). Because it's naturally rot- and bug-resistant, juniper does well in contact with dirt, and harvesting juniper helps restore the Pacific Northwest's ecosystem—so you can feel good about choosing it. Compared to other woods such as cedar, juniper holds hardware with ease, is just as attractive and long-lasting, is more elastic, and may be readily available depending on the market. Plus, the rough cut of juniper looks at home in an outdoor setting.
Dunn DIY Kids: Flower Box
This is a super easy, kid-friendly project that uses only one 1 x 6 - 8' cedar fence board.
How to Build a Garden Trellis
A trellis gives form to a plant that needs that structure. There's the trellises that are used for holding up something like a top-heavy tomato plant that can't support its own weight. Then there are trellises that are used for growing a vine that you don't want attached to the side of your house. This trellis fits more into the latter category. I made this project using tight-knot cedar decking framed with 2 x 3 clear cedar and stained with Penofin Verde. The idea behind it is that it's something that can be made to coordinate with a cedar deck or cedar siding for a clean, put together look.
How to Build a Life-Size Yard Yahtzee Game
There's something about taking a classic game like Yahtzee and switching things up by making it oversized. Playing in a different setting—like the backyard!—makes it even more engaging. This project uses simple tools you probably already have on hand, and just three materials: Doug fir, polyurethane spray, and sandpaper.

How to Build an All-Terrain Beverage Cart
Spring is on its way and the days are getting warmer and longer, so our thoughts are headed outside. In this blog, we built a beverage cart, but not just any cart—an all-terrain beverage cart that can roll across the lawn as easily as it can roll across a nice even surface. We tried something new with this project: a charred look using a blow torch and construction-grade lumber.
Make Your Own Movie Screen for an Outdoor Movie Night
When the weather warms up, there's nothing better than an outdoor movie night. An outdoor movie screen is simple to make, easy to store, fairly inexpensive, and you can use it year after year.
How to Make a Picnic Blanket Out of a Drop Cloth
A canvas picnic blanket is great (and super durable) for movie night, beach days, or any time you want to relax at the park. This project is the perfect embodiment of Dunn DIY—it uses construction materials and things you have laying around the house, and combines them with a minimal amount of effort to make something super fun, inexpensive, and practical.
Cedar, Juniper, Or Pressure-Treated Wood: What to Use When Building a Raised Bed
When building a raised bed, DIYers generally turn to cedar, juniper, or pressure-treated wood. Ultimately, the material you use is a personal choice, but this blog post is here to give you a bit more information that will help you make an informed decision.
How to Refinish a Deck
There are some simple strategies to give your old deck new life. This step-by-step guide to deck refinishing is the perfect companion for a weekend DIY project. Strip, clean, brighten, and stain your way to outdoor entertaining dreams!
How to Modernize Your Deck by Installing Aluminum Balusters
Get your backyard ready for spring! This deck got a sleek, contemporary update with the installation of Deckorators balusters, which install easily with screws that face-mount from the outside. With a little elbow grease, some help from a few key tools, and our step-by-step video and post, this is a DIY project you can complete in a weekend.
How to Build a Cornhole Set
Get ready to enjoy summer with this fun lawn game! This set is built with Azek decking—the purpose being that it can sit outside all through the Seattle summer, endure the rain, and be none the worse for it.
How to Build a Sandbox
Sit back and relax while your kids enjoy a sandy beach in your backyard! This simple DIY sandbox project is a great way to get your kids ready for spring. It's easy to make and designed to keep the Seattle rain out—and it's a whole lot of fun.
How to Create a Dry Space Under Your Deck
Many homes have a second-story deck with usable space below. The home featured in this project, like many in our area, has a daylight basement with a sliding door opening to a patio located under the deck above. The patio is great in the summer—providing shade while connecting the ground-floor rooms to the backyard. But during the rainy season, the patio gets wet from all the rain dripping through the boards on the deck above. TimberTech DrySpace creates a ceiling for the patio below, keeps the patio dry, and enhances a home's outdoor living space.
How to Make a Planter Bed
Planter beds might look complex, but they're an easy weekend project that can improve the look of your yard and provide good drainage for your plants. Not to mention, there is nothing quite as satisfying as growing your own garden. This is a simple planter bed made with two-by-six cedar decking boards.
How to Make a Copper Pipe Boot Tray
As is usually true for this time of year, Seattle is in the middle of a weird almost-spring-but-still-cold-and-rainy weather pattern. This project is for everyone who's still getting good use of their rain boots (and let's be honest, we'll probably be getting good use for months to come). We wanted to create a boot tray that looked good, was built to last, and could also be shaken out and vacuumed. Enter: copper piping.
Flower Box
These Victorian-era flower boxes look beautiful and professional without requiring insane carpentry skills! If you love the look of raw wood, cedar is a wonderful option because it's naturally rot-resistant and has a classic look to it. But regardless of what lumber you choose, this flower box will be stunning.
Build Your Own Outdoor Jenga Set
Remember the thrill of a tumbling tower of Jenga blocks? Imagine that, only 10 times bigger. That's lawn Jenga! This project requires minimal materials—all you need is a few two-by-fours and some polyurethane spray—and a handful of beginner-level tools.
How to Build a Cake Stand
It doesn't take a lot of lumber to make a decorative cake stand. Grab some wood and a miter saw to create your own! The idea for this project came from my experience registering for a cake stand and not finding anything I liked for under $50. I started thinking about ways to make one out of wood (and I already had leftover pieces of four-by-four lumber). It's an easy, cost-effective project that only takes two hours.