Here's what you'll find at Dunn DIY's Northwest Flower and Garden Show booth:

The hairpin leg is a true form meets function story—and a hallmark of mid-century modern design. This table is simple, sturdy, beautiful, and made on a budget. What isn't there to love? And in case you haven't heard, we'll be hosting our first in-store event of 2016, where you can learn to build your very own coffee table. Learn more here.
We are always on the lookout for storage solutions to help declutter and simplify everyday life. This DIY pegboard storage system is not only stylish, it's simple. With the right tools and materials, you can create your own pegboard for bathroom, kitchen, or closet storage.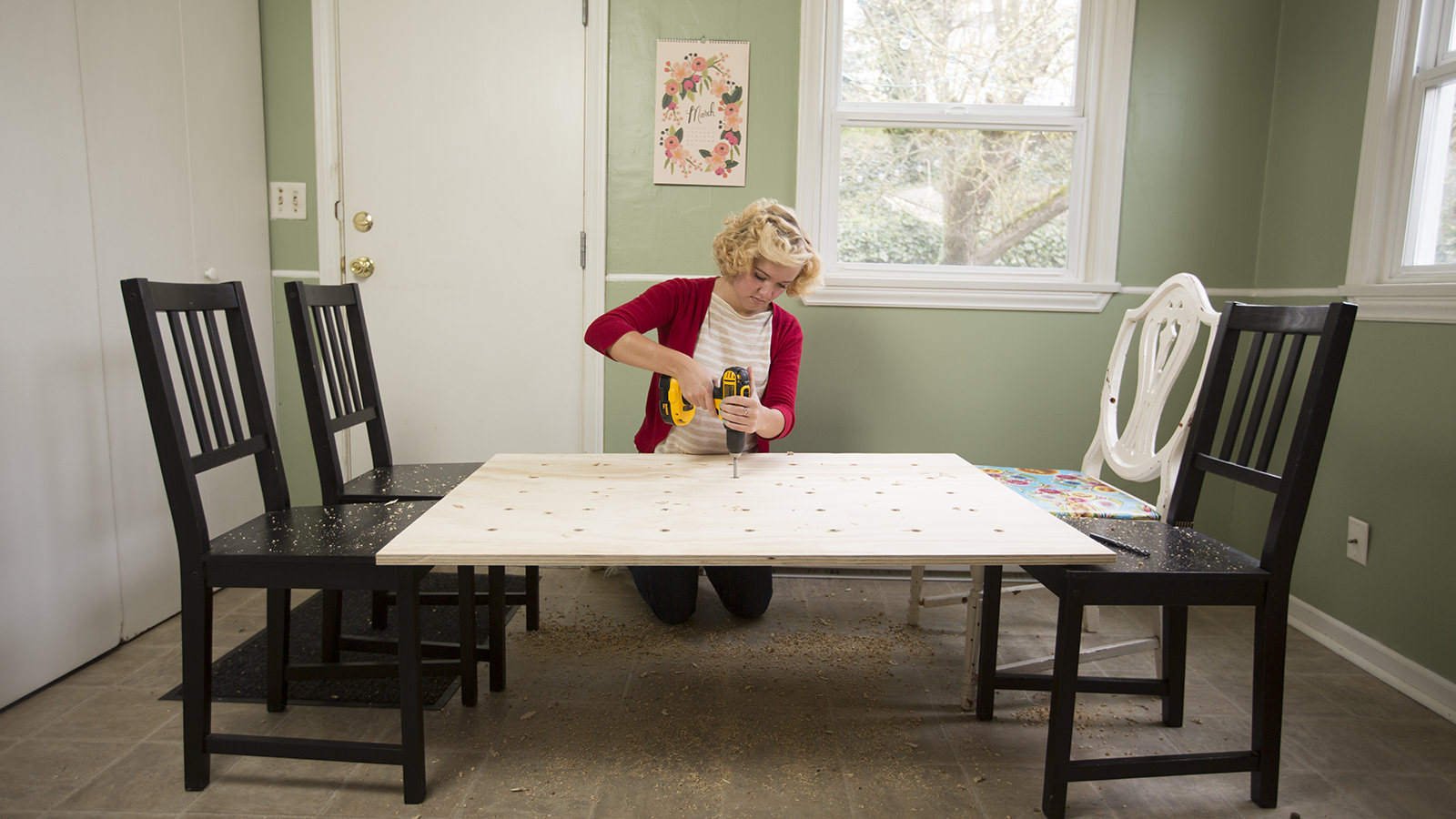 Here's a fun gift idea: a reusable 6-pack holder!
The cutting board doesn't take up a whole lot of wood, so if you have a scrap piece of hardwood lying around this project is an excellent way to use it up. Or, if you purchase a whole board, you'll have enough leftover wood from the first one that you can make several cutting boards and give them away as gifts! It's also a fun project to practice using woodburning tools.
Here's a fun project that can end with breakfast in bed with a personalized message!
With a little stain and spray paint, you can completely change the look of your furniture—and the combinations are endless! Get a modern look with off-white on deep walnut, or add a splash of color! From a yard sale find to an IKEA dresser, you can create a dramatic, and cheap, custom dresser!
Lavender grows abundantly in the Pacific Northwest. Spend a weekend afternoon at Pike Place Market, and you can come home with an assortment of lavender goods: oils, soaps, lotions, and beyond. This lavender-infused all-purpose cleaner is a green (and lovely-smelling) alternative to harsh cleaning products.
Painting your front door is a great way to instantly increase your home's curb appeal. We partnered with Daly's Paint and Decorating Wood Finishes, a Seattle-based, family-owned paint company, to bring you a step-by-step guide to upping the wow factor of your home's first impression.
We really wanted to design a bench to celebrate the arrival of summer (and Dunn DIY's first birthday). We wanted a bench that was unique, beautiful, and solid. The result was this bench, and it's a keeper!

Need a fun addition to your backyard? This airplane swing is perfect.
This trellis is a classic design for growing a climbing vine that looks great against the side of your house or standing out in the garden.
This flower box isn't just for kids. It adds a lovely charm to any window and can house flowers or herbs!
Planter beds might look complex, but they're an easy weekend project that can improve the look of your yard and provide good drainage for your plants. Not to mention, there is nothing quite as satisfying as growing your own garden.
This mini trellis is a geometric gem! It's perfect for the smaller vine plants on your gardening list this spring.
In the temperate Seattle weather strawberries are a great plant to start in the winter as a bare root plant that will come alive in spring, or to wait to plant until late spring when the weather has warmed up to accommodate growing. This strawberry planter is a great way to start a small crop of berries without taking up too much space.

Frosts won't be a threat to your crops this spring with Dunn DIY's cold frame tent!
Half the DIY battle is preparation. We've created a list of our favorite DIY essentials so that you can be equipped to tackle your home design and improvement challenges.