The most wonderful time of the year is right around the corner, which means it's prime DIY time! Whether you're looking for a fun holiday project to do with kids or want to spruce up your festive decor with some new handmade pieces, you're sure to find a must-make holiday project in our archives.

DIY Rope Napkin Rings
Add a personal touch to your tablescape with these easy knotted rope napkin rings. Bonus: You can make them out of a range of ropes, textures, and colors to fit your personal aesthetic.
How To Make a Blanket Ladder
Chilly winter weather calls for plenty of blankets at the ready to keep away the cold. This simple wooden ladder looks good any time of year and helps keep your blankets and quilts from piling up.
How To Make a Wood Block Advent Calendar
Welcome the Christmas season with this charming handmade advent calendar that counts down the days until Christmas as Santa Claus slowly slides down the chimney.
Tips and Tricks for Hanging Your Christmas Lights
We're always looking for ways to make putting up Christmas lights easy, safe, and enjoyable. Here, our friend Greg Sicotte from Holiday Lighting NW shares helpful tips for Christmas light design, supplies, and safety.
Swansons Christmas Tree Comparison Guide
What's the difference between a noble fir and a Fraser fir? A Burton Blur fir or a Nordmann fir? And how do you know which one is best for your home? We break it all down here with our friends from Swansons Nursery.
How To Make a DIY Christmas Tree Collar
You've probably heard of Christmas tree skirts before, but this is slightly different. Instead of a fabric skirt that always seems to shift around as you decorate the tree or rearrange presents, tree collars fit around your tree stand and cover the base but are still open on the top so you can water your tree.
How To Build a Candlelight Wood Christmas Tree
This wood Christmas tree and candle holder is an excellent option if you're looking to add some minimal, Scandinavian-inspired flair to your decor or want an alternative to a traditional Christmas tree altogether. (It also packs up easily for use again next year.)
DIY Christmas Card Holder
Function and beauty come together, well, beautifully in this snowflake-shaped wooden Christmas card holder. No more piling up all the cards you receive—now you can display them to enjoy throughout the season.
How To Wrap Christmas Gifts (With or Without Tape)
There's something especially exciting about opening a gift that's clearly been wrapped with care. Here are two different ways to wrap Christmas gifts that cut down on the paper and tape used (one doesn't use tape at all!) while dialing up the presentation.
Printable Holiday Gift Tags and Last-minute Gift Guide
A perfectly wrapped present needs a personalized gift tag to complete the look. These specially designed, tool-inspired printable gift tags are free to download and perfect for the DIY enthusiast on your list. Need a gift to go with that gift tag? We've also included some ideas for the DIY lover in your life.
How To Make a Wood Block Nativity Set
Homemade nativity sets offer a unique way to add a personal touch to your Christmas decor while also creating an instant family heirloom that's sure to get passed down through the generations. This wood block project includes all the directions you need to make it on your own, including painting templates.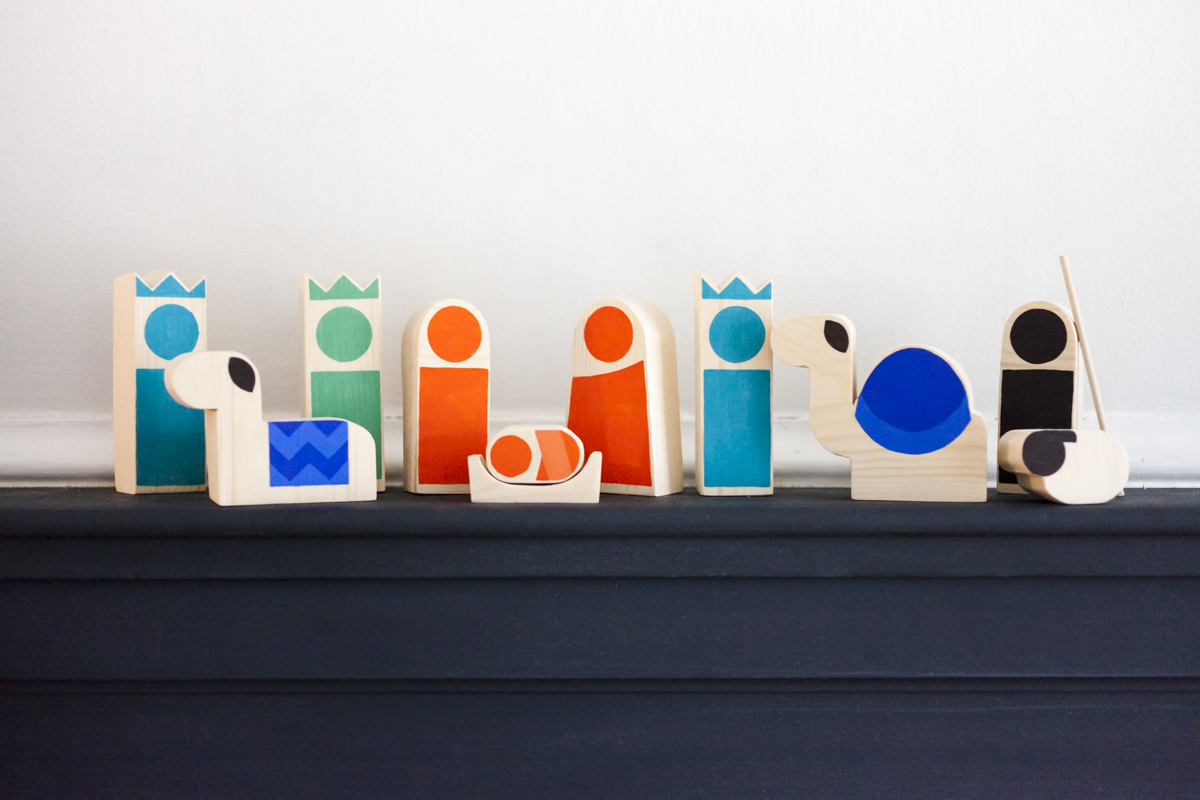 How To Make a DIY Wooden Toy Truck
There's something so classically Christmas about a vintage red pickup truck with a freshly cut evergreen in the bed. Our take on it—crafted from wood, of course—offers a touch of nostalgia when used as a decoration but can work double duty as a rolling wooden toy.
For even more Christmas DIY projects, don't miss our holiday project archive. Have fun, and happy holidays!