Wondering why we chose to shape our cutting board like Washington State (aside from the fact that we love it here!)? Funnily enough, it all started in Germany. Christopher Coltzau, a woodcut print artist, is collecting cutting boards from around the world to create an art installation (in the photo on his website you can see our cutting board. It's the one with blue on it). Christopher emailed us and asked us to contribute, so Dan at Dunn Lumber designed this cutting board for the installation—and now you can make one too!
Dan brought several Festool tools that streamlined the process. If you like any of these Festools you can find them at Dunn Lumber. They are helpful but not necessary. Additionally, Dan used a 18" x 20" alder plank that's compromised of narrower alder boards that have been edge glued together. Using an edge glued board like this helps prevent your cutting board from cupping over time, but it is not necessary. Alternately you can use other hardwood species like Maple, Poplar, and Walnut.
Step 1: Choose your shape
Begin by choosing a shape for your cutting board. Since this is going to Germany we chose to create a silhouette of Washington State. Trace the desired shape on a piece of paper and cut it out.
Step 2: Trace the shape onto your wood
Next, use a pencil to trace your shape onto the hardwood plank. The Festool jig saw provides a very clean cut, but if you're having a problem with breakage from your saw you can put down tape on your board before tracing. The tape helps hold the fibers of the wood flat while the saw is cutting.
Step 3: Clamp wood to work surface
Then, use two clamps to secure the wood to a firm surface. We are using a HEPA Festool multifunction basic table. It allows us to clamp the wood at almost any angle with very little effort.
Step 4: Cut out shape
Safety first! Put on your safety glasses! Now you can use the jig saw to cut your shape. You'll need to unclamp and reposition the wood during the process.
Step 5: Sand smooth
After you've finished cutting, you can start sanding. We recommend using a sander for this kind of project because you really want a perfectly smooth finish. Sand the edges and both surfaces.
Step 6: Treat cutting board
Finish the piece with Daly's "Kitchen Wood Treatment." This is a food safe option that will help protect the wood and help it wear well. Cover the entire board with treatment and let it sit for several minutes. Then wipe off any residue.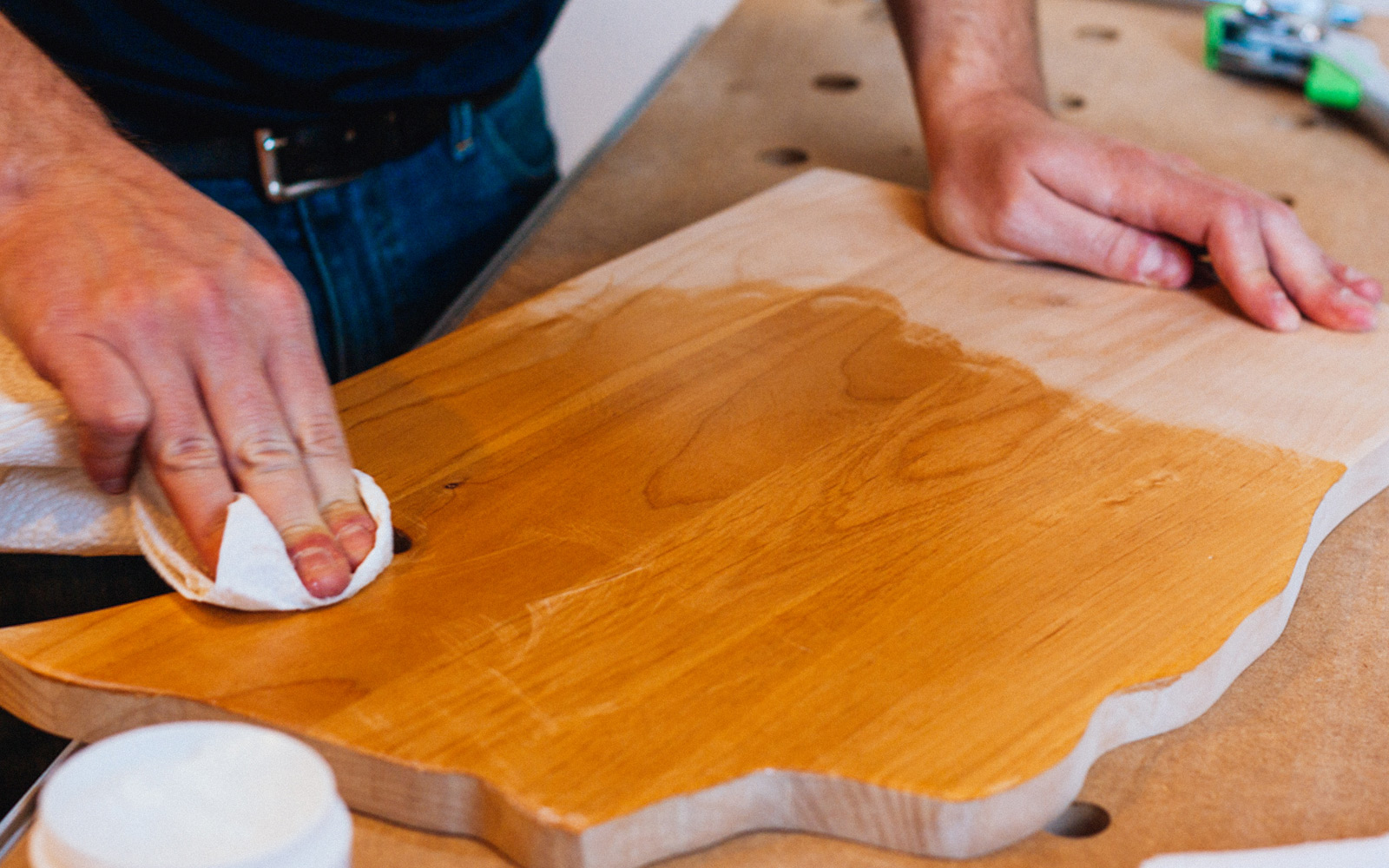 A few notes on cutting board care: Use this board for non-meat products exclusively. Bacteria can get caught in the wood and grow, so avoid cutting meat on this surface. Wash with soap and water. Don't put in the dishwasher.