Having a tiny apartment is great during the winter. It's cozy, for one thing. And it's easier (and costs less) to keep warm. But a smaller apartment means floor space is a hot commodity, and a Christmas tree may compete with your dining room table or a nearby couch. Thankfully we've got a great DIY project to solve this dilemma.
A wooden Christmas tree offers an excellent (and memorably festive) solution for a small space. You can customize the size of the wooden tree to fit your space, it folds flat (which makes it great for storage), and if you happen to have evergreen-induced allergies—this will let you avoid them all together!
Step 1: Cut wood pieces
Begin by cutting pieces to size with a circular saw or a hand saw and miter box. (Refer to the diagram below as you make the cuts.)

Step 2: Pick out a dowel
Before we do anything else, we're going to compare our dowel diameter to our spade bit. Drill bits are very precise in their measurements, while dowels (like all wood) vary a little in size. This means that sometimes you'll pick out a dowel that's too small to secure firmly in the hole, and sometimes you'll get one that's too big to fit.
There are two solutions to this problem: You can drill a hole with a ¾" spade bit in a piece of scrap wood, take it to your local Dunn Lumber, and buy a dowel that fits snugly in the hole. Or if you already have a dowel that has a little too much wiggle room, you can break up some toothpicks and wedge them into the hole around the dowel. Combined with wood glue this solution will hold well.
Step 3: Mark center
Using a combination square, find and mark the center of each piece.
Step 4: Drill
Stack all the pieces in pairs, and clamp the pairs to the edge of the work bench or saw horse. With a ¾" spade bit, drill through the pieces using the pencil mark as a guide. Only drill through the top piece of the pair, then switch positions and drill through the new top piece (having a piece on the bottom when you're drilling helps prevent breakage). Set aside one 2 ½" square (as a spacer) and one 7 ¼" square (as the base piece).
Do this with all the one-by-three branches, and the remaining 2 ½" and 7 ¼" squares.
Step 5: Complete partial drilling
Grab the two pieces you set aside. Drill only halfway through the 2½" and the 7½" square. (Refer to the picture below.)
Step 6: Sand
Sand all of the pieces, focusing on the cut edges and removing any large breakage around the drill holes (though these will be mostly covered up). If you want a smoother finish, you can grab a sander.
Step 7: Cut and glue tree trunk
Cut your dowel to approximately 29 ½" using a chop saw or a hand saw. (This length may need to be adjusted based on minor variants in wood dimensions, and depending on the depth of the holes in the top and bottom.)
Apply wood glue to the end of the dowel and insert it into the bottom 7 ¼" piece (the one you drilled only halfway through).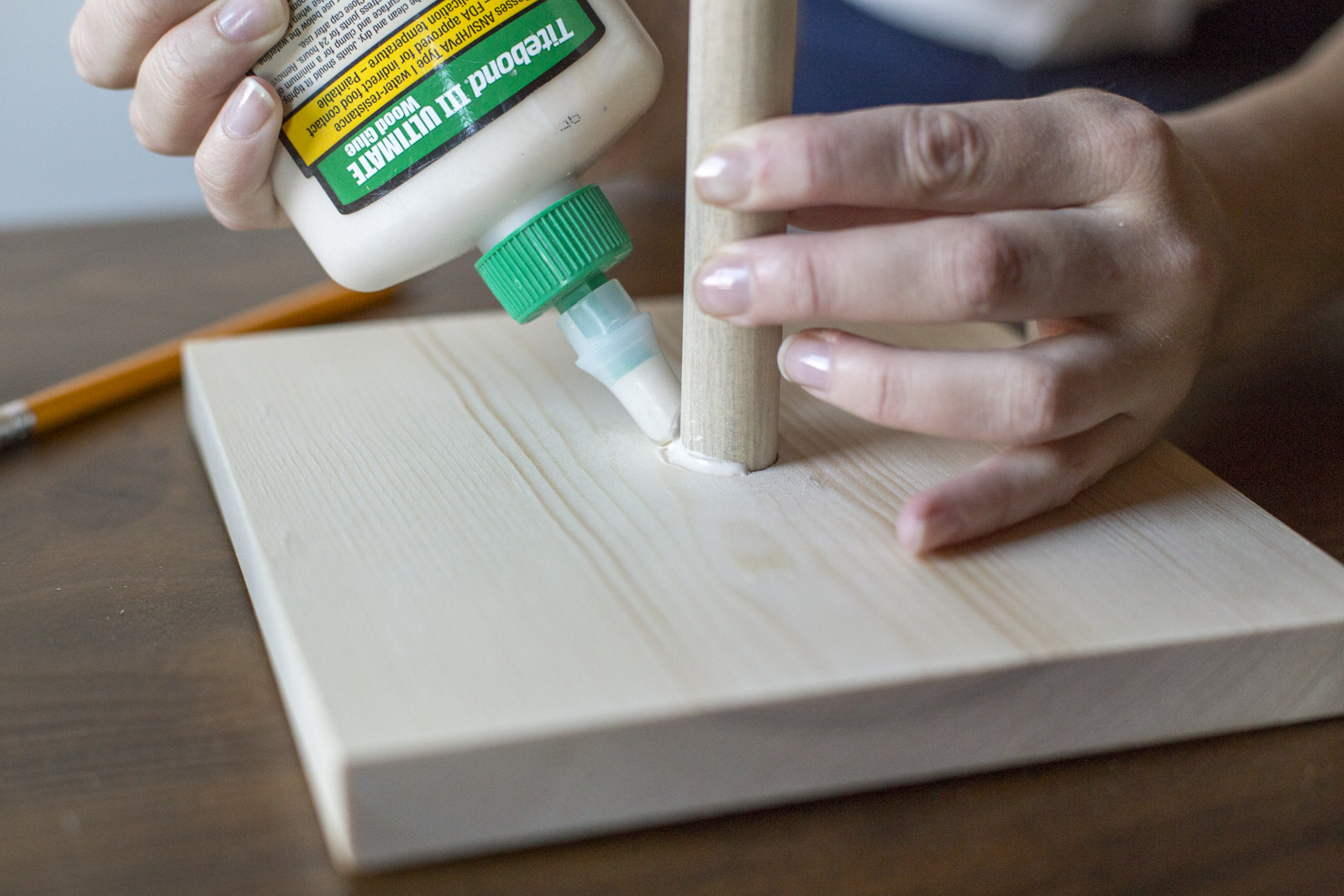 Step 8: Add branches
Slide on the remaining three 7 ¼" squares. Slide on the longest two branches (30 ½"), then a 2 ½" spacer. Continue this pattern up the dowel from the longest to the shortest branches.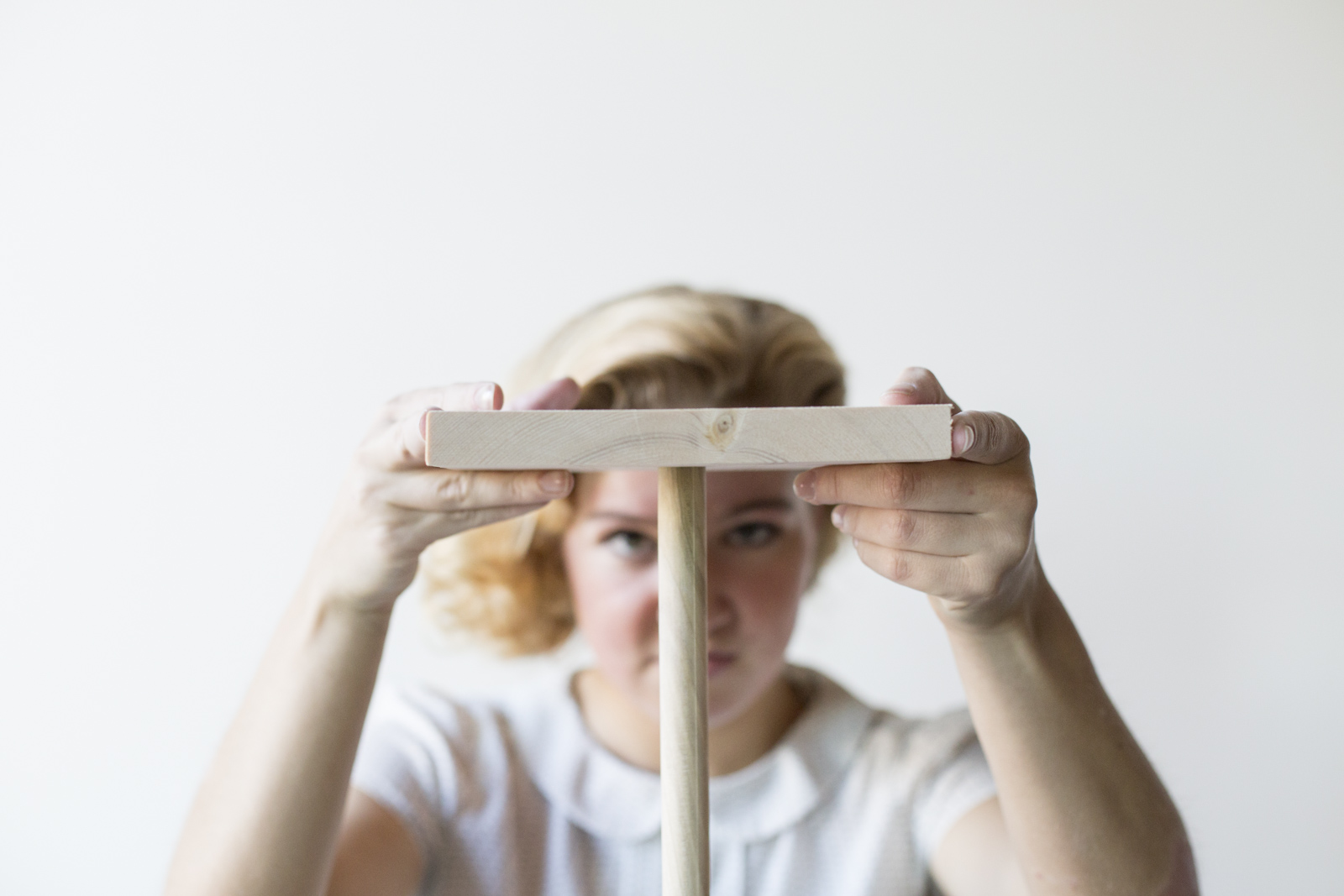 Step 9: Shape your tree
We decided to skip the second branch for the top of the tree (the 5 ½") and replaced it with an extra 2 ½" piece. The original design was for the last two 5 ½" branches and just one 2 ½" square on top—but that's one of the great things about this pattern! It can totally be adjusted according to the look you want.
Step 10: Glue top
Do a dry fit of the final top piece to make sure the dowel is the correct length, and trim it if necessary. Attach the top with glue and press firmly in place.

Step 11: Stagger branches
If desired, use a 1 ½" spade bit to create an indent on the end of each branch (or select branches) to hold a votive candle. Use electronic votives to avoid fire hazards.
Your wooden Christmas tree is ready! The branches can be spread out or lined up for different effects, and the tree can be decorated with ornaments, lights, or paint!