Choosing the best exterior wood stain for your outdoor project might be a little trickier than choosing an interior stain. On top of the challenges of coordinating a color with the specific wood species you're using, exterior stain has a lot of variation in how exactly it works (and is applied), what specific wood species it works best with, and what size container it comes in. While a lot of interior stains come in smaller containers more suitable for small projects, most exterior stains are designed for larger projects like siding, decking, or fencing. This means that exterior stain can be more of an investment.
For DIY projects, I usually opt for stains that come in quart-sized containers so that they won't sit around in my workshop forever. That being said, one of my favorite exterior stains comes in a gallon can, and for me, it's totally worth the cost and space it takes up in my shop because it's a go-to stain that's super easy to apply.
Although there are more factors to consider with exterior stains, I think there's also more flexibility with color. Stained wood always looks good in the outdoors, no matter the hue. And once you find a stain that works for you, you can use it on everything.
Sikkens Cetol SRD — Natural Oak
Sikkens Cetol SRD (which stands for siding, railings, and decks) is my absolute favorite, go-to stain for one simple reason: It applies in one coat, and it doesn't need to be wiped off. When it comes to projects with lots of different edges and surfaces, not having to wipe off the stain after application saves so much time. You simply just paint on one coat and leave it to dry.
I've used this stain in the color natural oak for years. The smallest container is a gallon can, so you sort of have to commit to the color for the indefinite future. It has a very warm, orangey hue to it. It's not a stain color I like for indoor pieces, but I think it looks quite nice outside. The warmth of the stain is a nice contrast to the green and blue hues of nature. On the nesting chair, the birdhouse, and the lounge chair, you can see what it looks like on cedar. And on the camp stool, you can see it on oak (not a wood I typically use for outdoor projects).
Penofin — Transparent Cedar
Penofin transparent cedar is the classic penetrating Penofin exterior stain. Known for its quality, durability, and easy maintenance, Penofin is a favorite product of mine. The "transparent" color will give you the least amount of change to your wood, warming and deepening the natural hue of it. Penofin conveniently comes in quart size containers for smaller projects. You can see the stain used on cedar in our house number planter box.
Penofin Verde — Bitterwood
Penofin Verde in bitterwood has also been a go-to stain for me. Penofin's Verde is a collection of interior/exterior stains that are environmentally friendly. They smell amazingly similar to liquid fertilizer when you're applying them, which isn't so pleasant, but you do avoid those chemical stain fumes that come with traditional staining formulas. These stains come in smaller quart-sized containers which work nicely for smaller projects.
Bitterwood has a nice cool dark tone to it. We used it on spruce lumber in the DIY sandbox. On the sandbox lid as well as our garden trellis, we used bitterwood on cedar. And on the legs of the arch, you can see what it looks like on Doug fir.
Penofin Verde — Natural
This stain is also from the Penofin Verde collection but in the color natural. You can see the stain used on the cedar base of the privacy screen planter in the photo. Natural stains always have a warm, golden tone that deepens the color of the wood, which is always a nice choice in my book.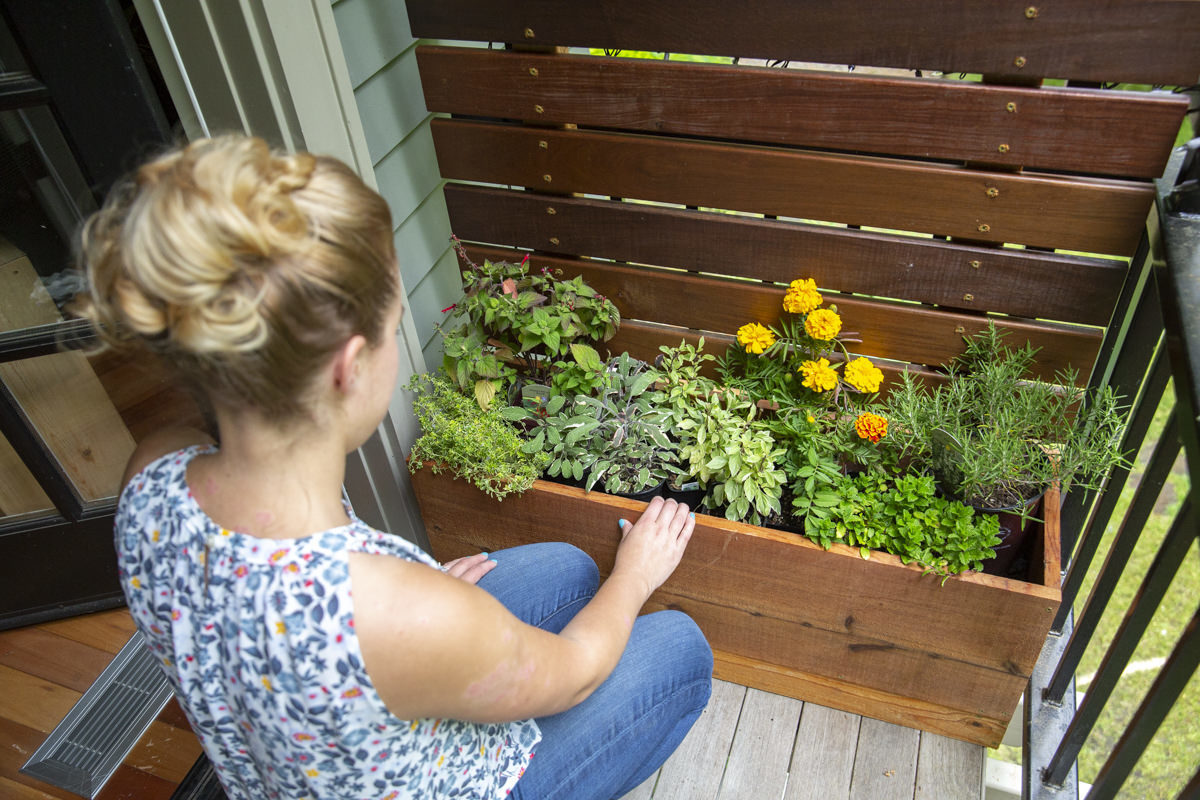 Penofin Hardwood — Ipe
Penofin's Hardwood stain line is specifically designed for exotic hardwoods. Because these dense woods aren't as porous as softer woods, they need a different stain solution. Otherwise you'd end up with unabsorbed, tacky stain on the surface of the wood. I have used the ipe color only on ipe woods (seen below on the privacy screen planter and on a patio side table), and have found (similar to "natural" colors for cedar) that it doesn't change the color of the wood but enhances and deepens the tones that are already naturally there. The hardwood stain can be purchased in quart-sized containers, so they work well for smaller projects.
Penofin Log On — Aspen
Penofin Log On isn't something we carry in stores, but something I had special ordered because I was curious to try it out. This stain is specifically designed to be used on log homes (hence the name). It's a highly durable stain designed to resist the sun, wind, and snow at high altitudes. It has high UV and mildew protection and leaves a bit of a polished shine when it's wiped off. It's a beautiful product and creates a lovely soft-yellow color. That being said, it's probably a bit overkill for the picnic table we used it on.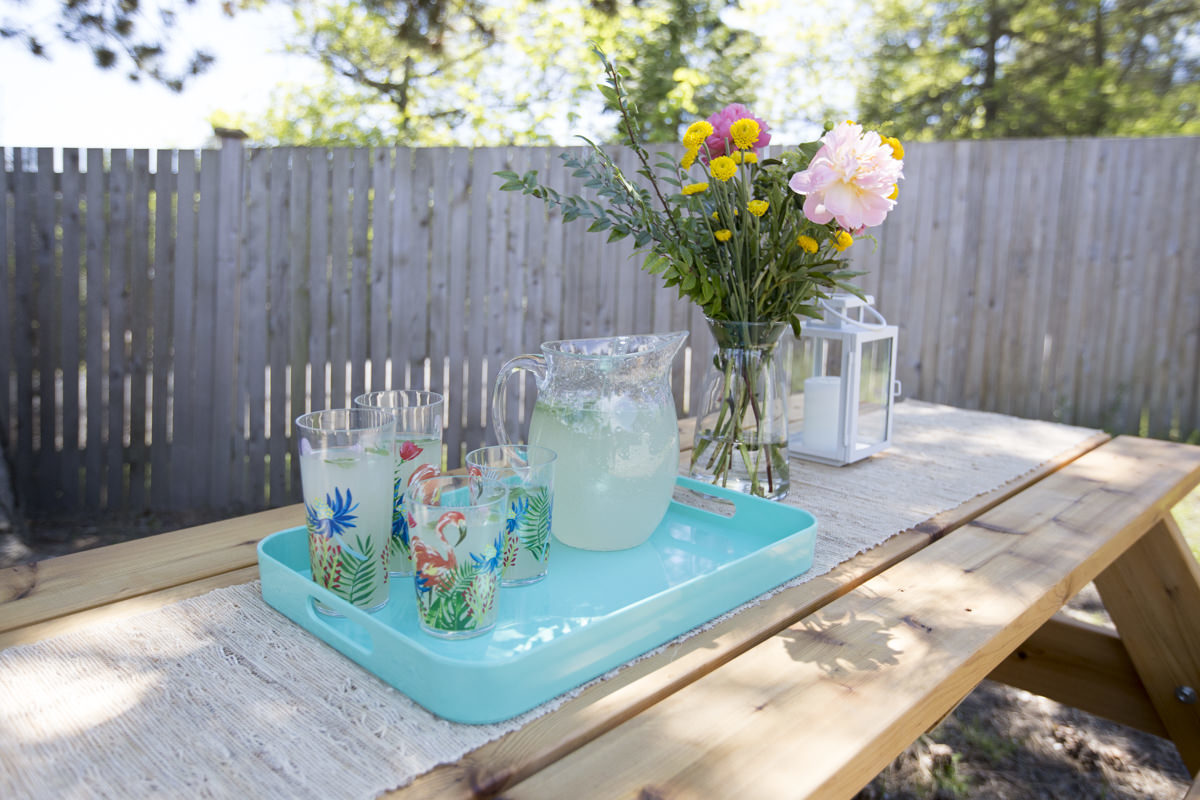 TWP — Rustic
TWP is another brand that's going to be a bit of investment for smaller projects because the smallest container it comes in is a gallon. The color rustic has a deep orangey-brown that's pigmented enough that the natural color of the wood is somewhat inconsequential. We used this stain for our cedar decking, shown below.
Teak Oil
Teak oil is an oil stain specifically designed to treat teak decks on boats—which means it's durable and built to withstand the harsh effects of saltwater. Despite its name, teak oil isn't just for teak wood—it can be used on many species. I've used it outdoors to refresh a hardwood porch swing, and inside to protect cedar bath accessories from moisture. Teak oil also comes in quart-sized containers for smaller projects.
We hope this exterior stain guide helps you figure out the best products to use on your next outdoor project! For more staining tips, check out how to condition wood before staining, our guide to choosing the right interior stain, and how to remove overapplied deck stain.